CUISINE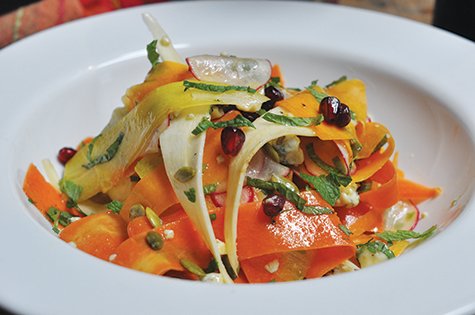 Scents and Scent-Abilities

Island Rose Cooking Can Take You to School
by Lisa Belcastro Photos by Charlie Utz
A is a rose is a rose, unless the rose is Island Rose Cooking and they're serving a delicious dinner. The scents may be equally enticing, but the flavors in Tyler and Brandee's Root Vegetable Salad are far more delicious than the petals of our beautiful rosa rugosas when they welcome summer to our Island paradise.
I had the sheer pleasure of spending an afternoon in the kitchen with Tyler Poole and Brandee Kitzmiller, founders of Island Rose Cooking. I'd seen Tyler and Brandee on the beach shore fishing last summer, but I had no idea they were creating culinary masterpieces.
Tyler, who graduated from Johnson and Wales with a degree in Culinary Arts and Sustainable Food, and Brandee, who graduated from George Mason University with a degree in Nutrition and Public Health, took their educations and went back to school – literally cooking and teaching in schools in Connecticut.
Tyler worked for Brigaid in New London and Brandee for AmeriCorps. Fate brought them to the same school, and they bonded over a batch of Honey Cardamom Carrots.
Fast forward two years, Brandee accepted a job with Island Grown Schools and, "it wasn't hard to convince Tyler to move to the Vineyard," said Brandee of her fisherman boyfriend, noting with a chuckle that Tyler took her fishing on one of their first dates.
Now Brandee and Tyler are both working in our Island schools. Brandee is teaching children at West Tisbury and Chilmark schools while Tyler is cooking meals for students at the Regional High School and working as a private chef for a family in Chilmark.
With their love of cooking, health, and nutrition, it was an easy reach for Tyler and Brandee to open Island Rose Cooking. "I wanted to take the idea of a cooking school to the family in their homes," said Tyler, who runs the kitchen end of their productions while Brandee handless the cameras and internet.
"When COVID hit, I said 'let's pivot and do it on Zoom,'" said Brandee.
On Halloween, Tyler and Brandee taught their first online cooking class. "We made gnocchi. We had people from the Island and Texas and Virginia," said Brandee.
In December they offered three classes making gingersnap cookies and homemade eggnog. Upcoming classes include: Chowder 2 Ways on multiple days in January and Lamb Dan Dan on February 7, which being offered jointly with Slough Farm. The cost of the February class is $55, and that includes your meal kit that you'll pick up at Slough Farm. Wow!
While you're waiting for their next class, you can sample a few of Tyler and Brandee's recipes that they've shared with us at Vineyard Style. I wasn't the least bit surprised when Tyler said he had a great Bluefish Pate recipe. Most fisherman pride themselves on a few special recipes they've either invented or tweaked.
Tyler wasn't kidding about how good his Bluefish Pate is. You will love this recipe, especially if you have any bluefish in your freezer as Tyler does or when we're all out catching bluefish again this summer.
The recipe calls for bonito flakes, which you can buy in the store or order online, but Tyler shared his special secret. He uses albie flakes. He smokes false albacore loins, dehydrates them, and then stores them in salt. "You just use a shaving, but it adds great flavor," said Tyler.
The pate is "super quick to make and eaten even quicker," joked Brandee.
While I was sampling the pate, and trying not to eat all of it, Tyler was searing the pork. The aroma filled the kitchen and had us all eager to sample the main course. The pork was juicy, tender, and flavorful, but I have to admit I was completely taken with the parsnip puree.
I can't say I've ever been a big fan of parsnips, but this dish converted me. Tyler assured me there was no hidden ingredient other than the five listed in the recipe. It's simple, creamy, homey -- the perfect winter comfort food.
The Winter Root Salad will delight your taste buds and remind you of summer and salads and fresh vegetables in the garden. "We threw this together to showcase locally grown winter roots. The Dijon mustard and maple syrup give it a winter-esque feel. The parsnip is sweet with a kick, and the touch of mint brings freshness," said Brandee. "I really like the crunch."
The salad is super easy to make at home and all the ingredients can be sourced locally. The trick is "to shave the vegetables super thin so the hot dressing will soften and warm them," said Brandee.
If you don't have a mandolin, Brandee suggested using a wide vegetable peeler. I used the wide blade on my spiralizer, and that worked good for me.
With all the nutritious food Tyler and Brandee prepared, I barely had room for dessert. But, for the sake of Vineyard Style readers, I pressed on.
I can tell you right now that I will have two new staples in my recipe folder this winter: Brandee's Spiked Hot Chocolate and Tyler's Maple Glazed Ginger Molasses Cookies. I have made ginger cookies, nutmeg cookies, and brown sugar molasses cookies every year for Christmas and throughout the winter. Though I'll still enjoy the recipes I've used for years, I have a new favorite. One bite, and I was hooked. Tyler might want to try using his cookies for bait next summer – LOL.
Tyler discovered the cookie recipe at the first place he worked. He has modified the recipe to include the crystalized ginger on top, which is soooo incredibly good. Tyler shared one tip that may mean a trip to the grocery store so check your spice rack: "The cardamom makes or breaks the cookie. It rounds out the flavor," Tyler noted.
Now, about the hot chocolate, forget the calories and drink lots of it. Honestly, it is that good! Don't thank me, thank Brandee.
"I'm obsessed with Chambord. I put Chambord in margaritas. It's too cold now for margaritas, so I switched to hot chocolate," said Brandee, adding, "It's great when you've been outside all day. It warms your bones."
As the winter months settle in and COVID continues to limit our dining out and socializing, Brandee and Tyler hope to have a couple of online cooking classes each month. Now that's something to look forward to!
If you want to know more about Brandee and Tyler and what they are doing at Island Rose Cooking, please visit their website:
islandrosecooking.com
Root Vegetable Salad with Warm VinaigretteFor the Dressing
Ingredients:
1/4 cup olive oil
1 Tbsp Dijon mustard
2 tablespoons lemon juice
1 tablespoon maple syrup
salt and black pepper, taste
Method:
Add all ingredients into a medium bowl and whisk until emulsified.
For the Salad
Ingredients:
1 cup shaved butternut squash
1/2 cup shaved parsnips
1/2 cup rainbow carrots
1/4 beets thinly sliced
1/2 cup radishes thinly sliced
1/4 mint leaves chiffonade
1/4 cup pomegranate seeds
1/4 cup toasted shelled seeds such as sunflower or pepitas
1/4 cup crumbled blue cheese
Method:
Using a mandolin or even a wide peeler. thinly cut your vegetables
into long strips.
in the microwave or small sauté pan warm your dressing.
In a large bowl mix together vegetables, mint, pomegranate, and toasted seeds with warm dressing.
finish with crumbled blue cheese and serve.