HOME PORTRAIT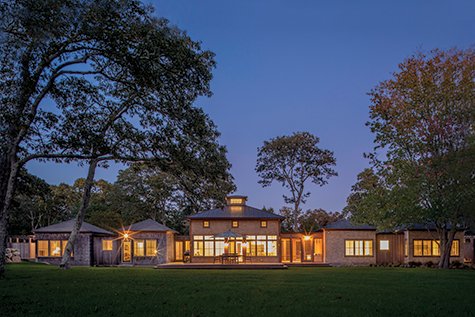 Building Homes for a Better World

With Technical Excellence and Aesthetic Design, Builder Benjamin Kelley Leaves His Distinctive Stamp
Tessa Permar
In a world obsessed with quick consumption, Benjamin Kelley's homes are built to last. Ben's company Building Shelter Inc. emphasizes durability, environmental impact, and client well-being above speed and cutting costs. "Some may think homes are just a product," Kelley explains. "They are not just a product, they are an ongoing service that people live in." At Building Shelter, building healthy homes to sustain and enrich the lives of clients goes hand in hand with building a healthy community and a sustainable world. continued on next page
Kelley has long immersed himself in the science of why buildings succeed or fail. He explains: "Succeed doesn't mean they stay up and keep the rain off of your head; that is a low threshold. It means they function well." He believes that, "a home is healthy on different levels: psychological, emotional, and spiritual. Is the home beautiful, inspiring, feel safe, and does one feel sheltered? And once a good design is accomplished, is it built well so that the indoor air quality is high? Not surrounded by unhealthy chemicals? This sounds simple but it is not simple to bring a thought into a successful and durable form."
Building Shelter Inc. applies this philosophy to a range of projects. In addition to building homes, their services include renovations, additions, and updates geared toward saving energy. They have gained acclaim not just for their homes, but for their singular small projects like out-door showers, multi-purpose custom furniture, and one-room renovations. Be it a modest deck or an entire house, anything made by Building Shelter exemplifies durability, efficiency and beauty.
Before he became a high performance homebuilder, Ben enjoyed making things. "Erector sets, Lincoln logs, Legos, and definitely Tonka trucks. I enjoyed building and making things as a young kid from making toys, bike ramps and forts." He comes by it honestly, born in California to a family of builders, trades people, and business owners. "I renovated an old water tower as young teenager turning it into my bedroom," Ben remembers. "I worked with my dad renovating the homes we lived in. At one time he had a cabinet shop, I hung around the shop making stuff and learning how to use tools. I helped him with his carpet, tile and flooring business also."  He started in the trades early doing sheetrock, framing, foundations, roofing, siding, decks, and renovations with various builders in Washington state, where he spent most of his life. "My grandpa owned a heavy equipment shop in California. During summers I would work there retreading tires, power washing trucks, learning to weld and scrapping–whatever needed doing."
In addition to learning everything he could about building trades, Ben liked to travel. It was by pure chance that he came to Martha's Vineyard after six months traveling in Central America in 1996. "I ended up on the Vineyard because I heard I could get a boat to Europe from here…I had never heard of Martha's Vineyard but I got a bus ticket and hitched a ride to the hostel. I later found out that boats don't go to Europe from here. But, I liked the Island and decided to stay." Ben remained at the hostel working as a handy man and front desk agent.
He began taking on carpentry jobs, exposing him to a world of building completely different to what he'd known before. "I found the work here to be much more interesting than in Washington State. The expectations for quality, durability, and craft are much higher, and these expectations were a better fit my personality and interests." Ben remembers encountering a learning curve at the beginning: "I felt like I knew nothing. Houses here are hand crafted… Where in Washington State I worked on entry level houses where speed was the most important factor, and buildings were truss roofs and square boxes, here everything was much more complex, creative, original, and demanding." It was the complexities, unique builds, and opportunities to best serve clients that eventually inspired Ben to establish Building Shelter Inc. in 2007. Since the start of his own business, Ben has continued to learn from and collaborate with other Island builders and craftspeople whose expertise has proved integral to his own work.
Today, Building Shelter Inc. seeks to create homes that improve life: "Combining craft with science will reduce maintenance costs, make your home safer, more comfortable, and healthier while reducing your carbon footprint," their website states. And this is no small feat. To Ben this means providing the highest quality for the healthiest homes and using materials and methods that are as environmentally friendly as possible. It's imperative that clients "feel like they were dealt with honestly and respectfully through the process from beginning to warranty work."
Ben continuously strives to achieve the highest level of quality and environmental integrity. He started learning about green building in the late 1990's through Environmental Building News, which later became BuildingGreen.com. He attended workshops and certification programs focused on why buildings fail and how to make them better. One of these programs involved Home Energy Rating System (HERS) which "which rates homes the way a MPG rating rates fuel efficiency for cars." Ben also attended a program at the Building Performance Institute, through which he became a Building Analyst Professional. Eventually he became the first Certified Passive House Builder in Massachusetts and he passed the intensive Passive House Consultancy exam. This is a rigorous, high energy standard for buildings. Ben has found ample opportunities to put this training to use: "I've been involved in many green building programs, conferences, and business networks educating myself on how to make buildings that are healthier, more durable, and better for the environment. I want to build the best homes for my clients."
Ben distills what he's gleaned from these programs into simple terms:
"An efficient home should require less energy, be more comfortable, be more durable, and be healthy to live in." When a home is built cheaply, it costs more and causes problems in the long term. "Even a modest structure, a small project can be built well with less resources, but it should not be built cheaply. Cheap is expensive."
For Ben, sustainability and longevity are woven not just into the foundation of his business but also the fabric of his life. Ben has served on the boards of Friends of Family Planning and also Whippoorwill Farm. He is a big brother as part of Big Brothers Big Sisters, and is a public supporter of The Vineyard House, Sassafras, and other local non-profits. "Building a healthy home is simply being of service to people; serving on a board is the same thing. Both should come from 'how can I help?'"
This focus on community has become especially important this year, as the COVID-19 pandemic leaves no business untouched. "It has made building more difficult and costly," Ben admits, though he is not one to dwell long on misfortune. Building Shelter Inc. posts videos on their website documenting unique moments mid-build. In one video, Ben reveals the rotting wood skeleton of a roof that had been ignored and covered up by a previous builder. Ben states that the rot led to water damage to work his company was doing inside the house–a potentially devastating set back. He then calmly explains the methods he will use to rebuild the frame and the roof entirely. It's an enormous task that many of us would rather ignore, but to Ben and his talented team of trade partners as well as their clients, building homes to last the client and the world is the foundation of their work.
It's clear that to Ben Kelley and the Building Shelter team, the process of building someone's home reaches far beyond assembling four walls and a roof. "Building design is inspired by the homeowner and their way of life and then drawn by a designer/architect to express this on paper. A builder gets to build the client's idea of how they want to live into a home that will shelter them and their family," expresses Ben. "It's really an honor."
To find out more about Building Shelter, Inc,
buildingshelter.com
,
info@buildingshelter.com
, 508-693-7734