ARTIST PROFILE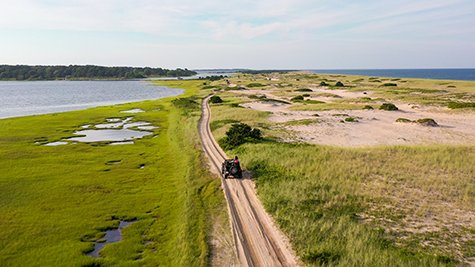 Above & Beyond

The Airborne Vision of Marc Fairstein
by Olivia Cameron, Photography by Marc Fairstein
With his drone, Marc Fairstein photographs the Island from a bird's perspective, giving a fresh glimpse of familiar landscape and architecture. Among many other endeavors, Marc works with architects and real estate companies to get a unique view of the projects that they're working on – one that encompasses the full scope of the labor. "I really enjoy, especially here, how the designers and builders work with the land, and it fascinates me how technical it becomes to create these projects while keeping the integrity of the Island, the spaces that the houses occupy," Marc said. "I like telling their stories. There is a real balance and an art to their work, so having the opportunity to Film here and show how the projects sit in the land and the landscape has been most interesting."
Though many have moved to the Vineyard mid-pandemic, Marc and his wife Suzy, along with their three children – Isla, Mila and Samuel – have been dreaming of living here full time for many years, in search of a stronger community and a better life balance. "I began coming to the Vineyard with my family when I was nine, and have spent part of every summer here since," Marc said. "This is such a great place to be, since we are all passionate about nature, and to be here now with our kids, who all attend the West Tisbury School, it has kind of come full circle."
Before the move, the Fairsteins lived in a small town in New Jersey. "We thought we would find a sense of community there, but found that spending our summers on the Island, our children have made stronger ties with the kids they have met here. As our lives become so tech-driven," Marc went on, "it became apparent that we needed to find a place where we could go back to the basics together. I didn't grow up having the opportunity to learn to sail and to fish, and only discovered my love for the ocean on our summer trips when I was an adolescent. My seven year old son started school here in September, and at the end of the day, he was psyched to go to his favorite place in Menemsha to pull clams and mussels and catch fish." With a strong desire to live close to the ocean, the Fairsteins would eventually like to build a simple, sustainable house of their own on Martha's Vineyard.
Marc went to Wheaton College in Massachusetts, where he studied graphic design and black and white photography. He graduated in 2000, earning his BFA. "I was able to create independent studies at a small liberal arts college, expanding my own vision. I often made trips into Boston to photograph the architecture, which is something I've always been drawn to."
After graduation, Marc lived in New York City and began to do design and web-work in the ad agency world. "I began to put things together using my design background in my professional work in NY, then finding clients here on the Island to bring their businesses into the 21st century. From real estate photography to video production for web or social media, I have spent the last few years helping Island businesses promote their brands. The range of experience is so interesting for me – everything from working with chefs to highlight and promote their events, to assisting businesses promote their summer activities for kids – everything from the Chilmark community center events to sailing on the Shenandoah. I've become a turnkey video and photography producer for the Vineyard."
"Working freelance was the best move I made professionally," Marc said of his entry point into aerial photography. He was working in Manhattan doing app development for a start-up and he and Suzy had just bought a house in New Jersey. "I purchased a drone and began shooting real estate there, back in 2015 when drones were gaining in popularity. Work picked up quickly because everyone wanted to see property from that vantage point. That was the first summer I brought my drone to the Vineyard, which resulted in creating a channel into real estate agents and builders. It all took off from there."
Later that year, I took the necessary courses and required tests to get my remote pilot license from the FAA. Fairstein's business, Ozora Expansive Sky Studios, combines a number of his skills – an artistic eye, an appreciation for architecture and process, technological knowledge, and the ability to build connections and bring people together. The professional licensing process added to his skill-set. "It's not just about flying a drone as an amateur. There are so many layers that become important when operating one professionally."
For Marc, the opportunity to see so many amazing Vineyard homes and projects from their initial footprint to framing and on to completion plays a big role in his visual story telling. "It's exciting to be involved in the process of creating these structures. Since my early trips to the Island, I've always been captivated by the landscape – and now, I am able to capture familiar views from an entirely new perspective. It allows others to see the landscape in ways they never before imagined it to be. Marc's work can be found on his website – ozora.co – or on Instagram@ozoraco.
As Island residents now, Marc and Suzy will be adding new projects. He is already underway with a custom wood cut puzzle collection with Vineyard themes, featuring his aerial photography. Also in development is a line of casual clothing – hats, t-shirts, rash guards and hoodies–all with Vineyard and nautical graphics. Suzy formerly worked in the fashion industry in New York City before starting their family. The couple is currently working on getting their goods sold in local businesses.
Marc is also available for custom commissioned work. "That's part of the UpIsland brand that we have just launched, on our site upisland.co. Our mission is to link Vineyard artists to an online marketplace – so stay tuned as we connect within the community." During quarantine, Marc has also joined a national start-up – a small company called Plantmaker, which is building a niche business in sustainable food systems. The product, a plug-and-play indoor farming system, uses a combination of hardware, software and connectivity through platform and interface that will allow people to grow more plants in more places. Marc is coming on as the interactive creative director managing the visuals and designs for Plantmaker.
There is an organic overlap between Marc's life and his work, an interest and personal link to the projects that he photographs. For Marc, the joy and the artistry are in the connection – with the people he is able to bring together through his creative abilities and with the Vineyard. "I'm so excited to be on the Island year round, allowing me to capture its unique beauty in all four seasons, which tells a much bigger story. Being tech savvy, I'm able to help a wide variety of Island-based companies expand their reach – especially during this pandemic." In the end, he is photographing what he loves. "That's why my work is such a driving factor, because it has developed so naturally. Being able to capture and promote and show the more unusual aspects of the Vineyard – some rarely if ever seen – fulfills my passion and gives me great pleasure."
For more information contact: Marc Fairstein, ozora | Expansive Sky Studios, 646.247.2634 • Web:
ozora.co
E-mail:
info@ozora.co
. To see more of Marc's work go to: Instagram: @ozoraco.