HOME PORTRAIT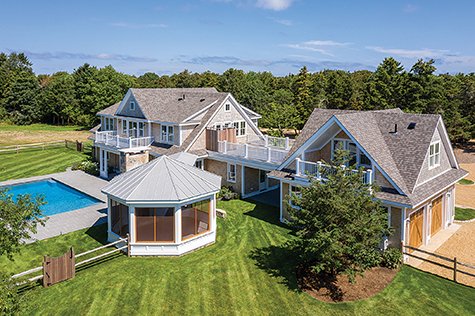 Building Relationships

The Masterful Craftsmanship and Care of Kent + VanHollebeke
by Amelia Smith, Photography courtesy of Wallace+Co.
From modernist contemporary houses to historical restoration, Kent & Van Hollebeke Construction builds unique homes on Martha's Vineyard. The company values finishing their work in a timely manner and maintaining long-term relationships with their clients. Thomas Van Hollebeke and Jared Kent founded the company in 2013, when both of them were still in their 20s. As younger contractors, they needed drive and energy to compete with more established firms.
Thomas Van Hollebeke first came to the Vineyard when he was a student at the University of Rhode Island. He spent his summers here during college, working for carpenter Charlie Greene, then moved to the Island full-time to continue in the trade.
"I got some great high-end carpentry experience working for Charlie," Thomas said. In his years as a carpenter, he developed his skills as well as getting to know a broad network of other Island craftsmen.
Meanwhile, Jared Kent was living and working on Cape Cod, where he had his own carpentry business in his hometown of Bourne. He traveled out to the Island to help a family friend with a new project, a house on Katama Bay. "The contractors and builders liked Jared so much on a personal level that he became a project manager for that contractor, who was based on the North Shore," Thomas says. Jared wanted to continue working on the Island but the contractor he'd been working for wasn't interested in taking on more Island projects.
At around that time, Jared was introduced to a client who wanted him to be the general contractor for their new home. Becoming the general contractor was a big step for him, and he needed a better local network to pull all of the pieces together. He talked about it to his regular taxi driver, Casey O'Connor, who also happened to be a good friend of Thomas's. Casey knew that Thomas was thinking about making the next step in his career, and introduced the two to each other.
That was seven years ago. When they started, they were competing against established companies with decades in the business. They dedicated themselves to finishing projects on schedule, up to two custom homes a year, with smaller projects in between. Their first project, in Katama, was a custom contemporary home designed by local architect Matt Coffey. "It's quite a contemporary home, an upside-down house with gorgeous 270-degree ocean views from Katama Bay to Squibnocket," Thomas says. "In the upstairs master bedroom it almost feels like you're on a ship's bow." There's a broad deck on the second story to take advantage of the views, opening from the living room and kitchen. Glass, polished white surfaces, and stainless steel accentuate its modernist feel.
As with many projects, there were last minute adjustments. "When we were nearing completion, the owner thought it would be cool to have a glass floor at the top of the stairs," Thomas says. The stair treads float on a single stringer, and landed on a wood balcony overlooking the foyer below. The owner wanted to rip out that completed wood balcony and replace it with a frosted glass floor. "It's our responsibility to welcome the challenge and welcome something different," Thomas says. They changed the floor.
That project generated more work for them in the immediate Katama area, but after a while Jared and Thomas wanted to branch out, so Jared created a presentation booklet to publicize their work. "Jared is a great salesman and a people person," Thomas says, but he himself prefers to focus on working out the variety of technical challenges the crew faces on the job. "I enjoy putting things together with any material, wood, stone, whatever. The opportunities out here are great – no two homes are alike."
"Every project is different," Jared adds. "People have new ideas and new thoughts, and it's our job to make it easy for them to bring those to life." He, too, enjoys learning about and using new technologies in building. He also manages all of the office work, which there is plenty of, from insurance to cost estimating and sales.
Thomas took Jared's presentation booklet into the office of architect Chuck Sullivan. "I truly like Chuck's aesthetic," Thomas says. "It's very functional and attractive to the eye. I really wanted to work with him, and said that if there was anything that would be a good fit he should send it my way. Right then and there, he handed me a set of plans to price," Thomas says. Their first project with Sullivan was a renovation project in Edgartown, a gut renovation of a 1980s cape, with added dormers and a family room. "It was a very tight timeline," Thomas says. "They gave us the plans in January, and we started digging in March. The family was in the house by August." There were many late nights on the job, but since then, Kent and Van Hollebeke have done about half a dozen projects with Sullivan, including their most recent, a historic renovation of a farmhouse on Middle Road in Chilmark.
"The most fun I've had on a job to date was the Middlemark project, which was the restoration of a historic Chilmark farmhouse," Jared says. "We met the owners and Chuck Sullivan in the old farmhouse, and they explained what they wanted to do: add a master suite built into the hill behind the farmhouse. It was a pretty substantial expansion." The house itself was an original farmhouse from the 1800s. Powderpost beetles had invaded the structure and the floors were sagging. "They had old beach pebbles stacked underneath to kind of support it," Jared says.
Rather than resting on those old pebbles and stones, the house needed to be lifted up so that a modern foundation could be put under it. "We supported the building with steel beams, temporarily, then excavated underneath the building creating a full basement and installing a new floor system and new foundation, new mechanicals, and new windows," Jared says. "The exterior was governed by the Chilmark historical board so we had to maintain that look." Putting a foundation under a building is a big undertaking, and generally only done when the existing building has to be saved for historic reasons.
Another recent project, in Katama, was built on spec, as an investment with Kent and Van Hollebeke's first client. Their client from the first house was a private investor in the project. He had liked the building process so much that he decided to do some more houses with Thomas and Jared. The house was designed by Sasha Robinson-White of SRW Design Group. "It was a much more traditional build, with an Edgartown kind of vibe, but with a bit of contemporary flair," Thomas says. It has all the modern amenities of a luxury home in Katama; ten-foot ceilings in the basement, a backyard patio and in-ground pool, and a formal entry foyer. One impressive feature of the house is the coffered ceiling in its great room. "Charlie Greene taught me that anything we build in the air, it's easier to loft it out on the plywood floor," Thomas says. They laid out every piece of plywood and trim on the floor, then built mock-ups to make sure that it was going to work on the ceiling.
Apart from Thomas and Jared, the company has four full-time employees. "We're both involved every day," Jared says. Jared runs the business from an office off-Island and comes to the Vineyard several times a week, but everyone else in the company is Island-based. "We're not looking to grow too big," Jared says. "We like conversing with the clients and architects ourselves, and to take care of our clients going forward in our caretaking business. We don't like to just finish a project and walk away – it's an ongoing relationship."
Inevitably, little things happen, like a gas fireplace not lighting, or minor storm damage when a door is blown open, but they also take care of routine needs, like getting firewood for the outdoor fireplace at their recent Katama project, and designing an outdoor kitchen there for the coming seasons. "We're able to keep our guys busy with a lot of these caretaking clients," Thomas says. "We built custom driveway gates for one client, a shed for another, and second outdoor shower." Their crew of carpenters has all been with them for more than five years, and one of their carpenters is married to a woman with a housecleaning company who cleans for many of their clients. They also work with a tight-knit group of subcontractors.
"It's easy to bite off more than you can chew out here," Thomas says. "We're selective about what projects we pick. It's a pretty intimate experience, building someone a home. You can really get to know them." Caretaking was a natural progression and offshoot of their construction work. "Most of the clients enquired if we would be willing to take care of the home, because we understood all of the systems in the home. It was a natural fit for us just to roll right into caretaking. We enjoy these relationships with our clients," Thomas says. "I work pretty hard to never let anyone down, and if people have an issue I'm right there for them to fix it, I want to be able to help people out when they need it."
Kent and Van Hollebeke are committed to their clients and to working in a way that allows them to keep the houses they build in top form, and their clients satisfied. It's a delicate balance, but their eagerness to embrace new chall-enges suggests that they will continue to do quality work for years to come.
To find out more on Kent & Van Hollebeke Construction, visit their website at:
kvhconstruction.com
.