CUISINE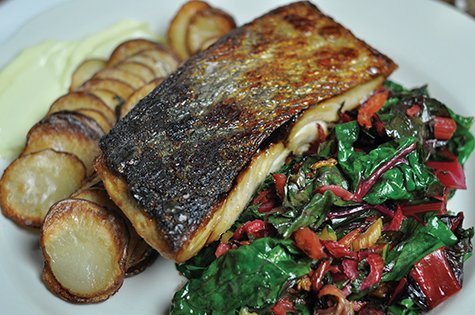 The Best of The Island's Bounty

A Locally Sourced Cuisine at Seaweed's in Oak Bluffs Period.
By Lisa Belcastro, Photography by Charlie Utz
Do you know which Island restaurant serves the most Island-grown, made, or caught produce and products?

I'll give you a hint: It's in Oak Bluffs.

I'll give you another hint: They're new.

Give up?

Seaweed's!

Cinnamon Starship owner and baker extraordinaire, Olivia Pattison, opened the hip new restaurant on Kennebec Avenue with her business partner, Danielle Pattavina. Seaweed's took over the space where 20 by Nine was. For Olivia and Danielle, it's been an interesting year.

"Olivia called me in February," said Danielle, who managed the Beach Plum Inn in Menemsha eight years ago. "I was living in Cambridge and bartending. She said the space at 20 by Nine was available; was I interested in opening a restaurant with her. We had always talked about the idea of a restaurant together. Now we're fifty-fifty partners."

"We signed the lease, celebrated, and a week later – uh oh," said Olivia. The "Uh oh" is the same one all of us experienced – the corona virus.

While COVID 19 closed most businesses down, Olivia spent the spring months cleaning and painting while Danielle coordinated moving back to the Island. By the time Memorial Day rolled around, they had a set take-out menu ready to feed hungry Islanders and visitors.

The food, ultimately, is what it's all about. Olivia is well known throughout the Island for her amazing breads and pastries. Olivia started Cinnamon Starship five years ago. She sold her breads and pastries at the farmers' markets and in some Island businesses. She is still baking bread and desserts, though now they're being served to guests at Seaweed's.

The first appetizer I tried was Olivia's Tomato Toast. It was sooooo good! It is an incredibly simple recipe, yet utterly delicious with Olivia's sourdough bread. The aioli has the perfect amount of garlic and salt to compliment fresh Island-grown tomatoes. I will be using the aioli recipe for many other dishes!

I love carrots. I plant them in the spring and again mid-summer in my garden so I have two crops. When I saw Everybody Loves Carrots on the menu, I knew Olivia was speaking to my palate. The carrots "are roasted in the oven for a really long time, which makes them really sweet," Olivia shared.

Honestly, you don't want to miss this appetizer. The carrots were perfection, especially with Mermaid Farm's fromage blanc. In Olivia's recipe we have the flexibility of using whatever fresh herbs we grow and or can purchase for the green sauce. I've still got plenty of herbs growing in my garden, along with carrots, so you can probably guess what I'll be serving this Saturday.

I'm a fisherman, and I love bluefish, so I was thrilled that Olivia was serving fresh-caught bluefish. When the plate arrived, I stared at the beauty of the presentation: thinly sliced, perfectly roasted Yukon gold potatoes fanned around the bluefish filet with a generous portion of rainbow chard, and more that delicious aioli. Every bite was scrumptious.

The trick to Olivia's bluefish is in the searing. She is a stickler for pressing the filet to the pan for an even, crisp skin.

We finished our meal with a chocolate tart. Do yourself a favor, save room for Olivia's desserts! "I've been hanging out with this recipe for a long time," she says. "It's not a complicated recipe, but the chocolate is a high-quality Belgium chocolate. And the shortbread crust is made with Maine grain wheat."

I asked chef Olivia what her favorite foods are, and she answered instantly. "Vegetables! I am obsessed with vegetables. I love them cooked. I love them raw. I eat a lot of meat, but the vegetables are the exciting part. I celebrate them."

The menu reflects Olivia's love of vegetables. Vegetarians will find numerous options and meat lovers will be equally impressed with the daily selections.
Though 2020 wasn't the ideal year to open a restaurant, Olivia and Danielle have made the most of the time and customers they have. When Gov. Baker okayed indoor sitting, Seaweed's was ready.

Olivia and Danielle are truly blessed with their indoor space. When they acquired the space, the restaurant already had booths with high dividing walls. Who knew how convenient they would actually become?!

"Our booths have natural dividers. Our fans are always on, the windows are open, or you can eat outside. And, I'm a stickler with masks," said Danielle.

Seaweed's will be open five nights a week through the remainder of the year. They will be hosting a number of special events. Check out the sidebar for more info. Be sure to follow them on Instagram too. Danielle is always posting yummy, fun pictures. You can also subscribe to their wine club if you love natural organic wines.

"You can't purchase most of our wines on Island. They are all-natural. Special wines for people who want to commit to something. We offer three tiers, and the selections change all the time," said Danielle.

The menu at Seaweed's will change based on what is available locally, but that's the best part of dining there. "We don't use any food that isn't local. Chocolate, butter, cream, lemons, olives, and oils are the only things on the delivery truck," said Olivia. "I will not serve something that I don't know how it was raised or grown."

When you dine at Seaweed's, you're supporting a locally owned restaurant, local farmers, local fisherman, and local craftsmen. What are you waiting for? Dine in or take out!

ISLAND BLUEFISH DINNER

Ingredients:
Aioli – See Tomato Toast recipe
1 pint potatoes
1 bunch rainbow chard
1/2 lb fresh bluefish, allowed to dry a few hours in the refrigerator skin side up
Squeeze of fresh lemon for serving

Method:
1. Preheat oven to 400 degrees.
2. Mandolin or thinly slice the potatoes.
3. Arrange potato slices in rows in a small baking dish, liberally coating with olive oil and salt.
4. Bake at 400 degree for 20-30 minutes until nicely browned.
5. While potatoes roast, chop the Swiss chard starting with the stem - finely on the bias and switching to a rough chop once you've reached the leaves (this will allow the tougher stems to cook thoroughly while allowing the tender leaves to remain intact.
6. Add the chard and a pinch of salt to a preheated skillet on high and allow to cook for only about 2 to 3 minutes until just tender.
7. In a separate oven safe skillet, which you have gotten very hot, cook the bluefish. Salt both sides of the fish and sear it skin side down in a bit of oil, pressing down on the fish filet as you add it to the pan.
8. The fish will want to curl up when added to the heat of the pan and pressing it to the skillet will make sure the skin has full contact with the pan and get beautiful and crispy. After a few seconds you will feel the fish relax and you will know you don't have to keep pressing.
9. Once the fish has seared on the bottom (about 5 mins) put the skillet in the 400-degree oven and allow it to cook about ten more minutes, until just cooked through.
10. Place the potatoes and chard on the plate and flip the fish onto the plate so it's served with the
beautiful crispy skin up.
11. Squeeze a lemon over the whole plate, bluefish, chard, and potatoes. Eat with lots of aioli on the side.