GARDENSCAPES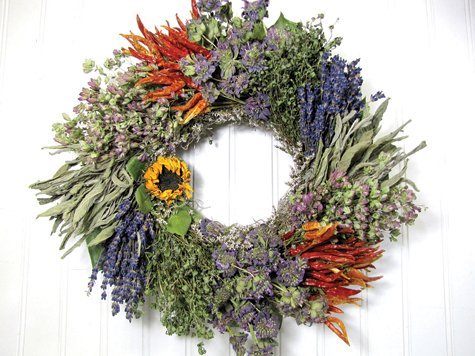 Dried Flowers

The Art of Keeping the Spirit of Summer Alive and Well, Long Into the Winter Months
By Mariko Kawaguchi
The pinnacle of a gardener's season on the Vineyard is gathering your finest, prized gems from the garden to enter in the MV Agricultural Fair in West Tisbury. It is here where we tout everything from the highest sunflower, to the most minute floral arrangement in a thimble. This event marks the turning point of the change of season on the Island, and for plant and garden enthusiasts it a celebration of hard work and perseverance. Many people think that the fair is the moment where summer begins to wane, and autumn is ushering in the next wave of cooler nights, flowers going to seed, and the beckoning of late blooming flowers, with those very blooms acting as the last chorus of the growing season. Blue ribbons are the possessions of many an excited winner at the fair. Autumn is the time of gathering of garden material for the winter harvest, like squirreling away nuts and seeds for the colder days.

Susan Silva is a local floral heroine who I have admired for decades. In my years of mentoring floral enthusiasts you either have the rare gift of working with dried flowers or you don't. I can only admire from afar because I do not have that special talent. Demure and quiet , Susan Silva is the queen of collecting and preserving wild material, and her years of experience making beautiful wreaths, swags and arrangements are testament to her gift of detail and precision. Her style is abundant; she has a keen eye for botanical texture and a great ability to preserve the color from the summer's garden, or from a wayside field or meadow. What Sue would find as a treasure along a path on the Island , most of us would bypass in our hectic lives, hidden gems like Joe Pye Weed, Queen Anne's Lace, Goldenrod–are all currency for her drying vault. There are many techniques for flower preservation; hanging upside down in a dry dark space; everyone can find a little closet or attic space for hanging hydrangeas, before a killing frost hits. There are many other methods to preserving flowers, including microwaving and using silica gel. Go online to websites specializing in plant preservation and DIY projects for further ideas. Drying and preserving flowers is very much like picking fruit for making jellies and jams, to preserve some of summer's bounty. It is like having a floral souvenir from the summer to last through the cold winter months.

The gathering of autumn flowers is our last opportunity to bring color to the cooler months and to hold onto the everlasting shades and tones our of gardens, until the new seed catalogs start coming in the mail in mid winter, and we can start the growing process again. With a little planning and thoughtful preservation we can keep the spirit of summer alive and well long into the winter months.