SCENE & SEEN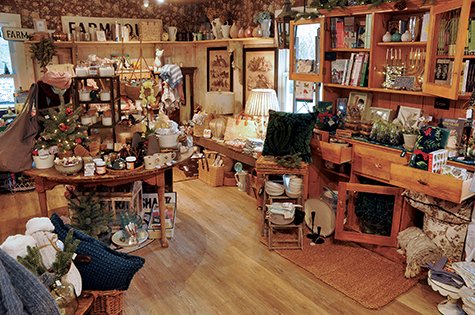 Gifts Galore

The Middletown Nursery Gift Shop Cranks It Up a Notch.
By Pat Waring
With its bright and airy new look and cheerful, warm serene ambiance, Middletown Nursery's Gift Shop offers a perfect antidote to the stresses of these edgy times."Birds, Bees, and Botanicals" is the motif for the revamped shop.
"The inside meets the outside," said general manager Mary Wirtz. "The gifts are geared to gardening, botanical themes."
Wirtz collaborated with an experienced buyer and others, reimagining the gift shop as a light, welcoming space displaying something for every room in the house. "There's a team of talented women redoing the shop," she said.
"We wanted to incorporate what was outside into the inside, to make garden and home become one," explained one staffer.
An experienced gardener and landscaper, Wirtz envisions Middletown "evolving into a charming nursery." She sees the Gift Shop as one compelling feature along with healthy plants grown on-site, distinctive tree specimens, attractive grounds, and friendly, knowledgeable staff to answer questions and provide guidance.
Established by John Gadowski some 35 years ago, now owned by John and Heather Hoff, West Tisbury's Middletown is a full-service nursery serving landscapers and home gardeners with seasonal plants, seeds, trees and shrubs, soil enhancements, tools, as well as festive greens and Christmas trees for the holidays.
The Gift Shop's new look began with vintage white-painted furniture pieces along with ceiling light fixtures and table lamps, a perfect setting for the treasure trove of home and gift items. Highlighting the outdoor feel is a striking tree arbor installation, crafted from blueberry wood by landscaper Andre Okurt, John Hoff, and Wirtz. A tall glass case overflows with fresh blooms, ready for custom bouquets.
Bath and body products by Panier des Sens en Provence are set out above an old fashioned porcelain sink, tempting bar and liquid soaps, lotions, perfumes featuring luscious natural scents.
Colorful enamel dishware as well as trays and pitchers were chosen for outdoor dining and socializing as family and friends seek to remain Covid-safe. Plaid shawls, cozy wraps and throws are aimed at keeping comfortable outdoors while enjoying time together. Table linens range from sturdy stone washed fabric from Lithuania to bright vintage floral pieces.
Nature is everywhere, from bird paintings, to flowered aprons and tea towels, decorative French clay guinea hens, botanical print calendars, even plantable seed-embedded envelopes and flowery gift wrap.
For a soothing glow, there are beeswax tapers, pillars, votives and all natural RE'ME.DI.UM coconut wax and essential oil candles in glass jars topped by chunky corks.
Shiny, waterproof USA-made Roma boots add a perky accent to muddy gardening or rainy day errands. Buy one pair and Roma donates a second to a needy child. There are bags galore from woven, natural fiber totes to chic vegan leather-look shoulder purses.
Local offerings include Island Bee Company honey, M.V. Sea Salt, jewelry by
Willow + Stone, Bee Well MV teas, Amy Hann's fanciful cards and more. Staffers hope to add more Island-mades, especially hand-knits.
Little ones have a nook with fluffy animals, books, and unique baby gifts. For grown-up fun on home-bound evenings there are Cavallini & Co. vintage puzzles.
Middletown's commitment to ethically sourced, high quality products means customers can feel their dollars are well spent. Whether you're seeking a sure-to-be-appreciated gift or just a rejuvenating browse, this shop is the perfect destination.
Middletown Nursery, 680 State Rd., West Tisbury, 508-696-7600, Visit:
middletownnursery.com
and Facebook.