HEALTH & FITNESS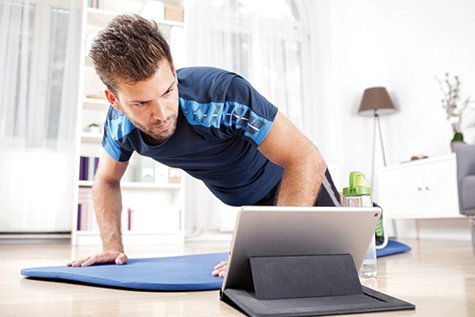 Open Your Screens

The YMCA is Live Online Providing Wellness Tools to the Whole Island
By Tessa Permar
A decade after opening its doors, the YMCA of Martha's Vineyard has created a new space for people to meet up, get moving, and pursue wellness in all its forms. Y Without Walls is a growing virtual program created by the YMCA of Martha's Vineyard, designed to meet the needs of community members of all ages during the time of COVID-19.
The program started in April with some fitness classes online. "When we were first doing the fitness classes, we started off with about 30 classes [per week] and a little under 300 participants," describes Development and Marketing Coordinator Rachel Serwa. "And the last time we did a tally in mid-June, we had 50 plus classes a week and we have over 600 participants."
In order to connect with people across age, ability, and availability, Y Without Walls offers fitness classes on many different platforms including Youtube, Zoom, and Facebook. Some of the classes are available to watch anytime on Youtube to fit with any schedule. The live classes on Zoom and Facebook occur multiple times a week and capture more of a group workout atmosphere. Just like before the pandemic, the Y offers a dazzling range of fitness and wellness classes from BodyPump, Zumba, and HIIT (High Intensity Interval Training) workouts, to Yoga, Cycling, and classes geared toward healthy agers. Serwa points out one of the benefits of online classes: "A lot of people who maybe couldn't do a specific class at a time, because they had to work, or they didn't have childcare, can now participate."
In addition to these fitness classes, the Y Without Walls program connects creatively with kids, teens, and healthy agers. Healthy Aging Coordinator Betty Robie has developed a Ted Talk series for her dedicated group of seniors. Participants watch a Ted Talk independently and then gather in a virtual setting to discuss. Senior Program Director of Youth & Staff Kelly Neadow hosts a similar online space once a week for teens to come hangout and socialize. Serwa notes: "We just want to keep people from feeling isolated." For kids, the opportunities to learn are abundant. There's Water Safety Wednesday, Camp Crafts, Story Time, and even virtual picnic options. "We want to remain that resource for the community that we've always been, even though we can't meet physically together," Serwa expresses.
And the Y community is not only responding to these offerings but growing in numbers, with participation rates doubling from April to June. No doubt this is in part due to the Y of Martha's Vineyard generously providing free access to their online programs. Anyone with an internet connection can participate. YMCA staff have observed that their dedicated regulars are joined by new faces and the community grows. While the Y is not charging fees during this time, they give their members the option to donate their monthly fees. Many members have been donating their fees for which, Serwa says, "we are very lucky and very grateful."
The Y continues to partner with local nonprofits to support the island community. They are collaborating with the Martha's Vineyard Film Festival (MVFF) to create The Vineyard Summer Drive-In: a film festival celebrating their 10th and the MV Film Festival's 20th year anniversaries. The festival features a series of drive in movies held behind the Martha's Vineyard Ice Arena, and benefits the YMCA of Martha's Vineyard, the MVFF, the Island Food Pantry, and Vineyard House.
Looking to the future, "the Y definitely plans on continuing our virtual group exercise program once we reopen," says Serwa. "We hope to grow the virtual platform into the future and see this evolving as a valuable member benefit."
To learn more about The Y Without Walls visit:
www.ymcamv.org
or email: Melissa Aldeborgh, Group Fitness Coordinator,
melissa@ymcamv.org