ARTIST PROFILE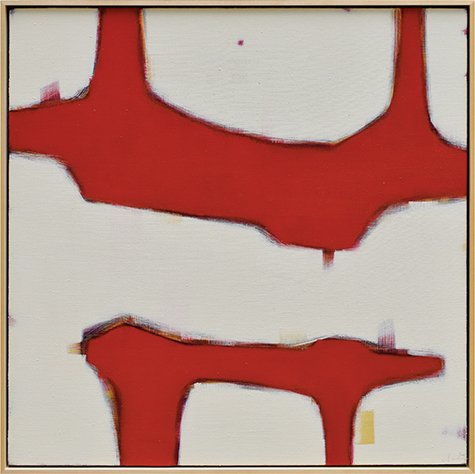 Jennifer Christy

Exploration and Discovery
By Olivia Cameron
Jennifer Christy has a unique way of noticing her surroundings and translating that three-dimensional experience into the two-dimensional. Inspiration is never far away, as walks through the Island landscape become creative fuel for explorations of shape and element, a personal language of abstraction. Her paintings press themselves on the viewer with the visceral impact of a fresh morning sky touching the ocean. "The fact that I've lived in one place most of my life has allowed me to see and appreciate the imagery of the natural world around me," Jennifer says. "This is probably why I feel like the shapes and forms of my work arise from within as much as from viewing the outside world."
Jennifer has had a long time to study the landscape of the Vineyard. She moved with her family from New York City to the Island when she was seven and, apart from going away for school, has lived here ever since. "I think I am drawn, like many, maybe most, people, to the scale and sometimes drama, certainly beauty, of our natural world." Jennifer says.
Growing up, Jennifer's family shared and nurtured her artistic inclinations. Many members of her family, including her father, step-father, mother and sister are artists as well. "So it feels very natural to just be making things and being creative. I don't really need to wait too much for inspiration really, art making seems to be kind of a normal thing in our family, like you're doing the laundry or something. It just comes naturally and it's fun and it really satisfies a part of myself that I like to be able to express." She currently lives on the Island with her husband Todd and her three children, El, Wren, and Dash, who also share a love of art.
She attended Franklin and Marshall College, a small school in Lancaster, Pennsylvania that branched out its curriculum to attract more liberal arts students. "It was fantastic actually, cause it was a small college but they had dedicated a large part of their facilities to art, and they had built an excellent department of faculty members, many of them living in New York City full time who would just travel down to the college for three or four days, so it really felt like we were on the cutting edge, but still getting to be in this really rural area."
She also studied painting, sculpture, and design at the School of Visual Arts in New York City, and later, drawing and photography at the Studio Art College International in Florence Italy. She has a wide variety of influences and artistic inspirations, "many of whom don't make art or didn't make art that looks like mine at all. I think I am interested more in how artists work, how they balance their painting and sculpture with other parts of their lives, and how they think about their art."
In 1998 she earned her Master's of Art Education from UMass Dartmouth, and then worked as an art teacher for eight years. Though she enjoyed teaching, it wasn't something she wanted to do long term. Eventually she switched to doing other things for her day jobs, saving her artistic energy for working in the studio.
For the past five years, Jennifer exhibited her artwork at the Field Gallery, a gallery space on State Road in West Tisbury noticeable by its outside sculpture garden. The space was founded in 1970 and features contemporary art by emerging and established artists. Her latest show was up from July 13-25th.
"Having so much time, solitary time, but also time not traveling this winter and spring, mostly due to the pandemic, I spent a lot of time outdoors, the new paintings that I've been doing have some real connection to cloud and sky studies integrating with the shorelines. I've always been inspired by those shapes in nature." In a change from much of her earlier work, "also derived from the landscape, just in a more elemental and abstract way," her latest series is more immediately identifiable. Most of the paintings have a horizon line with a blue expanse in the lower portion which looks like ocean, and an upper portion that looks like sky and clouds. "That was purposeful," Jennifer says. "I really wanted to convey a more realistic view. But the shapes are still the shapes that I've always dealt with and that have always come out in my paintings. It's like a combination of the abstraction that I've explored for a number of years but in this more realistic treatment and space."
Though much of her recent work has been in two-dimension, Jennifer originally worked more in sculpture, and she has exhibited several bronzes at the Field Gallery. "I would like to do a bit more sculpture this year if I can, I'd like a chance to hopefully do some more bronze work, but of course things would have to change travel and safety wise. But actually, it's do-able by email and imagery." Her recent bronzes were originally carved from blocks of wax, which she prefers for the texture it gives, different from clay, and is also easier to ship than clay. She then sends the carving to a company in Thailand, where they make a mold and cast the sculpture. "Sculpture is a little difficult to do if you don't have a lot of space, and it can be expensive. So painting was something I could do budget wise and also space wise. I have three kids, so I needed to make art that fits with all of the other things I have to do. Painting is a finite thing, it can be started and completed in a reasonable amount of time."
Now that her children are teenagers, two fifteen and one eighteen, it's easier for Jennifer to find time to make art. "Now that they're all doing their own thing, going over to the studio for a number of hours is easier, nobody even notices," Jennifer says. She spends a varying amount of time week to week in the studio next to her house, "a pretty ramshackle place, but its dry and its free," yet she always has projects going on.
Much like the Island itself, Jennifer's artistic process has become one that "follows the seasons," cyclical in nature, partly shaped by the juggling of her responsibilities. "In the late summer and fall I try to read about other artists and look at their work and just explore without deadlines or pieces in mind that I want to create. Then, in the late fall I begin to sketch or collage. I work on understanding the composition that I want to put forth in my new paintings and how those compositions are developing a balance or imbalance. I experiment with different shapes and often use clay or wax to make 3 dimensional pieces to further explore what the shapes look like. The winter and into spring is for working on the body of art that I will create. I usually have many pieces in progress at once and a few sculptures happening. Sketches are hanging; I take photos of in-progress work in the studio and look at the photos later trying to gain more perspective. I work on a painting for a while, layering, leaving then coming back, re-working."
Jennifer paints with acrylic on canvas or linen, and likes to take her time with each piece. "I try to gain a lot of depth in the painting, and with acrylic that can be a little difficult to do, so with a lot of layering I can get a really nice surface texture as well as a lot of depth. So paintings, even the small ones, can take a lot of time to develop into the surface and the layers that I like to see coming through. Also I like to linger on some paintings and work them until I feel like I've reached a good point."
Often the pieces she works on share a similar imagery and inspiration. "There will definitely be repeating shapes and forms that come out in multiple paintings. Maybe they're not treated in the same way, but they're definitely emerging," Jennifer says. As an artist, Jennifer pays attention not just to patterns of the landscape, but to her own perception and connection with it, a connection that shows up again and again in her work. "I wasn't really looking to make a style or have a recognizable set of images in my work, but there does appear to be one as I look back. I think that once a person starts to make art, and then consistently makes it over time, it seems that a signature forms, a sort of fingerprint emerges even when the materials or format changes."
You can find more of Jennifer Christy's available works in her collection on the Field Gallery's website at fieldgallery.com. You can view her work in person at the Field Gallery or if you are away from the Island, you can view the full collection in their 3D Virtual Model, located on the homepage of the Field Gallery's website. With any questions or inquiries you are able to contact the gallery at 508.693.5595 or email at
info@fieldgallery.com