CUISINE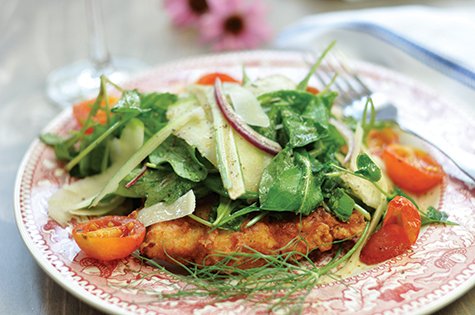 OB's Newest Eatery

A Fabulous Reinvention of the Pawnee House
By Lisa Belcastro Photography by Charlie Utz
Are you you on Instagram? I don't spend a lot of time on Instagram, but I somehow managed to stumble upon a post by a new Island restaurant called The Pawnee House MV. They'd posted a picture of a vegan "tuna" bowl. I was immediately interested. I followed them. They continued to post amazing pictures of food that I wanted to eat. The only problem: they weren't open yet.

Fast forward a few months, and my editor was talking about the summer issue. I pleaded with him to do a feature on the Pawnee House. He said, "yes," and last week I was in heaven as I sampled the foods that had me salivating for months.

A hundred years ago you could have stayed at the original Pawnee House, located where Ben & Bill's is now. The hotel was quite popular, even after a few murders attached to it.

The current Pawnee House, owned by Alex and Debbie Cohen, is located on Kennebec Avenue across from the Oak Bluffs Post Office. Alex is managing the business and Debbie is creating masterpieces in their kitchen. The couple, married since 2013, will tell you that their food is "contemporary comfort food, slightly elevated" but that is understatement. The food is healthy, beautiful, and downright delicious! Definitely elevated!

We started with the Beet and Goat Cheese Stacks. I should confess, I've never been a big fan of beets. You can verify this with my mom, and the times I had to "sit at the table until you're done." Well, that was before I tasted Debbie's incredible appetizer. The herbed goat cheese was perfectly sandwiched between roasted beets, resting among microgreens, olive oil, and a balsamic glaze.

I'm thrilled Debbie has shared the recipe with Vineyard Style because I'm going to make it for my mom and surprise her with my new-found love of beets. Debbie first created the recipe for a friend's baby shower three years ago. It was a hit. The recipe is pretty easy to make, and Debbie says you can choose whatever herbs work for you in the goat cheese, or you can cheat a bit and buy premade herbed goat cheese. My suggestion, try Debbie's at the Pawnee House first then modify based on what herbs are fresh and abundant in your garden.

As much as I enjoyed the beets, I couldn't wait to try the Grilled Polenta with MVM Shiitake Mushrooms. I love, love, love the shiitake mushrooms from MV Mycological. When Debbie first posted a picture of her grilled polenta, I messaged and asked if I could order it immediately. Let me tell you, every bite was worth the wait! And guess what, you can order this with Mermaid Farm feta cheese (best feta outside Greece) or with a vegan option. How's that for perfection?!

"I want to think outside the box for vegan options. My mom and I were testing stuff, researching and brainstorming. I fell in love with polenta in Italy, and the shiitake mushrooms are so meaty," said Debbie, who loves traveling with her husband and creating new recipes from foods they fall in love with.

Debbie, who, along with hubby Alex, has worked in the restaurant industry for more than 20 years, has shared her recipe with us. I'm making it on Friday with the last of my early summer spinach. Debbie advised us at-home cooks to "always stir your polenta with a wooden spoon. And, be sure to spray the pan with a cooking spray before cooking the polenta. It can fall apart."

We tried two entrees: the Salmon Wellington and the Chicken Paillard. The salmon was yummy with a light and flaky crust that had me stealing a couple of extra bites.

Debbie's Chicken Paillard is a great lunch option as it comes heaped with a salad of arugula, pea shoots, fennel, shaved apple, and tomatoes.

"It's not traditionally battered, but you get a big piece of protein in a salad. It works," said Debbie. "I love the sweetness of the roasted tomatoes."

Debbie shared the paillard recipe and she also gave us a bonus recipe for her Brick Pressed Chicken. "It really is fantastic," said Debbie. "The process of brining makes it juicy. You can eat this without feeling guilty."

Debbie noted that the secret to a crispy, golden brown brick-pressed chicken is to "put a piece of tinfoil between the chicken and brick, turn the heat on high, and leave it alone."

Alex and Debbie are creating a brunch menu that has a combo of healthy options and decadent options. "I'm a total glutton at brunch," said Alex, who doesn't carry an extra pound. "I'm going for the Country Fried Steak Skillet. It's so good."

The Cohens added a Dutch Baby to the brunch menu after they tasted one at a diner in Los Angeles. "It's similar to a crepe, but nothing like a crepe," said Alex, who began his restaurant career at a golf course in Peterborough, NH in 2000 and then five years later met Debbie in Orlando when they were both working at The Peabody Hotel.

I've traveled to Europe many times, but I don't remember ever having a Dutch Baby. I loved the zing of lemon on my tongue bite after bite. The pancake/crepe brunch item is light and easy to make. One word of caution from Debbie: "Do NOT open the oven once you put the Dutch baby in. It cooks by souffléing up. If you open the oven, it will fall and not cook."

Though we had very little room left for dessert, we didn't resist. We had to try Debbie's soon-to-be-famous Southern Strawberry Shortcake. The southern Adluh's biscuit was huge, and I mean huge! Debbie then topped that biscuit with strawberries and slightly whipped cream.

Here's what I loved about it: Debbie has a touch of orange in the strawberry sauce. "I wanted brightness. I tried lemon, but liked the orange better," said Debbie, who created the recipe with her mom.

The whole thing was so indulgent and delicious. "It's meant to be shared," said Debbie. Unless you only order the shortcake, she's not kidding. The recipe is perfect and simple for all our summer dinners that need a special touch.

I've written so much about the food, obviously because it's that good, but I've also got to share with you the really cool history of the Pawnee House and the Cohen family.

Way back in 1949, before I was born, Alex Cohen's grandfather and grandmother, Ben and Shelley, were headed to Nantucket. Their boat stopped for the day in Oak Bluffs, and as they were walking around Ben thought it was a great location for a store.

Not long after, Ben, along with his brother, George, opened an Army/Navy surplus store on Circuit Avenue. In 1956, Ben and George rented the original Pawnee House building and opened G & B Clothing. They bought the building block in 1966 and it's still in the family today. Alex and Debbie lease The Pawnee House space from Alex's dad Dick and his aunt, Rhonda Cohen Silverman.

Dick is active in the renovations and full of smiles talking about his family's past and the promising future of his son and daughter-in-law, Though Alex's grandfather passed away many years ago, his grandmother lived to see Alex and Debbie begin renovations for opening a new family business in the family-owned building.

The green and peach interior, with large windows and cozy nooks and comfortable, spacious seating have the feel of a family's love. Whether you dine in or take out, The Pawnee House MV is a must-dine.

I'll probably see you at the Pawnee House next week. Alex told me the Vegan Bowl is a "killer," so I've got to try it. First though, I'll be sharing a Beet and Goat Cheese Stack and a Grilled Polenta with MVM Shittake Mush-rooms. I won't even need to run any extra miles the next day. How sweet it is!

The Pawnee House MV will be open for dinner every night at 5:30 except Tuesday. They will be open for lunch on Monday, Thursday, and Friday from 11:30 – 2. On the weekends you can enjoy brunch from 10 am – 3 pm, and then dinner from 5:30 – 10 pm. You can check them out on Instagram and Facebook. ­


Chicken Paillard Salad
Serves 4

Ingredients:
4 6-8 oz boneless & skinless chicken breasts
2 eggs
1 cup of AP flour
4 pieces of fennel
1/2 Granny Smith apple
12 cherry tomatoes
1/2 cup shaved pecorino
12 ounces of arugula
champagne vinaigrette
1/2 cup pea shoots
kosher salt
cracked pepper
1 lemon
vegetable oil

Method:
1. Shave Granny Smith apple and fennel with a potato peeler. Thinly slice the red onion. Shave the pecorino with the peeler.
2. On a quarter sheet pan, halve and roast tomatoes with olive oil and S&P at 400 for 15 minutes.
3. Cut the lemon into 4 rounds and pan-sear them, about 5-8 minutes med-high heat in an iron skillet.
4. Pound chicken breast to 1/4 inch thick. Salt and Pepper the chicken. 5. In a large iron skillet, heat about 1/4 inch of oil to 350-375 degrees.
6. In a large bowl combine flour and S&P. 7. In a wide shallow bowl beat the eggs.
8. Dip the chicken in the flour, egg, back to the flour. Make sure you shake off the extra flour. Fry 2 at a time until golden brown on both sides, roughly 3 minutes.
9. Transfer to paper towels and drain. Salt right away.
10. In a large bowl toss the arugula, red onions, and champagne vinaigrette.
11. On a round or oval plate place the chicken on the bottom, then a handful of the arugula mix, then 4-5 pieces of apple, 3-4 pieces of fennel, pea shoots, 5 shaved pecorino and a fennel sprig. Place roasted tomatoes around the plate and serve.