SCEEN & SCENE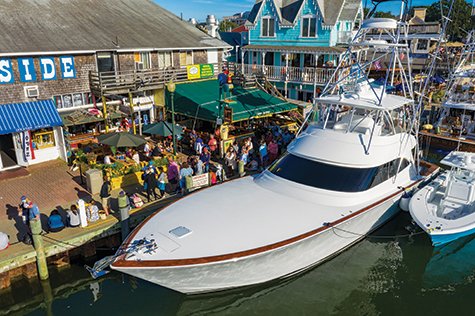 Coop de Ville Celebrates 35
By Tessa Permar
Overlooking Dockside Marketplace in Oak Bluffs, perches a giant metal chicken. Like a Vineyard Statue of Liberty, the Coop de Ville chicken bobs its head in the breeze, welcoming everyone who strolls the boardwalk and sails the harbor. For locals and visitors alike, Coop de Ville means enjoying exceptional Baltimore-inspired wings and seafood, catching a soccer game, making fast friendships, and sampling the biggest beer selection on the island. With a brand new brick patio for their 35th anniversary, the Coop weathers this summer's challenges with flexibility and finesse.

Tuesdays are Lobster Fest at Coop de Ville. Owner Petey Berndt carries his crustaceans a couple hundred feet from the top of the pier to his restaurant. "Any closer to the water, and you'll fall in," he jokes, referencing a Coop slogan. "In fact I measured it. That table right there is the closest to the water of any restaurant on Martha's Vineyard."

Patrons experience the luxury of enjoying fresh seafood with a breathtaking view. Berndt explains, "By doing Lobster Fest, a family of six can come have dinner on the water for $90." Accessibility is important to Berndt but not at the expense of good food. "It makes my job a lot easier, just knowing that I have the best crew in the kitchen ever," Berndt beams. He sings the praises of veteran chefs Claudiane Reis and Shamel Abraham, and head chef Lawrence Jackson, whose New Orleans-style stuffed quahogs are one of a kind. Berndt applauds his staff including Jen Ward, Brendan O'Neill, Gary Metters, manager Jimmy Shea, Delano Green, and Richard Eddleston among others, several of whom have clocked 15-25 years at the Coop. "The Coop's not just a job, it's a family."

The dedication of his staff is unprecedented in a seasonal economy, and it is matched only by the loyalty of his customers. With partitions, mask-requirements, and a crisp breeze passing by the tables, Coop de Ville is ready to welcome fans from near and far, safely. What better time to have constructed a beautiful patio for expanded outdoor seating at the Shuck Shack (the Coop's popular raw bar serving honeysuckle oysters, local littlenecks, and jumbo shrimp cocktail)?

To celebrate their 35th year, Coop will host their annual pig roast on September 20th. With a seven-piece band serenading the harbor, the celebration will no doubt be a testament to the spirit of the Coop community through this challenging time.

On the Harbor, Oak Bluffs. Dine under the awning or on the new patio, luncu and dinner (11am - 10pm), Take out: 508-693-3420.