ARTIST PROFILE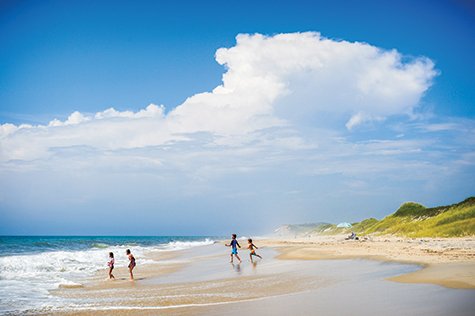 The Eyes of Emily Drazen

Chasing Horizons, Capturing Moments
By Tessa Permar, Photography by Emily Drazen
Before Smartphone cameras and selfies swept the nation, Emily Drazen crouched beside a litter of newborn kittens, peering through the lens of a Canon SLR camera that had belonged to her grandfather. At age nine, with an early aptitude for taking pictures, Drazen taught herself to shoot film using only what she had around her, which sometimes meant the housecats assembled on colorful family rugs. Ultimately her passion for photography took her around the world, chasing horizons in Canada, South America, Europe, and Asia. Ten years ago, she planted her roots on Martha's Vineyard.
Today she shoots weddings and documents local happenings for the MV Times, while still pursuing her fine art.Whether it's a glimmer in the eye of a bride or a rumbling, cloud-filled sky, Drazen's photographs have one thing in common: they don't just capture the moment, they put you right there inside of it. Emily Drazen is known for her landscapes. She humbly attributes some of the excellence of her work to the beauty of the island and other sites. But it's more than that. She is a master of sharing not just what she sees, but the way she feels while taking the photo: eyes wide, breath suspended, and filled with awe at the natural world. While she now applies this breathtaking quality to her commercial and digital photography, Drazen's training began early with her first love: film photography. Born in Manhattan, and raised in Roslyn, Long Island, Drazen was a creative child from the start.
She played piano and flute, dance, acted, wrote and created books. Her interest in photography sparked at age eight. Her grandmother gifted young Emily her grandfather's old Canon SLR camera, which he had stopped using. "I was obsessed with that camera," Drazen recalls. "And it didn't have a functioning light meter. I had to teach myself the relationship between exposure and shutter speed if I wanted any of my photos to come out." She began experimenting with cameras, film, printing and shooting techniques, teaching herself as she went. She remembers, "My dad thought I should be looking more at photography books, going to museums, and studying photographers' work and I refused. I wanted to develop my own style." Drazen shunned the practice of copying famous artists early on, in favor of honoring her own vision. As she watched her three older siblings leave home to travel, attend college, and chase their dreams, Drazen hungered to pursue her own adventures. She completed her BA in Communications with a minor in Art Studio: Photography at SUNY New Paltz in New York. Over the next decade, Drazen traveled, pausing for months or years in San Francisco, Brooklyn, and eventually Martha's Vineyard. At twenty-two, Drazen made her first solo trip abroad: twenty European countries in four months. "That's really where I developed my passion for landscapes, travel, and documentary work," Drazen notes. She also lived in Vancouver, London, Providence, RI, where she took Continuing Education classes at RISD for digital photography and stock photography, and Portland, ME, where she continued to grow her skills. She explains: "I love people and to connect with them, I find it to be one of the best parts of living. But I'm also so profoundly connected with nature." Her vivacity combined with an appreciation for solitude and beauty characterized her nomadic lifestyle and her photography. Drazen elaborates: "I think my best work comes from something I've never seen before, something and somewhere completely new. It's a challenge for me to be in the same place for any length of time, but it's a challenge I'm happy to embrace on Martha's Vineyard; where our coastlines change and evolve every year." It's this pursuit of the unknown that inspired Drazen to spend two months taking pictures and traveling in South America. She passed on the continued on next spread tourist-filled Machu Picchu in favor of nearby historic city Cusco. She grew so enamored with the epic natural beauty of Patagonia that she nearly spent half her trip there. "As a photographer it's so exciting because I'm actually capturing a moment that's so fleeting; it comes and goes. That's why we love sunrise; no one ever sees that pink sky. Someone's gotta capture it."
Part of what makes her work unique isn't just the newness or remoteness of the location, but the moments she chooses and how she processes her film. "Something I look for is the sky. You might have noticed in my landscapes that I'm all about the sky and clouds. And if the sky isn't filled with any clouds or contrast, I bring the horizon down and focus on the foreground. It's the light from the sky that creates the mood I want to portray." Sometimes she uses music to focus her mindset, or a low-capped hat, or the serenity of a winter's day. "I have to get in the moment, and then I want people to feel that moment with me as much as possible."
Another technique Drazen discovered early on was cross processing. Cross processing is the practice of developing film in a chemical solution intended for a different kind of film. "I mean talk about spontaneity – you have no idea what you're going to get," remarks Drazen. Her use of this technique results in intense, surprising colors and crisp contrast, photos so vivid you can almost taste the salt in the air.
Throughout her twenties, Drazen's life was dedicated to capturing and conveying nature's awe-inspiring moments on film. She worked as a bartender, a waitress and freelance photographer in order to finance her travels, and of course, the cost of developing pictures. On a trip to Indonesia and Japan, Drazen brought one hundred thirty three rolls of film with her and two cameras: "I had with me my Nikon 35mm SLR and Mamiya 120mm (2 1/4 inch square format size) camera." Airport security delayed her for hours, but it was worth it. She returned from Bali two months later, gaunt from non-stop travel and photography, but beaming with her precious cargo in tact: one hundred twenty five rolls of film shot. Included in those rolls of film were a series of rare and remarkable portraits of people she'd encountered in Indonesia, a departure from her exquisite landscapes.
That was Drazen's last trip abroad before settling, as much as she wants to settle, on Martha's Vineyard. After four summers of working in the service industry she landed one of her only and favorite full time jobs as the assistant director at The Field Gallery in West Tisbury in 2008. 'I loved that job very much', she expresses: 'I learned that I was good at selling artwork by applying my own experiences as an artist, traveler and appreciation for the Island. I also learned valuable tools and protocols what to do and what not to do when it comes to displaying fine art" It also provided the opportunity to absorb new skills and experiences every day. It suited her perfectly. She also found that she had a knack for reading customers.
In 2012, Drazen had her first of two boys, and in 2014, she decided to focus on motherhood and her photography fulltime. Shortly after leaving the Field Gallery, Drazen walked into the MV Times, camera around her neck, and got an offer on the spot to take pictures for the paper. This cemented a change for Drazen that had been sneaking up for a long time: the use of digital photography. For twenty years, Drazen had been dedicated to film. 'I refused digital forever, she says, 'but after having my first baby, I couldn't deny it much longer–I didn't have the same amount of time and patience for film development since I sent it in bulk to a lab in NYC. That's actually when I joined Instagram. It became a tool and creative outlet for me to just play, because I missed being creative and expressive."
Mastering digital photography led Drazen to work as a photojournalist and wedding photographer. While she currently works with one or two brides per year as their primary or "first photographer,"—shooting the main event and
figures—she feels equally if not more at home as a "second photographer," capturing the little moments, the guests, the scenery from the sidelines. "Something I try to achieve in my commercial work is that same essence and feel that I capture in my fine art and documentary work. When I put a person in the scene it's my chance to tell a story, while still celebrating the landscape."
Her traveler's spirit is still strong, but it's Drazen's ability to live in the moment and to celebrate that moment that enables her to create new works of fine art every year. "This is the Vineyard, it's so beautiful, it's ever inspiring." When she isn't homeschooling her two boys, she can be found working at "Haven" a collaborative workspace in Vineyard Haven of likeminded creatives and entrepreneurs, or shooting one of her favorite island spots. A common reaction to her work is, "You put me right there." That is her goal: not just to make something beautiful, but also to put you in that beautiful place.
Even though she photographs some of the island's most well known and beloved locations, Drazen is always looking for a new perspective. She says the biggest complement she receives is when someone who has lived here their whole life looks at a picture of hers and says, "I love that, where is that?" When Drazen reveals it's a place they've been hundreds of times, "they're like oh my god I've never seen that perspective. That to me - that makes my day. It makes me so happy," says Drazen.
She mostly shoots digital now, with a Nikon D-850 for more commercial work, and a Nikon DF for creative projects. Drazen is between galleries, looking for the next home for her fine art photography. She gets asked every so often, with her breadth of experience, when she's going to start teaching photography? Drazen replies: "That's something I really see down the line, when my kids are older, when I'm that much more experienced, and I have more time on my hands. I still have a lot to learn." In the meantime, she has been doing some fashion photography and delighting in watching as her 8 year old experiments with taking his own pictures around the house. "I'm just as passionate about my life and photography as I was when I was 14," notes Drazen. Someday she will renew her passport and photograph far away horizons again. But today she finds inspiration in the island's ever-changing skies and in the beautiful miracles of home.
For more information contact: EMILY DRAZEN PORTRAITS • FINE ART • WEDDINGS, 917.592.8398,
edrazenphoto.com
, Instagram.com/edrazenphoto