CUISINE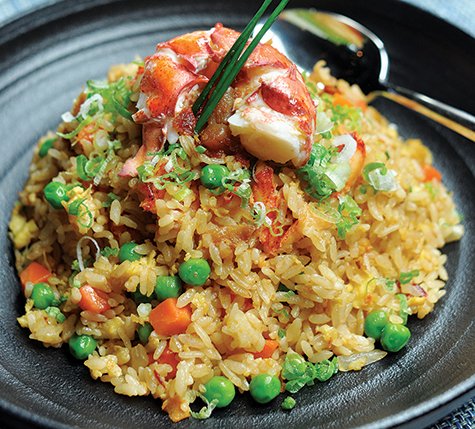 The Island's Greatest Hits

A Sampling of Good Eats from Some of the Vineyard's Finest Restaurants
By Lisa Belcastro, Photography by Charlie Utz
Summer! The word brings to mind lazy days at the shore, barbecues and beach picnics, strolls down Main Street or up Circuit Avenue, the Chilmark Flea Market, the Farmer's Market, the Possible Dreams Auction, the Ag Fair, fireworks, Grand Illumination, and so much more.

At every event, we always want food. Steamers and oysters, lobster rolls, hot or cold, Black Dog omelets for breakfast, Edgartown Diner burgers, romantic dinners at Bettini or La Soffitta or The Sweet Life, and the list goes on and on. Honestly, I could probably fill the entire issue of Vineyard Style writing about our Island restaurants.

As I drive from Vineyard Haven to Aquinnah, from Chilmark to Edgartown, and from Oak Bluffs to Menemsha, hope begins to surge as the recently empty parking lots have a scattering of cars, buildings that were dark for months now have lights aglow within.

Our Island summer will look very different in 2020. We are all prepared and understand the need for a "quieter" summer. But, one thing will not change – great food at great Island restaurants.We don't know when our favorite breakfast, lunch, and dinner locations will offer dining room reservations, but our taste buds will not suffer.

Dozens of our favorite Island restaurants are open for curbside pick-up. Some are even offering door-to-door delivery.

What would summer be without chowder?We have a recipe here from Island fave, the Artcliff Diner. Though you won't see the normal hour-plus waits for breakfast, Artcliff has remained open for take-out throughout the pandemic and you can still get your favorites.

If you're like me and love the fish tacos at the Little House Café, we have the recipe for you to make at home, and the good news that Little House is open daily from 7 am to 7 pm for take-out.

I confess I have a sweet tooth, and few things are as yummy as Jaime Hamlin's Passion Fruit Crème Celeste.We have the recipe here for you, but I'm also excited to let you know that Jaime is offering catered meals delivered to your home. Talk about a blessing in a crisis!

I've been watching Chef Jimmy Alvarado from Woods at Lambert's Cove Inn posting his delicious meals on Facebook, and he's shared Pesto Primavera with us here. Woods is also offering take-out, and if Jimmy's added mushrooms to an entrée, order it!

What would summer be without a lobster roll?We have a recipe here from The Square Rigger. Fortunately, many Island restaurants are offering lobster rolls for take-out so we can eat two or three a week. Just kidding – sort of.

Getting back to that sweet tooth, did I mention the Black Dog Bakery is open for take-out? Dozens of yummy breads, pies, cookies and pastries are waiting for us. If you can't get there this week, we've got the recipe for their mint hot chocolate bars. I wish you a safe and healthy summer, filled with joy, laughter, love, and fabulous food.


Bettini Restaurant
Maine Lobster Fried Rice with Scallion and XO Sauce

Ingredients:
1 (2) 1½ lb. lobsters
1 gallon vegetable stock
1 cup sushi rice
1 tablespoon chopped garlic
3 eggs
3 tablespoon XO sauce
3 tablespoon chopped scallions
2 tablespoon Chinese vinegar
½ tablespoon sesame oil
1 tablespoon vegetable oil
3 tablespoon diced onion
3 tablespoon diced carrot
3 tablespoon English peas
3 tablespoon soy sauce


Method:
1 Preheat the oven to 350°
2 Scramble the eggs soft and reserve to the side.
3 Blanch the peas, carrot and onion and reserve on the side.
4 Chop the scallions and reserve.
5 Rinse the rice with cold water until the water is clear. Cook the rice in 2 cups of water in a 350° oven for 20 minutes then keep warm.
6 Boil the lobster in vegetable stock (water can be substituted for vegetable stock) for 20 minutes, let cool and remove lobster meat from shell.
7 Cut the lobster meat in 2-inch pieces.
8 Heat the vegetable oil, add the onion, garlic, and carrot. Cook until tender, add the warm rice and stir fry over medium heat for 5 minutes. Add cooked eggs, peas, lobster meat, and stir fry for another 2 minutes. Add sesame oil, soy sauce and Chinese vinegar, and stir fry for another 2 minutes.
9 Add salt and pepper to taste and garnish with the chopped scallion.