COMMUNITY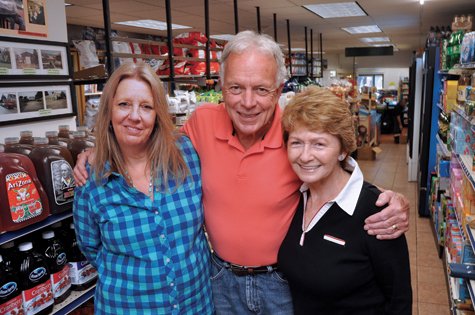 142 Years & Counting

Tony's Market is a Local Emporium and Community Hub
By Tessa Permar
"If you find us, you usually come back," remarks Kelly Hill, vice president and store manager of Tony's Market in Oak Bluffs. She's talking about the customers: the Dad whose kids finished off the last of his roast beef, the family of 10 on their way to State Beach, the landscaper from West Tisbury ordering her Friday steak and cheese, or the dinner host who desperately needs a cheesecloth and a nice Merlot for a special occasion. Tony's Market, open from 6:30 am to 9:00 or 10:00 pm every day of the year except Christmas, has what they need and more. But it's not just the customers who return year after year. Tony's is a family-run business with a dedicated staff who maintain the small-town charm even as their craft beer section expands.
Islanders have been shopping for staples in this spot ever since it opened as a small grocery in 1877. In 1945, local Little League founder and namesake of Viera Park, Tony Viera and his wife Gertrude took over. Tony Viera passed it on to his daughter Geri and her husband Bill Correllus who ran it for 20 years. Then in 1992, Dave and Ellen Richardson bought the business and shaped the Tony's we know today. In 2017, they celebrated their 25th anniversary at Tony's and the 140th anniversary of the business itself.
As Kelly Hill, who will celebrate her 25th year at Tony's this spring, explains, "One good thing about Tony's is we tend to have a lot of long term workers. People come, they tend to stay." Hill works closely with assistant manager Nancy Gibson, office manager Bella Reina, head of receiving department Lea Mandelli, and in our deli Lany Cossuol who have all been at Tony's for more than 18 years. Many of the cashiers and deli workers are equally as dedicated to the business and the customers. They sustain the close-knit community spirit even as the business grows to include a make-your-own coffee station and new specialty sandwiches like the Brie, Ham, and Fig.
While the grocery, beer, and wine sections provide reliable staples, the deli and prepared foods section draws numerous faithful customers. Hill, who helps design the menu with owner Richardson, soon hopes to offer delivery services to older folks in the area, providing them with menus and good, fresh food. After all, on Tony's busiest days, the door literally doesn't shut until closing time. Be it for the Humphrey's baked goods sold all day, a surprisingly good wine, or their afternoon lotto, customers keep coming back. It was Dave and Ellen's daughter who first printed on a bumper sticker, what locals and visitors alike say all year round: "See ya at Tony's!"
Tony's Market, 119 Dukes Co. Ave., OB, 508-693-4799,
tonysmarketmv.com