HOME PORTRAIT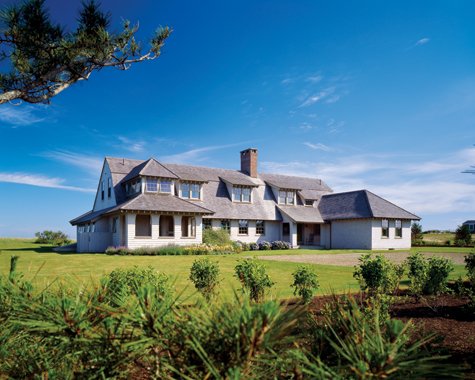 Building Trust

Doyle Construction: Setting a Standard of Quality Design and Performance
By Kara Goldfarb
The Island is in the middle of a storm. Ferries are canceled due to strong winds and tall waves. This means a myriad of things to different people: those with plans to leave, plans to return, plans to visit.

For Joe Chapman, partial owner of Doyle Construction Corporation, a building company that focuses on top-notch residential construction and renovations, weather like this can mean backed-up materials and an impossible commute for off-Island sub-contractors. And therein lays the paradoxical challenge and beauty of building a home within the Vineyard's tranquil seclusion.

Chapman isn't a novice though. Sitting at his desk on the second floor of Doyle Construction's unassuming yet inviting workspace in West Tisbury, he recalls with impressive detail getting his start in 1980 at the Weatherly Company, working on the Kennedy–Onassis Estate in Aquinnah with future business partner Jamie Doyle.

"It was kind of a fluke thing," Chapman says. He was visiting a girlfriend on the Island and ended up staying. "She was hitchhiking because her car broke down, and Jamie picked her up," Chapman recalls, "and that's how I got to know Jamie at first, before I even got to the job site." Chapman recalls. The girlfriend asked Doyle, who was already working for the Weatherly Company, about helping Chapman with a job. It turned out Chapman had already happened to speak with a foreman from Weatherly who offered him a job. Still, it was the connection the two men formed from their kismet meeting that led to their next endeavor.

Chapman and Doyle were housemates in 1984 when they decided to partner up on their own venture. The following year they brought on Neal Galligan as a carpenter. When Doyle took an extended leave to earn a MSCE at Stanford and explore projects in other locations, Galligan became a partner of Doyle Construction Corp.

And they've been the builders behind some incredible projects. For instance, they didn't just restore the Corbin-Norton house; they rebuilt it entirely following a tragedy. The historic mansion on Ocean Park in OB was first constructed in 1891 and had been stripped of its original ornamentation after years of inattention. Doyle Construction took on the restoration in 1991. The original architect who designed the mansion had done a lot of research, and it took about two and a half years to bring it back to its initial stature. In 2001, a fire burnt the house to the ground.

"I think it took the same amount of time both times," Chapman recalls.

"That was pretty incredible," says Bev Mazza, Doyle Construction's office manager. "That it burned down and in rebuilding it again it was almost like the exact same house."

Less famed, yet equally beautiful projects have extended from Squibnocket to West Chop and even Chappy. They employ the natural beauty of Martha's Vineyard, blending design harmoniously with the Island's intrinsic elements. Views are utilized, the outdoor interacts with the indoor, and overbuilding is avoided. The decades of experience the company's owners have doesn't hurt either. "There are so many different scenarios that can come up in the process of building a house," Chapman explains. So their practical know-how serves as an invaluable guide in terms of navigating the many intricacies that come with building a home. Particularly so on an Island.

"[Galligan's] a good guy to have as a partner," Chapman says, "and partners are typically hard to find." Chapman describes Galligan as "an excellent carpenter, an excellent finish guy, excellent with numbers." Skills Chapman recognized when Galligan first came on.

"And Joe and Neal have the same birthday," Mazza chimes in from her desk on the other side.

Mazza joined the crew 24 years ago. And she handles a lot. "All Administrative duties, Business Development, Payroll," Chapman says before Mazza jumps in, "payables, billings and payment applications…" It's unanimously decided that she holds down the fort. This allows for a fundamental component of Doyle Construction: they have an owner on the job at all times. Controlling the project from the site, and being there for the client. "As opposed to having an owner just sit and manage and then have some foreman or some supervisor on the job," Chapman says.

Considering Doyle Construction specializes in building custom homes with a particular emphasis on craftsmanship, that level of up-close interaction is crucial. In fact, along with deeply caring about the projects, open and honest communication is a staple of the company. With the client, between the employees, with the architect. Chapman describes it as a marriage for the a year or two, or however long it takes to complete a project. So communication is key. "And that's as in anything," Chapman says. "It's in building, it's in life in general. You've got to communicate."

The owners of Doyle Construction don't just see the collaboration as purely transactional though. For Chapman, the best possible outcome once a project is finished is remaining friends with the people involved. "Because you've been working with them for a long period of time. It's something that can be measurable within their lifetime," he explains. There is the possibility that it's someone's fourth or fifth home and maybe they don't feel that kinship. "But I think I bring that out in most of them," he says with a laugh.

The company also shares the mentality that if something's not done right, you do it again. Or as Mazza puts it, "Joe and Neal and perfectionists." Sometimes that can add to the length of time it takes to finish a project. But, as Chapman states, "I'm not goanna' steer you wrong." In the end, there's less maintenance. No repairs, no leak five years later. Plus, the people the company hires learn the right way and become talented carpenters and craftsmen in their own right.

Over the years Chapman has noticed certain trends in buildings on the Island. Principally, that they've gotten larger and there's a lot more attention to detailing. "No more beach cottages," Mazza half-jokes. While they enjoy the privilege of being able to build luxurious homes that show off quality artistry, they're not discriminatory when it comes to size. "We'll do a small house to a big house, it doesn't matter," Chapman states. "It's just when we do a small house we want to make sure we can do the quality small house. We're not going to cut corners." The ultimate goal is to make the clients happy. As he puts it, "They're the ones that have the vision. You're just in there to make that vision come true."

A current vision in the making: A 23-acre property in Chilmark that faces the water towards Nomans. A pool, a pickle ball court, a barn, a boathouse are all in the works.

Chapman also notes that it's "a huge landscaping project" with stonewalls, patios, and an orchard. But Chapman describes the style as laid-back and loose. Though the plan includes a lot of stonewalls, they won't be "rigid" or "stiff" as Chapman calls it. The landscape architect's design is English Style in its seamlessness. "All the stone paving will have grass in between," he says. Trees incorporated into the deck and grass driveways contribute to the idyllic style as well.

The property has a big elevation drop, with the main house being built on the northwestern section at the top. As Chapman phrases it, "the view is un-freaking-believable."

The project is currently in the framing stage and while it will take up a good chunk of time, they still have a bunch of smaller projects coming up. The passionate workers are credited with keeping things moving. "My guys are a bunch of great guys," Chapman says. "I think they love their work. You can tell." This is what Chapman calls the beauty behind building the types of houses Doyle Construction builds. They're building something they like and take pride in.

Another reason the workers are valued: they're capable of heavy lifting. The experience Chapman and Galligan bring to the table is vital in seeing a project through and staying within budget. However, when it comes to the actual building, Chapman says it's a young man's occupation. "It's a strenuous job," he says. Having younger workers on the team is beneficial. "They help the older guys out because they can do the heavy lifting, but also just the enthusiasm." That's why the younger and older mix is ideal: they each feed off the other's unique fervor. Plus, Chapman adds, "they're a lot of fun to be with."

It ultimately comes back to that core principle of communication and connection. "We have a lot of people that stay because we're kind of like a family," Mazza says. "We take care of each other." It's palpable, a vibe that overspills into the fine work they do.

For Mazza, this particular storm means potentially not catching a ferry she needs for her planned trip to Italy. So she's taking off early. "You'll be okay without me for two weeks?" She says to Chapman on her way out. "You're goanna' miss me, I know it," she says before he answers.

That palpable vibe also transcends worrying about the chance of stalled materials due to weather. Because when there's communication and strong relationships, everything gets done.