DRAWING BOARD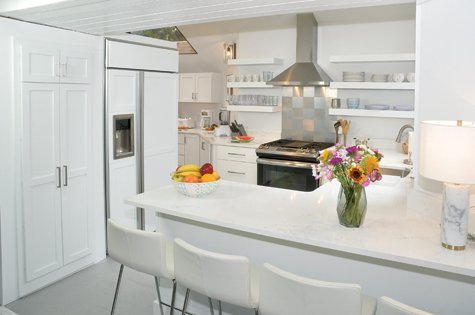 Clean & Simple

Monochrome Mastery in Edgartown
By Amelia Smith Photography by Charlie Utz
When Kitchen Designer John Meade was contacted about a project in Edgartown, the speculations were simple. "This client specified an open feel with white cabinets and countertops that look like marble," John says. Annie Sylvia, a real estate agent and interior decorator, brought him in on the job. She was hired to redecorate a vacation rental investment property near downtown Edgartown, a house with odd angles that was built with salvaged wood from a barn. Anne's winter's renovation brought its interior up to date in great style. "She really transformed this place," says John.
Most houses on the Island have predictably square-cornered rooms and certain Yankee regularity, but this one does not. Although parts of it are as expected, half of the kitchen is in a space angled underneath an unusually long skylight that extends over the stairs to the upstairs hallway. Despite its proximity to the stately whaling captains' houses a short walk away, its architecture is closer kin to the beach houses down the road in Katama. The house has a pool and a massive walkout deck with a grill, dining table, and a comfortable seating area. Inside, the great room has couches grouped in front of a generous fireplace and a dining table that seats twelve.
The kitchen, however, is not especially large. To meet the challenge of feeding all those potential guests it has to be efficient, with a simple, clear layout that's easy for renters to navigate. Working with the kitchen's shape presented a challenge in that department. Rather than the usual square or rectangular layout, this kitchen is composed of two main areas, joined at an angle. The main working area is a small square with the breakfast bar, undermount sink, range, and refrigerator. Most of the cabinets in a long stretch are in the angled area tucked behind the stairs. That's where the small appliances – toaster, microwave, and coffee maker – sit out of view of the open living area.
Despite its irregular shape and small size, the kitchen has one brilliant advantage: an abundance of natural light. The skylight lights up the narrow back of the room and the stairs behind it. Over the sink is a ceiling-height, wall-width window, angled at the top to follow the roofline. Daylight streams in, and with the smooth white countertops and cabinets, nothing is left in the shadows.
John says that the greatest challenge in designing this kitchen was getting around the corners during the installation and working with a space where nothing was level or plumb. "When I design a kitchen, everything is straight and square because it's on paper," John says. "I have to make room for the installer to adjust as he goes." Here, John and his installer, Douglas Fogg, had to confer often as the project went along. The refrigerator weighed 800 pounds, so that was also a challenge to fit into its carefully measured location.
Although this was an investment property, John mostly works with people who live on-Island year-round, or spend a substantial part of the year here in their own houses. "I actually enjoy the back and forth process with clients. I like working with people. It's always satisfying to know that what they end up with is what they really wanted." With the owners absent, the initial design part of the process was streamlined. "It was easier because with most kitchens there's a lot more back and forth to get the design to what the owner wants it to be. With this one I just did the design and they accepted it," John says.
John came into kitchen and bath design business through circuitous route. Originally from Hyannis, he attended SUNY Fredonia, where he studied architectural engineering. "The thing about kitchen design is there's a technical aspect to it as well as a creative aspect, so it does come in handy." As part of his studies there, he also took drawing classes that were part of the architectural engineering program. He arrived on the Island in 1987 to manage the Carpet Barn, where he worked a total of ten years, building up the business. Needing a change, he saw a "no experience necessary" help wanted advertisement for a kitchen designer at H N Hinkley's. Wayne Guyther, who hired him right away, said that John was the best candidate he'd seen in six months.
Fast-forward twenty years; John went on his own, founding Coastal Creations Kitchen and Bath two and a half years ago. It's a small business specializing in custom work for Vineyarders. "Everything I sell is American made," he says. He sells a variety of materials at a wide range of price points. In countertops, he says that granite is still somewhat popular, but the quartz composite he used in this project is growing in popularity. He's also the only kitchen designer on the Island who sells laminate countertops, a budget alternative. His two top cabinet brands are Wood Harbor, a custom line, and Starmark, the high-medium-quality line used in this project, but he also sells four other cabinet lines to cater to the widest possible range of budgets.
John specified all the appliances, including the GE range and exhaust fan hood in stainless steel. Floating shelves on either side of the range display an ample and well-matched collection of dinnerware ample for vacationing visitors and their guests. Custom panels on the refrigerator and dishwasher ensure that they blend in seamlessly with the kitchen's look. The countertop is quartz composite from the Viatera line, an environmentally friendly and low-maintenance surface that looks like white marble. It wraps around the kitchen, including the angled corner, and extends into a small breakfast bar. The bar faces the great room, with four stools for those who might want to sit for a quick cup of coffee, keep the cook company or actually dine.
All together, the kitchen complements the modern beach-house feel of the property, where next summer's seasonal visitors are sure to enjoy themselves. Bon appétit!
If you'd like to learn more about Coastal Creations Kitchen and Bath, visit John's website at
coastalcreationskb.com
. Or a call at 508-338-7106