GARDENSCAPES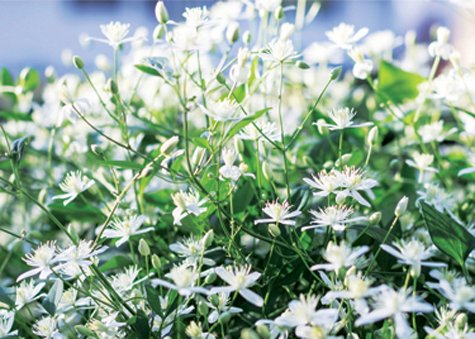 Clematis Paniculata
By Mariko Kawaguchi
For many Vineyard gardeners, autumn is the quest for more choices than chrysanthemums in their transition from late summer to the shorter daylight and lower temperatures ahead. Hydrangeas are going more subdued in their color and turning a more bashful, quieter, greenish color. Our annuals in our gardens have peaked and they are now becoming more diminutive as their life cycle is winding down. Our fall colors are more muted in our natural vistas than our Northern New England neighbors. One of the most beloved Island autumn plants is Clematis Paniculata aka Sweet Autumn Clematis, or Clematis terniflora, a vigorous woody vine in the buttercup family that is native to Japan. There is much confusion about the taxonomy of these clematis in their introductions into the plant world; Clematis Paniculata is technically a different species native to New Zealand, and would be less hearty here in New England, in contrast to the Clematis terniflora, that can be seen throughout the region. Since most labels of commercial growers and gardeners in this area refer to the plant as Clematis Paniculata, so shall we for the purposes of this article.

Our Island visitors as well as local gardeners come into the nursery seeking this plant out because of the allure of its fragrance and its profuse panicles of delicate white flowers. Whether it's found in the hills up Island, or on Main Street in Vineyard Haven, it's intoxicating vanilla-like aroma draws veteran plant enthusiasts as well as Vineyard visitors into it's sensory vortex. It manages to be a natural wayside garland but it can also be trained in a submissive form to adhere to a well kept, manicured trellis or form, or it can be left to its own devices, to overflow on old stone walls and to spill through picket fences and gates. This one plant can have so many different faces based on how it is or isn't managed within the landscape. Although singularly it's not a showy flower, in clusters or in archway profusion it can be a grand spectacle. At Donaroma's it is a popular autumn plant for people to take back home and plant in their own gardens, as a living plant souvenir as a reminder of a Vineyard visit. As it blooms in autumn, it often goes unnoticed until its flowers emerge with the later days of the growing season.

The species name paniculata is derived from the word "paniculate" which means "arranged in panicles" (a panicle is any loose, diversely branching flower cluster). (In Ancient Latin the word translates to tuft). These plants can grow up to thirty feet long, overwhelming everything in its path. The tendrilous leaf petioles in this twining vine twist around, helping it climb on structures or woody plants. The numerous fragrant white flowers are produced in terminal branching cloud like panicles. The flowers are followed by silvery plume-like seed heads, common to this genus, which are dispersed by wind. The mass of fluffy seed heads can be quite decorative as well as great design by nature to catch the wind for dissemination of its species.

Sweet Autumn Clematis grows best in full sun, although it can tolerate part shade as well, and should always be planted in well drained soil. The species blooms on new growth, so it can be pruned back in the fall after flowering, or in early spring to keep its rampant growth in check. Every stem can be cut back to a few strong buds a foot or two off the ground in late winter or early spring. Like all clematis, it likes a cool bottom, so the soil at its base should be mulched or shaded with other plants. In springtime, fertilize with a low nitrogen fertilizer and keep consistently moist throughout the growing season. Although the flowers are attractive to bees and butterflies, the plant is of no interest to deer. It can be easily propagated from seed sown outdoors in the fall, softwood cuttings in spring or semi-ripe cuttings taken in early summer. It can take up to five years before plants grown from seed will bloom.

Sweet Autumn Clematis is a magnificent autumn plant, but it is not without controversy. In many states, it is considered to be an invasive species, and opinions are highly divided on its worth. It needs a lot of room for its sprawl, and can easily choke out other plants in its path. Monitoring its seed pollination and expansion is critical. With careful planning and regular maintenance, it can be a wonderful addition to your fall garden. Take a stroll in town or on a winding dirt road and smell the sweet autumn vine that encompasses our Vineyard landscape. Inhale and take in all of autumn's vivid scents and allow them to sustain you during the desolate months of winter ahead.