HEALTH + FITNESS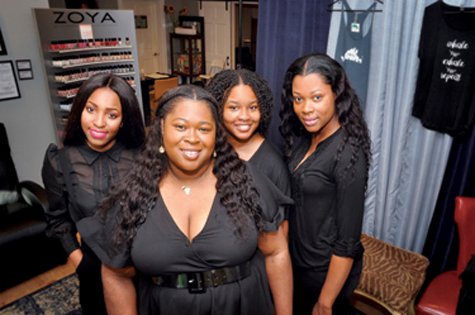 Caleen's Day Spa

A Peaceful Sanctuary of Serenity, Comfort, and Pampering
By Pat Waring
Just minutes from the chaos of Vineyard Haven's Five Corners and mere steps off busy Beach Road, Caleen's Day Spa offers a peaceful sanctuary of serenity, comfort, and pampering. Set in the 31 Beach Road professional building, the spa boasts a relaxing ambience to put even the most stressed or exhausted client at ease.
Inside, the scent of floral candles fill the air and soft calming music plays in the background. Displays highlight shimmering Zoya natural nail polish, make-up for lips, eyes, skin, and nurturing bath and body products hand-crafted by Caleen herself.
With her welcoming warm smile and gentle, rich voice Caleen Abraham greets customers like old friends and makes them feel at home. She and her expert staff offer an enticing array of spa treatments in this charmingly comfortable location.
The spacious main room features three pedicure stations with reclining lounge chairs to make the experience supremely relaxing. Nearby are three manicure tables. Light pours from side windows, patterned rugs accent shining wood floors, and there's a stack of magazines for browsing. Two private, nicely appointed treatment rooms accommodate spray tanning, waxing, and massage.
The deliciously extensive treatment menu ranges from basic or spa manicures and pedicures to a wide variety of facials for all skin types. As an extra indulgence, all facials include hand, arm, and foot massage. Practitioners from Eclipse Massage provide therapeutic bodywork.
Specialties include a hydrating hot stone pedicure to rejuvenate cracked, dry feet, and a "Medi Pedi," appreciated by diabetic clients. Using an organic, Massachusetts-produced product, spray tanning is a favorite with wedding parties.
"It's naturally glowing, not orange like in the old days," Ms. Abraham laughed.
While training in facial techniques at the International Dermal Institute in Burlington, Ms. Abraham discovered the Repechage line. She now uses these delightful seaweed-based products for all facials, back "facials" and luxurious Seaweed Body Wrap.
"It caters to all types of skin and is gentle yet effective," she said.
Though skilled at client care and business management, Ms. Abraham's childhood wish was to become a nurse.
"I've always wanted to take care of people, make them look and feel good about themselves," she said.
Today she realizes that operating a day spa allows her to fulfill that goal.
Arriving here from Jamaica in 2003 with salon experience, Ms. Abraham worked at Treat Yourself in Oak Bluffs and as a nurse's aide. She joined Maggie's Salon in 2014, hoping to set out on her own. In 2017 she launched Caleen's Day Spa across from Maggie's.
"It was always a dream of mine," said Ms. Abraham.
From the beginning the salon bloomed. Devoted clients followed from Treat Yourself and Maggie's. Clientele grew by word of mouth. The business thrives year 'round and summers are "super busy."
"We have a great mix of year 'rounders and snowbirds."
A few years ago Ms. Abraham became fascinated with aromatherapy and now creates her own "Sweet Orchids" products. Scented soy candles, body scrubs, bath soaks, and moisturizing oils are made with pure, exclusively natural ingredients.
Last June Ms. Abraham took a new professional plunge, opening a second spa in Falmouth.
In a bright storefront near the Falmouth Mall, offering full spa services and hair care too, this new location quickly drew satisfied customers.
"I wanted to spread my wings," she said. "I hope to grow this one as big as the one on Martha's Vineyard."
Ms. Abraham takes pride in her salons and knowing that she is providing clients with top quality care. She is committed to using natural, healthy products, and maintaining impeccable cleanliness.
"People love to hear that," she said.
Caleen's Day Spa • 31 Beach Road, Suite 103A, Vineyard Haven • 508.693.2898 •
caleendayspa.com