ON ISLAND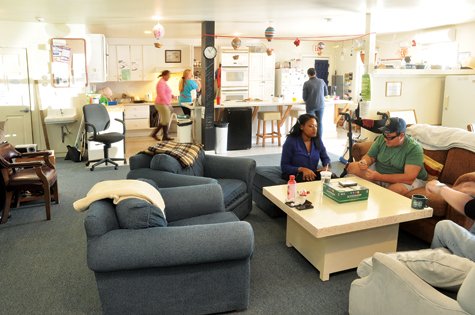 Serving Up Love at the Daybreak Clubhouse

Providing a Supportive Environment to Learn Life Skills
By Jonathan Burke
Daybreak of Martha's Vineyard Community Services serves up love at its home in a back corner of the Woodland Marketplace off State Road in Vineyard Haven
The Clubhouse, as it is known, is a place of community for adults with mental illness. Folks find friendship and opportunity within the Clubhouse doors. There are 23 members total, and 4 to 12 folks attend on a given day.
"We have all the comforts of home here," says a 56-year old named Dave.
The Clubhouse occupies one big room.
The kitchen is on the right as one walks through the front door and extends nearly to the back wall. There is an island with four stools and plenty of space on the kitchen side for making the midday meal.
Playful-looking hot air balloons, made of different colored yarn and lots of glue, with wicker baskets, hang from the ceiling. A watercolor painting of Dave's hangs above the stovetop. A bowl of oranges is on the counter.
On one's left, a wall about ¾ high with hooks for coats extends a short way into
the Clubhouse. The Clubhouse opens
up from there.
Two 2-person couches and two comfy chairs are set around a square wooden coffee table in the center of the room. To the left, there are three round four-person tables. Along the right side wall, there are staff desks and computers.
Members, anyone with a mental illness and at least 18, call in the morning for a pickup from the Daybreak van. Once everyone has arrived, and folks have their coffee, about 10 am, everyone sits down for morning meeting.
Alecia Nicholson, director for 8 years, notebook in hand, goes over the day.
The dishwasher needs to be unloaded and then loaded. There is grocery shopping, laundry and work to do in the garden. Folks need to help with lunch. Candles to sell at the Chicken Ally Thrift to raise money for a Clubhouse outing – maybe for bowling or to go out to lunch – need to be made.
She reminds everyone the following day is a beach day. It is mid-July and hot and humid on the Island. Folks should put in their sandwich orders with the kitchen and remember to wear plenty of sun block.
Daybreak is open five days a week.
The Clubhouse provides employment and educational supports, and helps with life skills, and health and wellness. Mostly though, day-to-day, the Clubhouse is a place of camaraderie and belonging.
The Clubhouse buzzes with activity one morning.
Members and staff prepare a surprise grandbaby shower for a staff member.
Members hang streamers throughout the Clubhouse. A feeling of excitement is in the air. Folks are focused on their tasks. A staff member slices cucumber and onion.
Two members go outside to the garden for mint and dill.
Mary, 44, explains dill is commonly used for pickling, e.g. dill pickles. She gave this writer some to rub between my fingers. Of the mint, she says, "Mint is interesting because of the square stems. You can feel the squareness."
There are large flowerpots with other herbs, and waist-high garden beds, accessible from a wheel chair. Lettuce, flowers, corn and peppers grow up from the ground.
Back inside, Mary cuts watermelon into small cubes for a salad of sorts with feta cheese and mint. Five people work in the kitchen. There is animated conversation. "[The salt] comes out fast. It comes out really fast," warns a member.
Another member makes a traditional salad. In bowls, she has walnuts, raisins and croutons. The salads go in colorful scalloped bowls. A Brie pastry cooks in the oven.
"We could make a punch," Alicia says to a member.
At noon, a group that had been grocery shopping with the-soon-to-be grandmother returns. Everyone waits near the entrance. When she walks in, a cheer of "Happy Grandmother Shower!!!" rings out.
Baby shower loot covers the coffee table: lotions, boxes of diapers, a Graco item and a laundry basket. The greatest gift was a quilt. Members and staff decorated one side with baby-like scenes drawn with fabric markers within square frames.
"You got me," the surprised staff member said.
Lunch was a smorgasbord.
There were cucumber and dill sandwiches, and tuna sandwiches with onion and celery. There was the salad with chosen toppings and the watermelon salad. There was baked Brie with crackers. There was punch.
Plates were full. Folks sat down four to a table. There was easy conversation. The food tasted as good as the loving care of its preparation. Dessert was a delicious (albeit store-bought) chocolate cake.
After lunch, folks jump up to help with cleanup. Dishes are rinsed and placed in the dishwasher. Leftover foods are packaged.
The island counter is cleaned. The trash is taken outside.
There is an afternoon meeting.
Folks guess the baby's weight, length and due date. There will be a prize to the winner. The staff member thanks everyone for her party.
There is still some time in the day.
Folks break up into teams of five – the 'Winners' and the 'Super dupers' – around the coffee table to play family feud. There is chatter. "Let's see some team spirit!" Jokes and laughter breaks out. "I'm coming, I'm coming," cries out a woman called back for her turn.
Rides home start at 2:30 because of the summer traffic. Those not in the first round of drop-offs play hangman. One member's challenge: 'Like a good neighbor State Farm is there.' More laughter.
The van returns for the remaining members.
The Clubhouse is empty and quiet after a whirlwind.
A new day starts anon.
To learn more about becoming a Clubhouse member, or to make a donation to any of the programs at
The MV Community Services go to:
mvcommunityservices.org
or call: 508-693-7900