SCENE & SEEN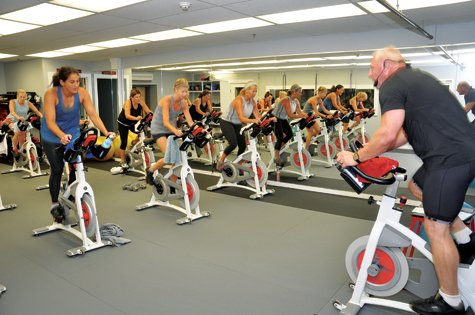 All-Out Blitz
By Amelia Smith
Blitz Fitness is a fitness and martial arts studio that has recently moved from West Tisbury to a new space on State Road in Vineyard Haven. Owners Catie and Erik Blake are the chief instructors. They were able to customize the new space to the many needs of the classes they offer. The brand new state-of-the-art work-out and training facility has all the bells and whistles assuring a comprehensive workout experience. They even had a steel bar installed from which to hang heavy bags and speed bags, and there's a sizable storage area for the weight equipment and stationary bicycles. The new digs – which is bigger and more visible than Blitz's previous location – also has a seating/viewing area where parents can watch their kids workout in the wall-to-wall mat-floored training area. "We created the space so that we could adapt it to accommodate whatever we're doing," Catie says. The morning at Blitz begins with a Boot Camp session or stationary bike Spinning. The afternoons include kids' karate or Muay Thai and in the evenings there are more martial arts – kick boxing, jiu jitsu, and self defense with Billy White.
Catie waxes enthusiastic about each of the classes, both those that she teaches and the ones taught by her team of instructors, several of whom got their start in martial arts at Blitz. "Next to martial arts, spinning is the most physically demanding thing that we've done. All levels can practice together, and there's no stress on the joints," she says. That makes it a good exercise for all ages. Karate, however, is what Blitz is best known for. Catie began studying martial arts – tae kwon do – about twenty-two years ago. Since then she has trained in almost every martial art that's crossed her path. When her original teacher stopped coming to the Island, she went to Boston to train with his teacher. She also did pencak silat, jiu jitsu, boxing, and trained with Billy White at his dojo. "When I get off-Island, I'll go to any dojo," she says.
All of that experience informs her kids' karate classes, which now include a "Tiny Tigers" group for 3-5 year olds, as well as the regular kids' classes (15 years and under). "This is a great thing to give kids tools to focus," she says. Blitz is a busy place, with something for everyone who wants to improve their fitness or explore the challenging and stimulating world of martial arts.
For more information visit:
blitzmv.com