ON ISLAND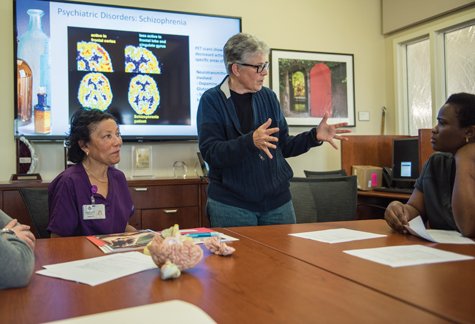 The Martha's Vineyard Nonprofit Collaborative

Supporting the Nonprofits That Support Us
By Amelia Smith
Everyone who sets foot on Martha's Vineyard, whether they realize it or not, is impacted by at least one of the island's many dynamic nonprofits. Nonprofits preserve our livelihoods through nature conservation, food, healthcare, and housing support, creative enrichment, and more. But while they are hard at work preserving and sustaining our island way of life, who looks out for them?
The Martha's Vineyard Nonprofit Collaborative (MVNC) sets out to do just that. As their website states, "Everything you love about the Vineyard is protected, maintained or provided for by Island Nonprofits." And the MVNC's mission is to support and strengthen these nonprofits through collaboration, education, and advocacy.
In 2003, a group of board members from local nonprofits founded what was then called the MV Donors Collaborative. They sought to confront the challenges that face all nonprofits on the island. Potential donors and visitors to this beautiful place weren't necessarily aware of the high level of need here. And with so many nonprofits and so little time to engage donors, it was difficult for nonprofits to build relationships with their donors. The MV Donors Collaborative recognized the gap between nonprofits and donors, and they set out to bridge it.
The Collaborative assembled a directory of nonprofits and began to educate donors about the needs of the island. Two or three workshops a year were held to strengthen fundraising activities. They also created opportunities for board members, executive directors, and people working in fundraising to meet and share ideas. Initially, explains their first Executive Director, Barbara Bellissimo, now Director of Development and Communications at Martha's Vineyard Community Services, "the mission was to encourage donors to contribute to nonprofits in proportion to the amount of time they spent here." But over time and as the Vineyard changed, the Collaborative's focus turned to working primarily with nonprofits.
As their current name reflects, the MV Nonprofit Collaborative is dedicated to strengthening the network of nonprofits on the Island. They do this in three ways: Capacity Building, Collaboration, and Advocacy. The MVNC helps nonprofits grow their capacity to raise funds and improve their organizations by hosting 4-6 workshops a year on topics like planned giving, writing, tax law, and fundraising. Educational materials and grant resources can be found at the Nonprofit Resource Center in the Oak Bluffs Library - a project initiated by MVNC.
Another exciting venture developed by MVNC is the Institute for Nonprofit Practice's Core Certificate Program on Martha's Vineyard. This Tufts-affiliated program was originally developed in Boston to educate leaders in the nonprofit sector. MVNC Executive Director Peter Temple explains: "We have a new generation of nonprofit leaders coming up… they are very good, they care, and they are very professional." But many have not had the full breadth of leadership experience and training that a program like this can provide.
After negotiating with the Institute for Nonprofit Practice, the MVNC established a certificate program here on-island. "It's basic education that leaders need: finance, marketing, nonprofit guidance," Temple describes. "But it's the seminars that make the difference. Taking what they learn in the classroom and putting it into practice." He's referring to the seminars held twice a month with a facilitator during which the program members examine a case study from their current nonprofit work. In examining these issues together, Temple emphasizes, "They build a network of support. They really get to trust and respect each other." The nine members of the first class graduated this past Spring of 2019, and already 15 more applicants are eager to follow in their footsteps.
This highlights another essential priority of MVNC: collaboration. "Being in an isolated community like the Vineyard, there is a real need to collaborate and share," says Temple. By organizing events like Fundraising MV for people working in development, the monthly board members meeting, and their biannual meetings for executive directors and board chairs, the MVNC provides valuable space and time to connect. These collaborations have led to numerous successful programs like Arts MV, Healthy Aging MV, and Affordable Housing.
Not only does MVNC facilitate collaboration in their workshops spaces, but they also celebrate and advocate for the work of existing nonprofits. In a few op eds per year, they alert the community to issues of impact. Potential donors may receive MVNC's annual holiday newsletter. This vivid, informative, and widely circulated newsletter shares stories of collaboration and success, as well as some impressive statistics showing how much islanders use and depend on local nonprofits. The newsletter also contains a wish-list section where nonprofits may list things they need in the coming year.
In the near future, the MVNC would like to host longer and more targeted workshops, like Board School, where new or experienced board members can learn about balance sheets, IRS nonprofit rules, or how to ask for money. It's an exciting time to be involved with nonprofits. If you've set foot on Martha's Vineyard, it's worth getting to know our nonprofits and the MV Nonprofit Collaborative that brings it all together.
To learn more, or to make a donation to any of more than 100 Island Nonprofits call or click: 
mvdonors.org
or call: 508-645-3690