GARDENSCAPES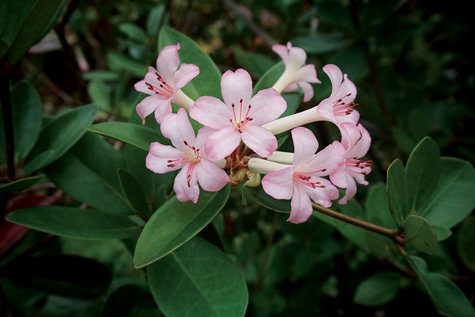 Vireya Rhododendrons
By Mariko Kawaguchi
Our summer article for this garden feature entwines two stories: one is the subgenus of rhododendron called vireya, or tropical rhododendron; the second is an introduction to the world of rhododendron plant collector and hybridizer Peter Norris of Chilmark. The common thread of these two stories is that Peter, on many occasions over the years at garden club meetings and events, has asked me if I own any vireyas. My introduction to this unique plant was in a collection of greenhouse plants at the Hunnewell Estate in Wellesley, MA. Amongst hundreds of orchids, espalier fruit trees, camellias and other exotic plants was a small collection of these brightly colored, bell shaped fragrant flowers, that early on left their mark on me. These tropical rhododendrons, were very much out of the plant mainstream at the time, and have remained elusive on a retail level in this area. Fast forward twenty years from that moment at the Hunnewell Estate, and after Peter began asking me about a yellow vireya, of which my answer was always a regretful "no." While I always knew Peter to be a very serious plant collector, I soon learned that his request for these yellow vireyas was his desire to cross the pollen from them with his own hardy rhododendrons, in an effort to increase their vibrancy, color and size. And thus two threads have been woven together to create this story.

Vireyas are subtropical rhododendrons that make their home in Indonesia, Malaysia, the Philippines, Australia, Borneo, and Papua New Guinea. Nearly one third of Rhododendron species are vireyas, and in their homelands they can be found growing as epiphytes in moss covered trees, on rocks or growing terrestrially on the ground. They will also grow on the edge of forests, and in open grasslands, always in search of light. Vireyas come in a wide variety of shapes and sizes, and have flowers of vibrant red, orange, pink and yellow, and are often quite fragrant. The flower shapes vary from minute open cups to diverse as well, from very small to some as large as a dinner plate. In recent years, vireyas are slowly starting to become recognized as conservatory plants that can be enjoyed year round in greenhouses and solariums, or in frost-free climates. Vireyas have fine surface roots, and thus require excellent drainage like orchids and anthuriums, and should be watered as needed, allowing them to become lightweight in between waterings. When planting your vireya, whether in a pot or in the ground, make sure the root ball is at or just above the soil level. Vireyas love bright filtered light, but avoid direct scalding light during the summer months as it can burn leaves, reduce color and decrease the flowering time. Vireyas are not tolerant of cold, and in New England should be moved indoors with your other houseplants before the first frost.

While on a recent trip to the Big Island of Hawaii, I had the pleasure of visiting Pacific Island Nursery in Keaau; a region known for lush tropical flowers and plants. Owned by Sherla Bertelmann and Richard Marques, it is a paradise of prolific tropical rhododendrons, with native ferns, orchids, and begonias nestled all around. Pacific Island Nursery specializes in vireyas, and has made hybrids and crosses of these plants. Many bonsai and orchid enthusiasts visit the nursery to expand their collections into new areas of plants and as an orchid grower myself; it was my destiny to follow this path as well. Sherla and Richard are a treasure trove of information on tropical plants and flowers, and they are very generous providing tips and guidance for growing these rhododendrons. Wild orchids are everywhere in this part of Hawaii, whether in a giant commercial greenhouse or simply growing wild in a ditch, they are a big industry, and as Sherla points out "It is only a matter of time before orchid growers gravitate towards vireyas and include them in their collections; after all, many vireyas are grown in pots with orchid media." On this trip I was delighted to be able to order a few vireyas and have them shipped home in the hopes of propagating them in the nursery and to share them with other bonsai enthusiasts.

Peter Norris of Chilmark is perhaps best described as a renaissance rhododendron man. With more than four acres of his property given over to rhododendrons, his collection resembles a mini arboretum of natural landscape, a test garden and a tribute to his longtime passion for these special plants. This article is meant only as an introduction to Peter's world, as vireyas are only one small footnote in his extensive and bucolic landscape. Peter has spent decades researching, traveling, experimenting with rhododendrons. And along with his assistant Suzy Zell, has been propagating new types of hybrids, a time consuming process, that doesn't always guarantee success. He has hosted tours for the Martha's Vineyard Garden Club, The Garden Conservancy and the American Rhododendron Society. As Peter explains, "Vireyas are very different from other rhododendron species; they are unique in their genetic material; they are polyploid plants, meaning that they have more than one set of seed parents and pollen parents; they can have perhaps four or five parents from each. This makes them very vigorous plants. Most rhododendrons are tetraploid plants, with two seed parents, and two pollen parents, or diploid, having just one parent from each side. In attempting to cross a yellow vireya with a hearty rhododendron from my collection, I am seeking a more vivid yellow flower. But this is a very wide cross, like having parents that are not close, more like distant relatives, and the end result may be uncertain. It could be very interesting though." Peter also notes "my specialty is breeding things with big round leaves. My work has all been through trial and error, as I have had no formal training in this field. I do the pollination in May and June, and in October I sow the seeds." Peter Norris can be reached at Pnorris@vineyard.net.

So let us see what the future and the destiny of these two plants meeting by Peter's hand will produce in the future. Stay tuned and happy gardening!