MADE ON ISLAND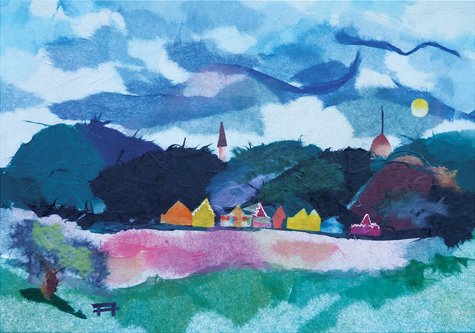 Everything Asian

The Creative Passions of Daisy Lifton
By Gwyn McAllister
Daisy Lifton has a passion for everything Asian. Her first introduction to Asian culture was through a Chinese style of kung fu called Wu Mei. She went on to compete on the national level, and taught both adults and children for many years. The martial arts led her to the Asian visual arts, which she has explored for decades. Lifton has mastered a number of techniques including calligraphy, origami, Japanese brush painting, various forms of cloth dying and a style of artwork called chigiri-e that uses carefully ripped rice paper to create layered images.

Lifton sells examples of all of the above at the Featherstone Flea Market and the Oak Bluffs Open Market. Her booth is full of small treasures. She offers brush paintings mounted on colored rice paper, cards, small canvases that can be worn as pins, origami earrings, tee shirts printed with animals and other Asian designs, Island landscapes created with the chigger e technique and, her latest undertaking – large indigo dyed silk scarves featuring a variety of traditional patterns in blue and white. One of her best sellers is a series of little folded card mobiles decorated variously with charming images of Campground cottages and Island lighthouses.

Lifton keeps her prices low so that anyone can afford to take home a little piece of Asian art. Her profits just cover her supplies and her continuing education. Every winter she studies various art forms in her off-season home of Los Angeles as the Japanese Community Center and at a Buddhist Temple. She has won top honors for her brush paintings and other works. Lifton also continues to take on a few kung fu students.

This past winter Lifton spent time creating a children's book illustrated with chigiri-e images. The book is titled How the Egg Roll Lady Got to the Island. The adventure follows a group of kids who set out to find Khen Tran, the woman well known to Islanders for the various Asian treats she sells at the Farmers' Market and flea markets. The children eventually find Khen and she relates the story of how she came to settle on Martha's Vineyard. The book encourages kids to tell their own Island stories.