SCENE & SEEN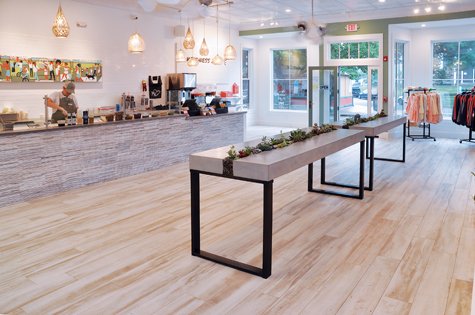 MV Salads

Green, Crisp and Healthy
By Pat Waring
Ready for something crunchy? And we don't mean granola! Burgers, fries, and pizza may be standard summertime fare. But there comes a time when only something green and crisp and healthy will do.

Enter Susanna Herlitz-Ferguson and her revitalizing MV Salads.

A longtime summer visitor, after years in the business world Herlitz-Ferguson moved to the Island seeking a new and different venture. She came up with a salad take-out like those popping up in urban settings.

Securing a Circuit Ave location in Oak Bluffs, Herlitz-Ferguson planned a major renovation to transform the former real estate office. The result - a bright open space with colorful merchandise area, eye-catching art features, and gleaming salad counter front and center.

Chef Shawn Clifford, formerly with Chilmark's Beach Plum Inn, and a team of gracious servers stand ready to toss the salad of your dreams.

For salad lovers the display is as tempting as an ice-cream cooler. Lettuces, arugula, kale, carrots, tomatoes, cucumbers, radishes nestle beside tasty add-ons like pickled carrots, nuts, fruits, Jerk Spiced tofu, smoky black beans, and crispy chickpeas. For heartier salads there are cheeses, chipotle chicken, succulent lobster.

Customers choose from eight creative Signature Salads, each a cornucopia of taste sensations, or build their own. A freshly baked corn muffin with edible flower accent comes with every salad.

MV The Dressing, a tangy vinaigrette Herlitz-Ferguson created, tops most mixtures and is available by the bottle. Creamy Green Goddess adds avocado and vegan mayo.

Summery house-made beverages include Tarragon Lemonade, Jasmine Tea, and Watermelon or Mint Lime Cooler.

Along with delicious, high quality food and friendly service, Herlitz-Ferguson makes kindness a top priority.

Instead of leaving tips, customers write kind notes to their server, and share positive wishes with other patrons in a "Kindness Exchange."

Business Manager Robyn Reilly keep things running smoothly behind the scenes.

Herlitz-Ferguson sources as many ingredients locally as possible. Environmental awareness is emphasized. No cans or plastic bottles are sold; containers are compostable.

Herlitz-Ferguson designed the welcoming interior. The white, grey, and coral palette is cheerful and serene, her fanciful "hearts and islands" motif echoed everywhere.

Select merchandise ranges from summer hats to sturdy sweatshirts, cozy beach cover-ups, tote bags, coffee mugs, beaded bracelets, tasteful tees, tanks, onesies and much more.