CUISINE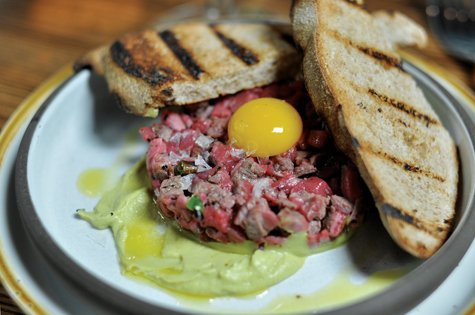 A Gourmet Feast for the Senses at Woods

New Name, New Chef, New Menu at the Lambert's Cove Inn
By Lisa Belcastro Photography by Charlie Utz
There's a new Woods to visit, and this is one location where you can skip the insect repellant and simply bring your appetite. Lambert's Cove Inn remodeled their former restaurant and invited Chef Jimmy Alvarado to create a new menu and fresh feel for this beautiful location.

The interior, reflecting a lovely park setting, flows out to the pool and patio area and beyond to the surrounding flowers, herbs, and trees. The setting is sublime and the new menu is superb, and sure to delight all palates, including vegans.

"I want people to know the food is from our hearts and the menu represents the Island and the restaurant," Jimmy said. "I spent the past five years gathering recipes, now I'm putting the best onto this menu, including plant-based and vegetarian options."

Jimmy is definitely getting his inspiration from the Island. Seventy percent of his food is sourced on Island. All the cheeses Woods offers are from The Grey Barn. The fish and oysters are local. The vegetables are from Morning Glory Farm, and the chickens are from Good Farm.

"I want to keep it simple, gather local daily, get creative and playful with the food, especially the Day Boat Fish," said Jimmy, with a smile so contagious you just know he loves his job.

When my cousin Paula and I went last week, the Day Boat Fish was fresh caught tuna. The fish practically melted in our mouths. Most of Jimmy's food at Woods is intended to be a shared plate. Let me tell you, I didn't want to share! Neither did Paula – LOL. The tuna was served with whipped sweet potato, sautéed kale, and roasted potatoes. Can you say, "YUM!"

Jimmy shared the tuna recipe with us. He noted that we could use a cast iron pan and grapeseed oil to sear the tuna if we want. One comment Jimmy stressed, the mixture of flavors and textures of the side dishes truly complement and enhance the dish.

Restaurant goers will know Jimmy as the former head chef at Isola in Edgartown, as well as his work at M.V. Smokehouse, the Harborview, and the Beach Plum Inn. The Island almost lost Jimmy at the end of the season in 2018.

Last October, Jimmy left the Island, and he "wasn't planning on coming back. I had a family member who was sick, and I wanted to be closer to family living in New Jersey, and I got a job at Covina in New York City," said Jimmy, who also met his girlfriend Rachel while back in New York City.

When Jimmy got the call from the new owners of Lambert's Cove Inn, the pieces fell into place for his return. Most importantly, all was well in Jimmy's family. Jimmy and Rachel sublet their NYC apartment and moved back to the Island, finding housing just down the street from Lambert's Cove Inn.

New York City was Jimmy's old stomping ground. He grew up there, raised by his grandmother until he was twelve. His grandmother's passion for cooking transferred to Jimmy, but first he rocked in the music industry for a bit. Jimmy went to school for sound engineering in Manhattan, and was working nights, partying, and spinning tunes as a DJ.

"I got tired of the same scene. I wanted a change. I always had a passion for cooking. I entered a cooking competition in 2010 and won! I received a $50,000 scholarship to the Culinary Institute of America for two years of schooling," said Jimmy.

Having enjoyed Jimmy's cooking over the years, I can understand why he won the competition. Jimmy graduated from CIA in 2012 and moved to the Vineyard in 2013. When he started at Woods in March of this year, he was given carte blanche to remodel the kitchen and to order whatever equipment, plates, and tools he believed would enhance the dining experience for visitors to Woods and Lambert's Cove Inn.

One of Jimmy's specialties offered at Woods is homemade pasta. All the pastas are made in-house, though they do offer a gluten-free/dairy-free rigatoni that can be substituted into any of Woods' pasta offerings. Jimmy's favorite pasta dish is his grandmother's Pesto Primavera.

"She makes her pesto with almonds. It's one of my favorite recipes," Jimmy said. "The pesto is the highlight. It's very flavorful."

Jimmy has generously shared the Pesto Primavera recipe with Vineyard Style. Paula and I both enjoyed it, and the pesto is marvelous. I don't know about you, but I've never tried pesto with almonds, I've stuck with pine nuts or walnuts, but now I'm adding almonds to my grocery list.

The dish is super easy to make. Jimmy cautioned that when we heat the pesto before coating the pasta, it only needs to be heated for a minute. Don't overcook the pesto!

If you're vegan, you're going to love Woods. Jimmy has created quite a few dishes, including the amazingly delicious Roasted Cabbage. I confess that I ate this twice in one week. Not twice because I had leftovers, but twice because I had it twice at the restaurant. Sooo good!

Jimmy has shared the recipe with us here at Vineyard Style, and I will be making it as soon as my cabbage is ready in the garden. Jimmy cuts the cabbage into eighths, and the servings come out like steaks. "The dressing is a simple soy balsamic vinaigrette, which you coat the cabbage with before roasting. The hot cherry peppers, mint, and lemon juice combine for great flavors in this dish," said Jimmy.

I asked Jimmy what his favorite menu items were. After promptly saying that his grandmother's pesto recipe is tops, Jimmy showed his sense of humor and his humble confidence about cooking. Not too many chefs tell me they're doing a take on a McDonald's burger and say it's a favorite dish, but Jimmy did just that.

The Woods Burger is made from Wagyu beef which is ground in-house. Jimmy then creates the "special sauce, lettuce, cheese, pickles, onions on a brioche bun." (Go ahead, admit that you started singing the old jingle.)

Jimmy also loves the Truffled Beef Chared Tar. He promises it's a delicious dish, and pretty easy for us to make at home. "Fifteen to twenty minutes," Jimmy said.

Woods is open seven nights a week from 5:30-10 pm. The Vineyard Sound is there on Wednesdays performing pool side. On Tuesdays there is an outdoor barbeque, themed from whatever struck Jimmy's fancy that week. Go. Stroll through the menu of generous shared of appetizers. Soak in the environment and relax. You deserve this.

Beef Char-Tare
Ingredients:
6 oz sirloin
2 oz. truffle oil
1½ tbsp. whole-grain mustard
Salt and pepper
1 Charred green onion minced
1 tablespoon parsley, chopped
1 tablespoon chives, slivered
2 quail egg yolks, whites removed
Baguette, sliced & toasted

Method:
1. Preheat grill to a high temperature for 10 minutes.
2. Char the green onions over grill for 3 minutes on each side, cool and chop ¼ diced
3. Lightly coat steak with oil, salt, and pepper and place on grill. Top meat with weight and cook until deeply charred, 3–5 minutes. Remove and place immediately in freezer for 2 minutes to stop cooking.
4. Remove from freezer and small dice steak, mixing charred top crust with raw interior.
5. Toss with next ingredients until well combined. Taste and adjust seasoning.
6. Spoon onto 2 plates (servings should be about 3 ounces each) and mold into loose "hockey puck" shapes with a small indention in middle of each top. Place a quail yolk in each indention and serve with toasted baguette.