HOME PORTRAIT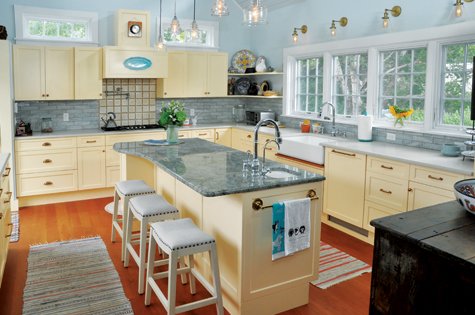 A Place to Grow

One Home. One Family. A Place Where Memories Are Made.
Story and Photography by Charlie Utz
For three generations The Righter Family has owned homes on the Vineyard. Great Grandparents on the maternal side originally bought property on West Chop with a big house on the bluff. A Paternal great grandmother settled further down on Owen Little Way. As families do here, they enjoyed a quiet summer existence, which became an annual tradition that still exists today. One theme weaves its way throughout their century-long story: Love of family, the Island, and their home, creating memories that will live on for gener-ations to come.

During the years, the families expan-ded. Through her mothers' marriage into the Righter family, Lisa Rubin has inherited a rich family history on the Vineyard. Her Stepfather Christopher's grandmother, Renee Mitchell Righter, set the stage for their family to establish deep roots in this setting with the purchase of the house on Owen Little Way in the early 1900's.

Thissimple 160-year-old Cape-style house, on a quiet street off Upper Main St. in Vineyard Haven is known to most Islanders as the location of the Vineyard Haven Yacht Club, tucked at the end of the street on the outer harbor front. At the time, Christopher and family were living in New Jersey, and they made the jaunt to the Vineyard for summers and every other opportunity that came along.

Christopher often referred to the Vineyard as his "most favorite place in the world," and the home on Owen Little Way became his "happy place" to share with family and friends. Many other relatives shared the fondness for the Island and had property here. In addition to the West Chop House, still in the family on his Maternal side, other family members lived nearby; An Aunt, Uncle and cousins lived next door while Renee (or "NENE" as she was called), was still living, creating a kind of compound for the enjoyment of this ever-expanding, close-knit family. During the years, cousins and other family members inherited, bought, moved and settled in different areas of the Island, but always returning.

Their summer memories became family history, and during the decades they came to cherish their little 'piece of the rock.'

Their house, the house next door (towards the Yacht club), and the house across the street had all been moved at the turn of the century (c. 1901) to make way for a town park that would be called William Barry Owen Park, that was eventually deeded to the village of Vineyard Haven as a public playground & recreation center.

The houses were buildings purchased by Tisbury Town visionary W.B. Owen seeking an open view for his planned new home on William Street. As was customary at the time, structures were not destroyed, but moved and utilized for housing or sale. W. B. Owen relocated the three houses just up Main Street, to a street called Owen Little Way. The new neighborhood was christened 'Frog Hollow,' and the name stuck.

The Upper Main Street's Frog Hollow neighborhood has since become a sort of writers' and media enclave boasting the homes of Mike Wallace, Art Buchwald, Lillian Hellman, and Rose and William Styron.

The homeowners across the street from Lisa's on Owen Little Way often entertained President and Mrs. Clinton at their home, and the Secret Service would always knock on the Righter's door for its security sweeps. Owing to the fact the Righter front yard was the best and closest place for a Presidential sighting, their neighbors had a small plaque made and installed inside her front door reading "President Bill Clinton greeted neighbors in the front yard after dinner across the street on August 21, 1993."

When Lisa's Mother and stepfather met in the early 80's, Lisa had just graduated from college and inherited a blended family of many 'Steps.' "I was an only child, so having a step-sister, a step-niece and many "step" aunts, uncles and cousins was amazing," Lisa says, "I can truly say that I think of every single one of them as my family. I feel a great sense of gratitude to all of them for making me feel like family, and for sharing so many memories with me of the Island and its treasures. They have the best stories and it's what made us want to spend as much time here as possible. Which is why we come so often. My Dad realized that we were the ones who spent the most time here, who really love it." With their commitments, opening and closing for the season, making an investment of time and energy, Christopher always knew that if anybody would manage the property and keep it the way it was, it would be Lisa and David. They're here from late June to late September, "but pretty much year-round with holidays, special occasions or just short notice get-a-ways," Lisa says. Lisa grew up in Winchester, a suburb of Boston where her Mom and Chris lived; she and her husband David reside in Arlington MA, just west of Boston.
What makes their situation so easy - affording them the ability to spend so much time on-Island - is that David, an Enterprise Systems Architect (IT) for a Canadian company, is able to do his work from anywhere. Lisa, who owns and runs a catering company off-Island, has the ability to make her own schedule in order to maximize her time here. David has a secluded office on the first floor, and Lisa does an occasional catered event on the Vineyard.

Three years ago, Christopher passed away, leaving the house to her step Mom Judy. But out of the sadness and loss, the family conceived a new purpose. Lisa and David partnered with Judy to do a total renovation and expansion of the house. A new chapter of the Owen Little Way home had begun. First on the agenda was to conceive how the home would be reborn in its second century.

With a blank canvas before them, they imagined the possibilities of making additions and upgrades. They had ideas, some new, and some long-held dreams of future home improvements. Their thoughts included an addition on the back of the house, expanding the kitchen, which would feature a cathedral ceiling, and become triple the size of the existing kitchen. "Something my father had always wanted to do," Lisa says, "was to transform the tiny dormers on the front of the house, opting for a full-length 'shed style' dormer, which allows all the smaller second story rooms more space and higher ceilings, including a larger upstairs bathroom." And Lisa's Mother Lana always wanted French doors off the dining room opening onto a patio for outdoor entertaining. A walk-out porch off the second-floor master bedroom completed the wish list.

They knew what they wanted, and what they needed was a designer to make their ideas a reality. Enter Lisa's long-time friend Carlos Salib, whom she's known since she was 16, and who had spent many summers at the house. Carlos is an architect in Boston, and practically as a labor-of-love, signed on to realize the dreams of the Rubins. Lisa's dad passed in January, and Carlos was there the same summer taking measurements. By fall, he had produced floor plans, and with a few refinements, the Rubins were ready to build.

By the most serendipitous coincidence, Lisa catered an off-Island birthday party for a friend who also has a home on the Vineyard. Attending that party was Doug Best of D. Best Construction, a premier Island builder and contractor. The friend's birthday party was also a family gathering to celebrate their son's University of Rhode Island's football game against Harvard. The party wasn't a stuffy affair, but rather had the feel of a tailgate party attended by close family and good friends. Doug's entire management team was invited. Doug's company had done multiple construction projects for this family, and he and his project managers had become close friends.

One thing led to another, and a conversation between Lisa and Doug had begun. The referral by her close friends and the confidence they had in Doug sealed the deal. Doug soon met with Carlos, and working together they made collective decisions on the scope of the renovation, and as Doug puts it, "things just evolved to make the house far better than any of us could have imagined."

As with any older house, some unforeseen problems needed to be addressed, including foundation & chimney repairs; or there's a neat 'find' such as the removal of an old mantle and fireplace which revealed hidden space several feet back to the chimney. The second floor and roof were completely removed and rebuilt. "The Rubins' were involved to the 'nth detail, and they wanted to use old pieces of marble and other repurposed items, such as the kitchen beams, incorporating most of the antique charm in an attempt to maintain the existing character of the home," Doug says.

Work began in the fall and was finished by June. Architect and designer Carlos Salib characterized project manager Stephen Emery as an architect in the making. "He thinks like an architect, and has the sensibilities of an artist, with the ability to make thoughtful solutions to a myriad of day to day challenges," says Carlos. "As for old houses, that's Steve's specialty," says Doug.

"What I took a particular honor in, working on this project, was that it was loaded with memories, not only for myself but for Judy, Lisa, and David. I know what this house meant to them. I reminded them even though we're designing a house, we're really designing a home," says Carlos, "that distinction is important because without the people living in the home and the history, it's just a structure, it's empty."

In the end, Judy, Lisa, and David had what they wanted: A home, the home they've always known, only updated for a newer generation, a place to grow, a place they love, on the Island they love.