CUISINE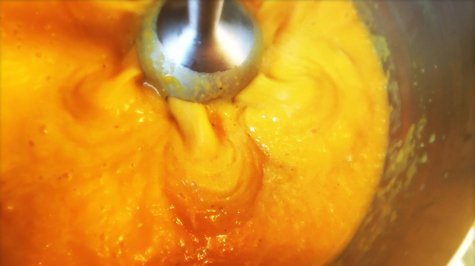 Meet Private Chef Gavin Smith

He's a Very Food Minded Fellow and Not a Bad Fisherman
By Lisa Belcastro Photography by Gavin Smith
If you love food, if you love fishing, if you love Martha's Vineyard, you're sure to love Gavin Smith. If you, as I do, happen to love all three, then you would jump at the chance to sit with Gavin and plan a menu when your editor suggests an article on the Food Minded Fellow.
Gavin, 34, moved to the Island four years ago with his wife, Angela. Long before they met in college, Gavin had summered on the Vineyard and Angela had summered on the Cape. As incredible as it sounded to me, Angela had never been to the Island before meeting Gavin.
"I brought her once, and she loved it. We came back for another visit and decided to move here," said Gavin, adding, "Angela walked into Benito's while we were on vacation and got a job."
Gavin worked in the restaurant industry in New York City while he attended college for philosophy and music. After he graduated college, he went on to manage a restaurant in the Murray Hill area of NYC. He and Angela moved to Atlanta in 2011 to be with family after his sister passed away during childbirth. Gavin worked in a restaurant and Angela went to cosmetology school.
While in Atlanta, Gavin started a supper club. He and Angela invited friends to their home, their friends chipped in for the food and beverages, and Gavin cooked. "I always paid attention to chefs, was always drawn to it. The supper club convinced me I might want to be a chef, but maybe not in a restaurant.
When Gavin and Angela moved to the Vineyard, Gavin decided to follow his dream of being a private chef. He started his business, The Food Minded Fellow. "I do the entire service right in the home. I go to the farm in the morning, go to the fish market, and then prepare and cook everything at your home," said Gavin.
Gavin is passionate about food. His eyes light up and his smile widens as he talks about the local food sources, the processes of preparing and cooking, and serving those he cooks for. "To me it's experiential, it's about a dining experience. Every guest gets an individual menu catered to their favorites, their dietary restrictions," said Gavin.
When I asked Gavin what he loved about cooking or what his favorite recipe was, he grinned. "My favorite thing is the next thing I'm going to create. My cooking is constantly growing. Learning new things allows me to have movement. With cooking, there's no top. I'll never know everything. There's always room to grow."
One area Gavin has grown is catching his own fish. A couple of years ago he went out surfcasting, had some fun, but didn't catch much. The next year, he made it his purpose to learn more about fishing and where the fish were. Now Gavin catches some of what he serves at home and to family and friends, and he wrote a few fishing columns for the MV Times last year.
Gavin also branched out last summer with a few pop-up dinners, including a biweekly series at Lambert's Cove Inn, a pop-up at the Beach Plum Inn, and a pop-up with Makers Table.
"It was really fun. I kept the menus as seasonal as possible and as fresh as I could get it," said Gavin, who recently confirmed that he will be doing another series of these dinners at Lambert's Cove Inn all summer in 2019.
With winter upon us, Gavin has shared six seasonal recipes with Vineyard Style. These recipes are delicious, easy, and most ingredients can be purchased or harvested locally, which we all love.
While the bluefish have gone south for the winter, many avid fishermen, including Gavin and myself, have a bunch of locally harvested smoked bluefish in our freezers. If you didn't catch your own bluefish, stop by your local fish market to pick up some smoked bluefish for Gavin's recipe.
"When I lived in New York City, we often ate The Breslin with fellow industry people. They did a smoked trout with cottage cheese. Once I started catching bluefish, I was inspired to reinvent their trout recipe for our bluefish. This recipe is a little different than what most people serve," said Gavin, who caught some nice-sized bluefish last summer.
If you're currently harvesting bay scallops from our Island waters, you're going to love Gavin's recipe. "Bay scallops are the crown jewel of the winter season," Gavin stated. "They're an amazing food and we're very lucky to have access to them. You can shuck them and eat them raw. They are that good."
Gavin's sautéed bay scallops will have your mouth watering as they're sizzling in the butter. Gavin's one important word of advice, "You're done before you think you're done. Get a good sear on one side, toss, and eat."
What would a Vineyard menu be without oysters, especially while they're still in season? Gavin has created a yummy Jalapeno Watermelon Mignonette to top your fresh oysters.
"We are very fortunate to have fabulous oysters here. Our oysters are particularly briny. With this recipe, the sweet from the watermelon and the heat from the jalapeno is the perfect marriage," said Gavin.
If, for any reason, you're not a seafood lover, Gavin has a Braised Lamb recipe that will have you driving to a local farm for fresh lamb shanks. "There are a lot of beautiful pieces of lamb to braise. I personally love the shank, but the recipe can be applied to anything," said Gavin.
Many braising recipes call for wine, Gavin prefers to use beef stock. "I don't want to lose the flavor of the lamb," he noted. "The fresh herbs bring out the flavor of the lamb. Winter savory, thyme, oregano, garlic, and onions – lots of aromatics."
The lamb recipe is completely approachable and will make a great entrée for a dinner party or special occasion. Gavin has a few hints for us: "Once the lamb starts to fall apart, take it off the heat and let it cool in the braising liquid."
Folks often remove the lamb from the liquid for cooling, but Gavin stated for a second time, "leave it in."
I am a soup lover. I probably have soup for lunch five or six days a week in the fall and winter months. Gavin's Squash Soup is easy and universal: it's vegetarian and vegan and gluten-free. There's nothing not to love about Gavin's Squash Soup. Plus, as Gavin noted, "You can still get locally grown butternut squash."
Whether you use the soup as an appetizer or a lunch entrée, you'll need something sweet to finish off lunch or dinner. Gavin suggests his Lost and Found Rye Shortbread. These "cookies" can be your basic round cookie, shaped with cookie cutters, or baked on a sheet and broken.
"This is a super easy recipe," said Gavin. "I cook the dough as a sheet and break it into pieces. I like the unfinished edge."
Shortbread is always yummy, but these cookies are extra special as the rye is grown locally. You can purchase Lost and Found Rye at Mermaid Farms. When Gavin said he prefers to cook the meal farm to table, he wasn't kidding!
If you're planning a special occasion, or you'd like to now that you've read about Gavin's talents, you can have your own private chef at a reasonable rate. Gavin is on Island year-round, and he'd like nothing more than to make your evening deliciously memorable. He is offering pricing discounts to Islanders during the winter months.
Gavin wrote, "There is nothing I enjoy more than bringing good people together over great food."
You can check out Gavin's website at:
foodmindedfellow.com
. If you're planning an event, a birthday party, celebration, or romantic dinner for two, call Gavin at: 508-687-0223. He is here year-round, ready to make your special meal more than you imagined.
You simply have to appreciate a chef who posts on his website, "Hungry? Email me to see what delicious food we can make together." What are you waiting for?
Butternut Squash Soup
Ingredients:
3-4 medium sized butternut squash
2 large white onions (diced small)
2-3 tbsp. fresh ginger (minced)
1 tbsp. curry spice
1 can unsweetened coconut milk
salt & pepper to taste
Method:
1. Cut the squash in half lengthwise, then scoop out the seeds and pulp.
2. Place the squash cut side up in a deep roasting pan with about 1 inch of water.
3. salt and pepper lightly.
4. Cover with aluminum foil, and roast in oven at 400 degrees until very tender (approx. 45mins to an hour).
5. In a large stock pot soften the onions in olive oil over medium heat.
6. Once onions are translucent add ginger and continue to cook until fragrant (about 30 seconds).
7. Mix in curry spice until onions and ginger are coated evenly.
8. Stir in coconut milk then remove from heat.
9. Scoop the squash away from the skin and add directly to stock pot (try to avoid the skin and veins).
10. Return the mixture to the heat and stir until you have a hot consistent mixture.
11. Add salt and pepper to taste.
12. Blend the soup mixture using an emersion blender (or regular blender).
Note:
This soup can be enjoyed with any number of toppings; bacon, croutons, fresh herbs, shrimp, seeds, nuts or on its own.