MADE ON ISLAND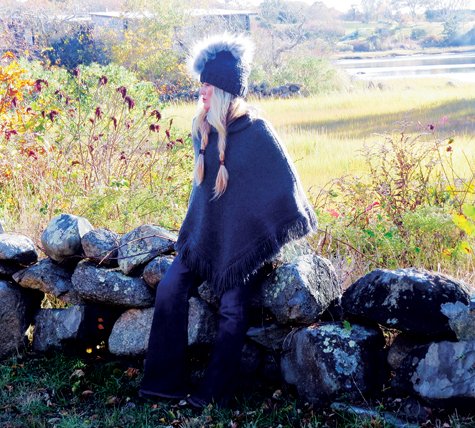 Designing with a Conscience

The Wool & Faux Fur Statements of Nisa Mars Counter
This winter get snugly with Nisa Mars Counter's new line of handcrafted ethically sourced hats and ponchos with plenty of back-story and tons of style. Her knitted Pomhawk hats are woolen caps hand-crafted with up-cycled faux fur pom-poms.
The hats are not only beautiful and toasty, but do not rely on the dark side of the fur trade, or exploited workers that often are the case in the apparel business. Therein lies Nisa's mission, and she makes it the focal point of her creations. Her wool has been meticulously hand picked herself for these one of a kind creations from small farms in Russia, Peru, France, Ireland, Scotland, and Canada. Also in her line is one of a kind handcrafted ponchos. The original design comes from a childhood poncho that was passed down to her from her Grandmother. Keeping the designs in the family, Nisa's mother-in-law, Betsy Ramsey, is the master knitter. ­
Nisa, who was born in the West Indies and has Dutch Heritage, is best known as the fitness trainer and lifestyle consultant of Nisafit on the Island. She operates all her ventures with great intensity. She's a vortex of energy, just talking to her you'll find your self out of breath from the whirlwind of information she's laying down. "I fundamentally believe that the world will be a much better place when humans stop killing and torturing animals for food and for clothing," she says, "compassion is a muscle that can be spiritually worked out much like a bicep or glute."
"Wearing any of these one of a kind creations is an icebreaker for the most important conversation that we as a society and as a race can be having," she says. Screaming it from the rooftops Nisa hopes that you will be emboldened to ripple out into the ocean of consciousness and be willing to explain what it is that makes these designs matter. "The only catastrophe is silence," she says.
Lovingly hand knit and available in assorted colors NISA MARS DESIGNS can be found at the Green Room and at Brickyard both in Vineyard Haven. The 2017 collection sold out fast and the 2018 collection is selling at lightning speed. Watch for a new product line out this Spring.
Take a look at these unique hand-created garments made with much love and meaning at:
nisamars.com
or contact her direct at:
nisamarsdesigns@gmail.com