HEALTH + FITNESS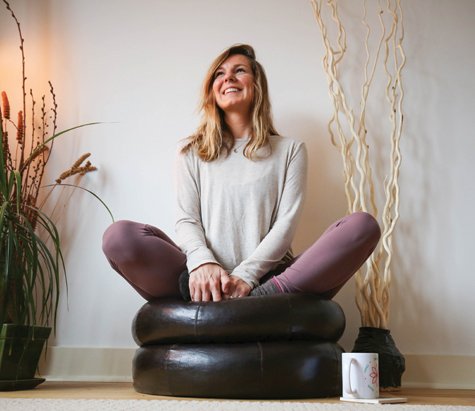 Discovering Her Purpose

Stacey Forend: Promoting Well-Being Through Holistic Care
By Melissa Clay
It all started on a cold sunny winter's day in a quaint Island coffee shop. I met up with Stacey Forend of "Mind Body Spirit with Stacey" her story may not be anomalous though what she has accomplished with her ill-fated experience is truly wonderful.
Let us go back to 2009, Stacey was experiencing severe migraines leading to, symptoms of bone and joint pain, numbness and tingling in her extremities, memory/vision loss, digestion issues, anxiety/depression, restless/sleeplessness, and just touching her was painful. After enduring this for several years she became 'completely undone.' After several years without a diagnosis from her primary doctor, she went to a rheumatologist who diagnosed her with the autoimmune disease fibromyalgia. She was prescribed a low dose medication to help her sleep allowing her body to start healing. Within six months, she went off the medication, founded a support group, and slowly changed her diet by eating foods that helped reduce inflammation and eliminating the foods that were causing it. Next step, she got her body moving by committing to a fitness program several times a week; soon after, welcomed-in yoga and her spirituality took flight. She was finally feeling better; from there she started examining her relationships and her environment seeing her health and well being as more than just food. One by one her symptoms disappeared.
Her next awakening was deciding to help others through the process of healing. In September 2016 she enrolled with the Institute for Integrative Nutrition (IIN). Halfway to graduation Stacey was precertified and began coaching clients back to health. During this time she left the full-time office job and pursued her passion of helping others on their wellness journey, opened her own healing practice, and created an all-purpose anti-inflammatory superfood, called Super Golden BlendTM. This past spring she became a certified yoga instructor; with this newfound knowledge, her private healing clients are now reaping the benefits and she teaches several yoga classes a week. Fast-forward to today where Stacey is completely fulfilled by providing holistic care in a safe judgment-free environment. She meets you where you are, and at your own pace, guiding you through anything from autoimmune diseases to weight loss and helping you discover your purpose while watching you blossom into your best YOU. She has been free of the autoimmune disease for five years.
To work with Stacey or to purchase her Super Golden BlendTM go to
mindbodyspiritwithstacey.com