COMMUNITY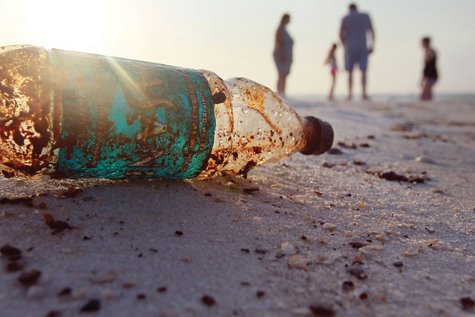 Eliminating Plastic Pollution

Vineyard Conservation Society is the Island's Environmental Advocate
By Amelia Smith
Plastic bags, water bottles, polystyrene containers, and more wash up on our beaches, or are abandoned there. Plastic products float across the oceans, where they can poison or choke wildlife, or form enormous trash islands. Plastic bags do break down over hundreds of years, but their particles remain in the environment indefinitely. The use of plastics has raised health concerns for people, too, and yet they're inescapable.
The Vineyard Conservation Society (VCS) is an environmental advocacy organization dedicated to protecting the Island's land and water. Part of this is achieved through land conservation, but they also work on other environmental issues. VCS started a recycling program at the Island's dumps in 1970. Their recent and current initiatives to reduce the use of plastics on the island continue their mission to mitigate our human impact on the environment.
In 2014, Falmouth voters approved a bylaw banning single-use plastic checkout bags. As of early 2015, ten Massachusetts towns had passed similar laws. Brendan O'Neill, Signe Benjamin, and Samantha Look of VCS began to investigate how to best reduce the use of disposable shopping bags on the Island. Their research indicated that voluntary measures didn't work well or last long. Brendan learned that the activists who were working on plastic bag bans at the state level needed to see more local legislation before they would be able to take effective action in the state house.
VCS began to work on a plastic shopping bag ban. "Don Hatch, the MV Refuse District Manager, was our strongest unexpected ally," Brendan says. "Plastics cost a lot of money for the firms who process waste." They run on very narrow margins, and plastic bags often jam the machinery. Sending a container of contaminated single-stream recycling off-Island costs the refuse district significantly more than the same amount of regular garbage. Signs at the dump, right in front of the recycling containers, don't stop many people from throwing their bags in. The hope is that the plastic bag ban will reduce this source of contamination in our waste stream, as well as reducing our overall consumption of plastics.
The Island's towns all passed the shopping bag ban at town meetings in 2016 and 2017. There are now 81 towns across the state with plastic bag bans, and an act reducing plastic bag pollution is pending in the state Senate and House of Representatives. Meanwhile, another problem has been growing – the prevalence of bottled water. Bottled water consumption grew from negligible amounts in the 1980s to over 42 gallons per capita in 2017, surpassing sales of carbonated soda. This has happened despite the fact that the vast majority of US tap water is safe to drink, and that bottled water is less consistently regulated than tap water.
In the winter of 2015-16, the MVRHS environmental club was talking about putting a water bottle filling station at the high school. Signe, at VHS, had been talking about the need for water bottle filling stations, too. "Shortly after that a donor approached us and wanted to finance at least one station in every school," Signe said. Now, all of the Island's schools have them, along with the West Tisbury town hall, the Agricultural Hall, the Boys & Girls Club, the Ice Arena, and the Oak Bluffs Library, with many more to come.
"We started with these two little things, bags and water bottles, and saw them as two distinct projects with a beginning and an ending," Samantha says. "This whole issue of disposable plastics in the wider world has just exploded. In the last year or so we've started getting calls from businesses that have questions." For example, a restaurant owner will call, wanting to know the environment impact of various types of takeout containers, and the answers aren't always obvious. "That's a little outside of our wheelhouse so we're trying to research and learn."
"Every time you pick up something and use it you have to think about what's going to happen to it," Signe says. "We're bumping into the waste from all of the goods people use and more and more we have to think about that." Changing our consumption of plastics will require a multi-pronged effort including industries and government, but there are things individuals and families can do to reduce plastic use now. You can support these efforts by carrying your own reusable shopping bags in your car or backpack, bringing your own water bottle, and reusing and recycling appropriately. vs
To learn more or to join Vineyard Conservation Society, visit:
www.vineyardconservation.org
For more bottled water stats - 23 outrageous facts click:
www.creditdonkey.com/bottled-water-statistics