ARTIST PROFILE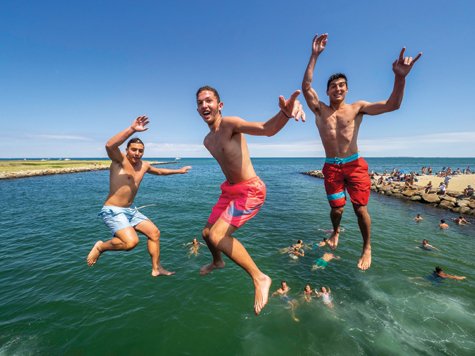 Faces+Places

From the Trained Eye of Island Photographer Jeremy Driesen
In describing what he looks for in his photographic subjects, Jeremy Driesen likes to quote Justice Potter Stewart from the Supreme Court case that attempted to define obscenity: "I know it when I see it."
Driesen is referring to his series of portraits, many of which capture Islanders in candid moments – a musician friend and his young daughter walking down the beach waving a guitar as a greeting; his daughter, Helen, running toward the camera; a late night shot of a bar patron.
One of these serendipitous shots won a blue ribbon at the Ag Fair. The photo was taken at Lucy Vincent Beach on an overcast day. "I was walking down the beach late in the day," recalls Driesen. "It was a nice backlit scene, but I thought it was a little dull. All of a sudden this kid just started walking toward the water and does a 'back walkover.' Turns out she was a gymnast. How cool is that?"
Many of his photos capture that unique moment of spontaneity or an unguarded look that expresses individuality.
This past summer, Driesen joined his friend Peter Simon in showing a large selection of his photos at the Simon Gallery on Main Street in Vineyard Haven. His work will be on display there until the end of 2018, when Simon closes for the season. Many of the shots are Vineyard landscapes. Others are portraits captured while traveling. One of the most striking photos is from a series called "Tango, Buenos Aires." It shows two very handsome men dressed elegantly in suits dancing the tango. The photo – which has the feel of an iconic image – has proven very popular. On his website, Driesen writes, "I had no idea the tango was so sensual, so stirring, and danced with such reverence. Totally amazing."
The photographer had his first solo show at the Martha's Vineyard Playhouse in 2017. This past year he served as the official photographer for the Martha's Vineyard Concert Series, a natural for Driesen, who had a long and successful career as a New York City-based musician.
Driesen's open-minded attitude toward his photography has been a recurring theme throughout his life. Many times he strayed from the expected and more conservative choice to open himself up to chance.
Photography is a third career for Driesen. He spent a decade and a half supporting himself as a professional drummer and he has established a successful production company.
Driesen played his first professional gig at age 13. "The other guys had to drive me to gigs or my mother would have to drive me," he recalls. "I was the youngest kid in the band for years. Now I'm often the oldest."
Although he found success as a musician at a young age, upon graduating from high school he decided that he needed to switch gears. "I thought, 'enough of this fooling around with the drums. I better get serious about life.'" The 18-year-old headed off to college, but after 2½ semesters he still hadn't decided on a major. "I had this epiphany. It was a lightning bolt moment. I thought, 'I really love to play drums, so I should just go and do that. If I don't do it now, I'm going to spend the rest of my life wondering if I could have made it as a drummer.'"
He transferred to the Berklee College of Music in Boston, then moved to New York City and made a living as a drummer for the next 15 years, performing with many legendary musicians including Chuck Berry, Billy Idol, Sam Moore, Bo Diddley, Richie Havens, Gary U.S. Bonds, Del Shannon, Ronnie Spector, The Mamas and The Papas, Darlene Love, and Lou Christie and performing at venues including Carnegie Hall, The Royal Albert Hall, Radio City Music Hall, Three Rivers Stadium, CBGB's, The Stone Pony, and many others.
Twenty-three years ago, Driesen faced another crossroads. "I got to this point where I felt I had plateaued as a drummer," he says. "I felt like it was time to see what the other 97% of my brain could do. I called everyone I knew who wasn't a musician and asked for career advice. I got some truly awful suggestions."
Eventually, a promoter hired Driesen as an apprentice, which led to him starting a small company booking bands. That, in turn, led to a job with a production company. Driesen eventually became a partner in the company and he now employs about a dozen people working out of an office in the Chelsea neighborhood of Manhattan.
Driesen's company, Ray Bloch Productions (he retained the original name), produces conferences, product launches and other large-scale events for corporations. Their clients range from The New York Times to Vogue Magazine to NBCUniversal to L'Oreal to AT&T.
For his corporate clients, Driesen has produced live concerts with Jennifer Lopez, Usher, Enrique Iglesias, Alicia Keys, Jimmy Buffett, John Legend, Paul Simon, and Mariah Carey; comedians including Jon Stewart, Stephen Colbert, Tina Fey, Seth Meyers, and Martin Short; and speakers including Bill Clinton, George W. Bush, Anna Wintour, Trevor Noah, David Simon (a classmate from high school!), and more.
Although the production company requires a large time commitment, Driesen still finds time to indulge his passion for drumming, playing about 50 gigs on the Vineyard during the summer. Driesen has performed with most of the established musicians on the Island, playing at The Ritz, The Port Hunter, The Atlantic, The Wharf, The Lampost, and others. His primary band these days is the Dukes of Circuit Ave.
"I stepped back from drumming for a few years," says Driesen, but then I got to thinking about all the work I did to get to a certain level as a player. I used to practice six to eight hours a day. I just thought, 'After all that work, all the gigs I did, it's crazy just to have it languish.' When I started getting back into it, I fell in love with drumming all over again."
Driesen was happy to connect with his peers on the Island through music. "Musicians have always been my closest friends," he says. "We've all gone through a certain kind of journey together."
While he was finding his way back to playing regularly, Driesen also decided to step up another passion – photography. He had developed an interest in the art as a child when his parents gave him a Kodak Instamatic camera, which he refers to as "the iPhone of its day." Eventually Driesen's father, a serious amateur photographer who had set up a darkroom in the family's home, passed down his Minolta SR-T 101 to his son. "That's when I really fell off the cliff," recalls Driesen. "I started shooting all the time and spending entire nights in the darkroom."
After college, Driesen's interest in photography ebbed a bit. "It kind of threw me off when I didn't have a darkroom any more. It didn't feel like photography when I couldn't work on my own images. I didn't like sending film out to be processed and printed."
The possibilities that opened up when photography went digital proved a turning point for Driesen. He contacted friend and highly accomplished photographer, the late Harry Sandler, to help him make the transition and learn the digital photo editing process. "I'd been shooting for 50 years – just years and years of being an enthusiast," he says. "After working with Harry, I somehow turned a corner I'd be unable to turn before and everything just came together. I stepped up my game and was able to get to a different level."
With no definite plans in mind, Driesen started shooting an estimated 15,000 photos a year. He tends to carry a camera with him at all times. He prefers to use a mirrorless camera, which is more compact and lighter than a DSLR camera.
He also favors shooting in RAW format, which allows the photographer to start with the maximum amount of information, which can be crucial for image processing. The result is the highest level of quality and ultimate control in the editing process and the final product.
As a self-described nerd who spends hours shooting and editing, the RAW format is ideal for Driesen. His love of technology is one parallel he draws between his work as a musician and as a photographer.
"I love cameras," says Driesen. "It's a certain kind of gear lust. They're this amazing intersection of design, engineering, ergonomics, and magic. I just love them. I feel the same way about drums – I just love a great drum kit."
Comparing his drumming with his photography, Driesen says, "With both I'm a strong generalist, as opposed to a specialist. As a drummer, I can play most styles; I can walk into any gig and not embarrass myself. By the same token, I've immersed myself in different approaches to photography, though I'm trying to come up with a more succinct definition of who I am as a photographer." Another comparison between the two: "I like the extremes. With drumming, I love things either crazy quiet or crazy loud. With photography, I like to shoot either very wide or very long. Somehow, there's a parallel between those two things for me."
As a photographer, Driesen demonstrates a range of emotions -- focusing on quiet Vineyard landscapes that require some thought and time to capture or, at the other end of the spectrum, those impulsive candid shots of people that are what really excite his imagination. In describing the 'Civilians' sections of his website, he says, "There's a certain connectivity you can have with people through photography." Having spent a lifetime connecting with people through his music and witnessing the range of human emotions from behind a drum kit, Driesen has a real eye for the unguarded, the genuine reflections of the human spirit.
Some of his most iconic shots were taken in bars and at music festivals, showing people goofing around or just generally enjoying the vibe. Others capture quiet, pensive moments. One of his favorite subjects is his wife Jennie; a lovely, fresh-scrubbed woman with an active acting and modeling career. Having day-to-day access to such a photogenic model has provided Driesen with some of his favorite shots – swimming, standing framed in a doorway, or chin in hand, relaxing in front of a glass of wine.
"None of these was a posed photo shoot," he says. "It's just seeing that something."
For more information contact:
www.jeremydriesen.com
, mobile: 914-844-0267, e-mail:
jeremydriesen@raybloch.com