MADE ON ISLAND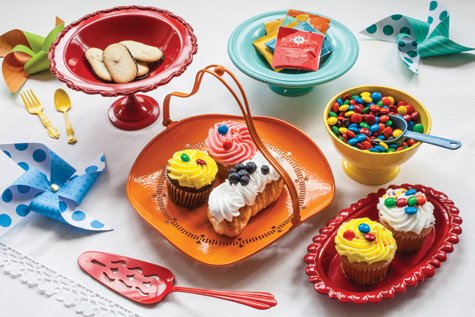 Transforming Prized Possesions

The Vintage Re-Designs of Beth McElhiney
By Amelia Smith
It started with a dream. When Beth McElhiney closed her antiques and jewelry store in Vineyard Haven, she was left with a case full of Victorian silver plate serving pieces that no one wanted. She didn't want to abandon them at the dump or the thrift shop. Beth says "I literally had a dream one night that these treasures were all in color." She went on a quest deep down the rabbit hole of research to figure out a way to transform these antiques into something that fits in with the way people live now, something brighter.
She wanted her process to be environmentally friendly; with her research she found a way to accomplish that. She learned about a process called powder-coating, a process that is a little bit like enameling and is often used in the industrial world on products like outdoor furniture and motorcycles. "This process is pretty labor intensive," she says, and she's the only person using it for this type of work. Typically Beth sandblasts the piece to prepare the surface. The powder adheres to the piece with an electromagnetic charge, and heat-seals it permanently. The result is a non-toxic heirloom piece with a colorful contemporary flair that's food–and dishwasher-safe, and no longer needs to be polished.
"I love the Victorian period aesthetic and I love the 1930s hammered aluminum trays," Beth says. "I tend toward really decorative pieces." She has also started working on larger pieces, including a table made from a vintage brass Indian tray and a cast-iron base, but she remains focused on transforming old silver and aluminum ware. "So many people have an old silver plate in their attic that they're not using. If you put it into a bright color, they love it."
Beth says that it can be hard for people to get a sense of her work without seeing it in person because it's so unique, but it's worth the effort. In 2014 Beth was a finalist in the Martha Stewart American Made Competition, a professionally significant recognition. In addition to the enamel-ware, Beth is branching out with an apparel line, a collection based on photos that she's taken of graffiti all over the world. Beth accepts custom orders, she can transform family treasures to pass down to the next generation.
You can find Beth's work at
www.bmcvintagedesign.com
, and Etsy website:
www.etsy.com/shop/BMcVintageDesign
.
See Beth's work on Island at Black Sheep Mercantile at the airport through mid December.