SCENE & SEEN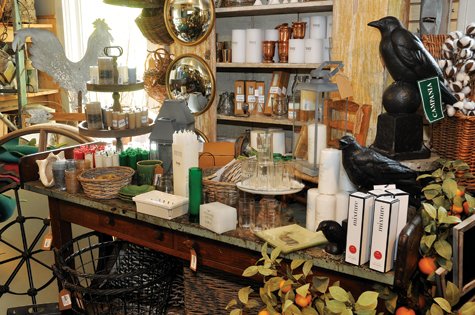 Something for Everyone

At the Middletown Nursery
By Pat Waring
Anyone walking into Middletown Nursery in West Tisbury expecting shovels, rakes, and fertilizer is in for a happy surprise. While these standards are ensconced in the nearby shed the main store has been transformed into a tantalizing wonderland for gift shoppers and intrepid browsers.
The space is overflowing with creative treasures for home, table, kitchen, fashion, and just for fun. Most are practical but stylish and fanciful, mixing old-fashioned country ease with elegance and simplicity.
John Hoff who owns Middletown with his wife, Heather, said he is delighted with the ambiance of the unique shop.
"It's a good feeling, like it's lived in," he said with a grin.
The makeover's seed was planted a few years ago when Heather Hoff began introducing antiques that complemented the plant and garden displays.
Marc Cooper, a Middletown staffer with a flair for flowers and design, took it from there, adding an eclectic collection of gifts, home wares, and much, much, more. He began restyling the space in early 2017 using ideas and expertise from 11 years operating his florial and gift shop in Worcester before moving to the Vineyard.
Middletown is a full-service garden center established some 35 years ago by the late John Gadowski. From early spring through the holidays it offers quality plants including annuals, perennials, and organic vegetables and herbs, along with shrubs, trees, and gardening supplies.
"Our main goal is to help you get your garden growing," is Middletown's mantra. There's everything a gardener could need – rakes and shovels, seeds and pots, organic fertilizer, soil amendments, clippers, watering cans and more. Knowledgeable staffers help and advise, and inspiring garden talks are packed with useful information.
Inside the welcoming shop, a weathered farmhouse cabinet is piled high with plates, serving dishes, dishtowels and napkins in stripes and prints. There are throw pillows covered in printed burlap, a hand hewn wooden salad bowl, and a glass plant cloche.
If you're looking for candles this is the place! There are tall ones, short ones, reed-thin tapers, elegant pillars, and votives. Many, like the popular Archipelago line, are deliciously scented with essential oils.
Baskets are all around, nested together, every shape and size. Bins hold sweet scented guest soaps and chunky herbal bars for gardeners. Tea Forte products include herbal, black, green, and matcha teas, with accessories and gift sets.
For a special baby find a glowing teddy bear nightlight, knitted hats with cute ears, tiny striped socks, plastic chews in veggie shapes for teething.
Cozy felted wool cat and dog beds handmade in Nepal offer a cozy retreat for Fido or Fluffy. Birds get special attention with unusual feeders, wooden houses, and gourmet seeds. Preserved boxwood trees and topiary provide a green accent in any season.
Among our favorite finds were rugged rope doormats hand woven at The Rope Company in tiny Tenants Harbor, Maine, and super stylish canvas shoulder and tote bags at once funky and chic, some from recycled Army tents.
Vibrant cut flowers fill a tall glass cooler, vases, and pails as they wait for Marc to fashion them into lush and lovely bouquets and centerpieces.
Expect plenty of festive surprises for decorating and giving as the holiday season nears. The staff will wrap those special presents or create custom gift baskets to your specifications.
Middletown will be decked out for Christmas with sparkling lights, freshly cut Vermont trees, wreaths, roping, poinsettias and more. The nursery donates 25% of tree and wreath sales to the West Tisbury School's 6th grade trip and hosts a December bake sale by the students, adding to the sweet holiday season. vs
Middletown Nursery & Garden Center is located at 680 State Road, in West Tisbury. For more information visit
middletownnursery.com
, or call 508-696-7600.