CUISINE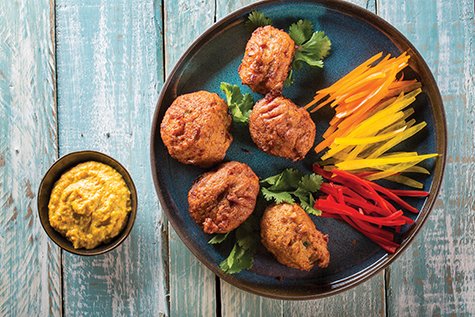 It's All About the Conch

Chef Deon Thomas Shares His Conch Classics in his New Cookbook
By Lisa Belcastro Photography by Randi Baird
Have you ever picked up a conch shell and listened for the sound of the ocean? Or blown into the hole and tried to "sound the trumpet" as seen in movies? Perhaps you have a few shells collected and displayed in your home as I do.

Conch shells are known for their beauty as well as various sounds, but conchs are also famous for their meat, a delicacy in the Caribbean that is less popular in the United States. So, how many times have you eaten or cooked conch? Me? Never. But that's about to change.

Chef Deon Thomas, known and loved for his Caribbean restaurants here on Island, has written and published his first book, Chef Deon's Island Conch Cookery. Truth is, Chef Deon has written a couple of books, fiction and non-fiction, but this is the first one he's published. He created forty conch recipes, beautifully photographed by Randi Baird, that are sure to convert even the skeptics to try conch.
Why conch?

"It's what I grew up with," Chef Deon said. "It's just a part of the culture in the Caribbean."

On Martha's Vineyard, our local 'conch' is actually whelk. We have two kinds of whelk: knobbed whelk and smooth whelk. For years, fisherman have harvested our whelk and shipped the delicious mollusk overseas. "Conch is the most lucrative shellfish right now," said Chef Deon.

"On Martha's Vineyard, our whelks are a sustainable harvest. I aim to restore the whelk to our dining table. Conch, or whelk, are low-fat and loaded with vitamin B12, which is good for the blood and bones. We need to eat more of it for our health alone," Deon added with a chuckle.

While I'm all about health and nutritious eating, Chef Deon hooked me when he said, "Conch is to the (Caribbean) Islands what lobster is to us here."

I love lobster. Who doesn't, right? If orange can be the new black, then I'm ready to venture into the new lobster. The first recipe I want to try is Chef Deon's Martha's Vineyard Conch Chowder. In May, Chef Deon won the Chamber of Commerce's Perfect Pitch contest with this chowder recipe and his plans to distribute it nationally. "I made my pitch, the judges liked what they heard, but it's just a tip in the bucket. I opened Pandora's Box," Chef Deon said with a laugh.

After winning, Chef Deon began researching the equipment needed and the distribution process to keep the whole production – from harvest to cooking to packaging - local. "One piece of equipment I need is $30,000," Chef Deon said, shaking his head. "I'm cooking 100 gallons of liquid and then needing to cool it in thirty minutes. I could by-pass the expense by going to a large manufacturer, but that would change the lure of the chowder being local on MV."

For those of us making this soon-to-be-famous recipe at home, Chef Deon gave us a bit of insight you won't find in the cookbook: the recipe calls for pumpkin, but we can swap out the pumpkin with butternut squash. "In the Caribbean, when you think about soup, you use pumpkin and tomato because those two things are always available. I couldn't find the same pumpkin that I had in the Caribbean, so I use butternut squash."

With fall fully upon us, my butternut squash has been harvested and stored up for winter. If you didn't grow your own squash or pumpkin, our local farm stands have plenty. For the conch/whelk we'll need, we can harvest it from our local waters or we can drive up to the airport plaza and purchase it at the new Fish House market.

After I've made the chowder, I'm torn between the Buttermilk Deep-fried Cracked Conch & Pepper or the Pappardelle & Conch Ragout for main course options. "The Cracked Conch is easy, like making scaloppini or eggplant Parmesan. The 'crack' is the pounding of the conch meat."

If you're making the Pappardelle, the recipe specifies that the pancetta is optional but Chef Deon suggested we include it. "I use the pancetta. It's hardy and enhances the flavor."

Chef Deon has the perfect intimate dinner party appetizer: Conch Cocktail with Passion Fruit Marinade. The cocktail is made with conch tenders, the choice part of the conch, which is also the smallest part of the conch. "This cocktail was the most popular dish at the M.V. Sail event," Chef Deon noted.

If you're looking for new twist to your quinoa salads, try Chef Deon's Quinoa & Marinated Grilled Conch Salad, which he assures me is very, very good. Chef Deon did caution that conch cooks quickly and can be overcooked if you're not careful. "Treat the conch as you would bay scallops."

There are many more recipes in Chef Deon's book, and Randi's pictures make every dish look scrumptious. You can purchase Chef Deon's Island Conch Cookery at Bunch of Grapes, Edgartown Books, or Deon's at the VFW in Oak Bluffs to discover all the yummy conch recipes. Chef Deon will be cooking and serving up various conch recipes at Deon's throughout the year.

If you hear through the grapevine or social media that Deon's will be serving the MV Conch Chowder, get there early. "I can't keep it in stock. When it's on the menu, it sells out," said Chef Deon.

Deon's, located at the VFW Hall, 14 Towanticut Avenue, in Oak Bluffs, and is open year-round, seven days a week, opening each night at 5 p.m.


Conch Fritter with Roasted Vegetable Dip
Whether beignets, doughnuts or calas, people like deep-fried foods. The conch fritter is one of the more popular conch dishes. Paired with fresh vegetables in a seasoned batter at the right ratio, it is to die for. I challenge my homemakers to test their skills, mastering the art of the conch fritter. Below is a scaled recipe.

Ingredients:
1 lb conch chopped
¼ c diced red pepper
¼ c diced zucchini
¼ c diced yellow pepper
¼ c diced onion
¼ c chopped celery
¼ c chopped green onions
2 tbsp olive oil
1 tbsp thyme leaves
3 c flour
1 c panko breadcrumbs, optional
2 eggs
1½ cups buttermilk and ½ cup water
3 tbsp Worcestershire
2 tbsp curry powder
3 tsp baking powder
2 tbsp MV sea salt
1 tbsp fish sauce
Oil for shallow or deep-fry

Method:
Chop chilled conch in food processor for 2-3 minutes, transfer to mixing bowl and set aside. Mix all the vegetable together with olive oil and roast in a 350⁰F / 176⁰C oven for 10 minutes, remove and chill.

Sift flour into big bowl, add dry ingredients and combine. Whisk eggs for 2 minutes, add water-buttermilk mixture, fish sauce and worcestershire together and add to the ground conch, alternating with the chopped roasted vegetables and dry ingredients, scraping the mixture from the side of the bowl between additions.

Combine mixture using a heavy-duty whisk, mix to a drooping batter. Rest batter for 10 minutes for the flour granules to absorb moisture.

Bring hot oil to temperature 325°F / 163˚C. and drop batter with a small scoop in hot fat for 4 minutes, frying to a golden hue. For shallow frying, drop batter with a spoon into frying pan at moderate temperature for 3 minutes, turn over as it bubbles and cook evenly for 3 minutes, remove with a spider and set on parchment to absorb extra oil. Serve with your favorite dipping sauce.