GARDENER'S NOTEBOOK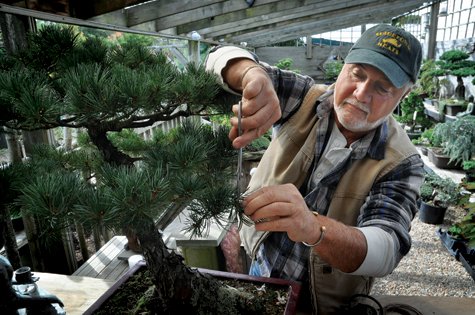 Bonsai
By Mariko Kawaguchi
The vivid display of bonsai at the Great Hall at the Agricultural Fair every August by the Martha's Vineyard Bonsai Club marks the culmination of the growing season on the Vineyard, and is the signpost that autumn is drawing near. I look forward to the display every year, as the beautiful tree collection in this majestic hall remind me of the great diversity of our local agricultural community and the commitment made by these talented tree sculptors. Children are intrigued by their small size and design, while young adults are fascinated by the vast amount of time it takes to create this level of artistry.

As fall is apon us, and garden-ers have the desire to move nature indoors, a Bonsai land-scape is one way this can be achieved.

Bonsai is a Japanese term, which literally means "planted in a container" and the idea of having this synthesis of bringing the outdoors in has been around for well over a thousand years, originally derived from ancient Chinese horticultural practices, and then redeveloped under Japanese Zen Buddhism. For some it is a meditative form to have the ideal of a perfect tree in a miniature scale while for others it represents the Asian aesthetic synthesis of simplicity in a decor.

People come into Donaroma's and upon seeing my Japanese face, presume that I am an expert on bonsai by association, which tickles me, when it is a fact that our Italian-American nurseryman and tree expert Ernie Carlomagno who is the authority on the bonsai collection.

I find it intriguing that Ernie spends most of his days planting and maintaining large elaborate outdoor landscapes, and in contrast his down time is filled with the creation of these intricate mini landscapes that he envisions. Donaroma's has showcased Ernie's continuing collection by creating a bonsai house for the public to experience his award winning landscapes in miniature form. Ernie is the curator of the bonsai house, and he always has a moment to give advice and guidance to bonsai enthusiasts. He has hosted many workshops and programs for Island schools and other organizations over the years, and is happy to share his passion and knowledge with the next generation of bonsai novices. The bonsai house functions as both an organic showcase for his beautiful trees and also as a functional workspace filled with shallow pots ranging from reasonably priced to extremely rare and collectible specialties. His walls are a myriad of twisted wires and tools that are within easy reach of his artisan craftsmanship.