DRAWING BOARD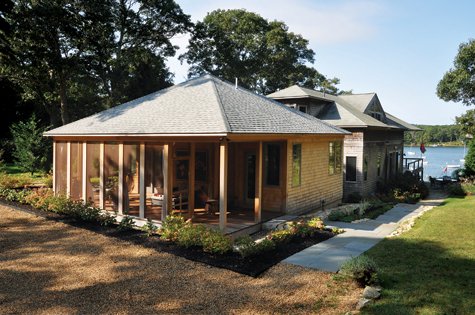 From High-Rise to Boathouses

The
Call John Fuller 'old-school', an architect who still drafts on tracing vellum with technical pencils. John found a love for drafting at Wentworth Institute of Technology in Boston, where he studied Construction Technology, earning his degree after spending a couple summers on the Vineyard, first working for Ed Tyra - lots of shingling - and in 1974 building sets for JAWS. His step-grandfather, "Uncle George" Flynn, the iconic patriarch of Pohogonot Farm in Edgartown - at one time the largest property on the Vineyard - had suggested to John that "going back to college would be a good idea".

Fuller went from Wentworth to Rhode Island School of Design (RISD) in Providence, to train as an architect. His graduate year was spent in Rome on RISD's European Honors Program. John's thesis was the design of PIAZZA del COLOSSEO inspired by the nearby ruins of the Roman Forum and various Renaissance masters he had studied.

After RISD, John started work with Hugh Stubbins Associates, a modernist pioneering firm in Cambridge, initially on a project transforming Boston's historic South Station. At Stubbins, John was trained on one of the earliest CAD systems (Intergraph), but his construction background took precedence and he became the Firm's liaison in the field on various projects.

In 1988, John left Stubbins to start a new firm, Fuller Associates, Inc., growing the firm to 15 architects and interior designers with projects ranging from office buildings and commercial interiors to work with the MFA, MIT and the New England Aquarium. Fuller Associates designed several houses in Edgartown and Katama, and also designed renovations to the Colonial Inn in Edgartown and a 'barn-house' on Pohogonot Farm.

Early in the new millennium, John was offered, and accepted, the position of Board Chair for the Summer Search Boston program, a leading innovative youth development program providing access to experiential summer programs, year round mentoring and college access. This opportunity to 'give-back' was embraced by John and working closely with the Program's Executive Director, helped achieve funding milestones as well as grow the Program to ultimately include students from every Boston Public School.

Fuller Associates was sold to the national powerhouse design firm, Perkins+Will in 2006. John became a Principal in charge of Boston's Corporate+Commercial sector and was a director of the Firm's Social Responsibility Initiative (SRI). During this period of economic downturn, John grew P+W's 'brand' in the Boston commercial sector and aided in bringing in work across all of the office's sectors. He also oversaw the growth of the SRI such that after 4 years, the Firm had donated over 15,000 hours of pro bono design services to nonprofits nationally.

While pondering his next move after leaving P+W at the end of 2010, John was contacted by a former colleague who was Director of Graduate Interior Design at Endicott College and asked if he'd like to teach some classes. Under the sponsorship of Dr. Richard Wylie, the President of Endicott, all of John's classes involved coordinating with local nonprofits allowing students to get an opportunity working on programs that would likely be implemented. Examples included the repurposing of an historic civic building into an art center for Montserrat College of Art, or the conversion of an unused industrial building into offices for Beverly Bootstraps, a community supported nonprofit to help local families achieve self-sufficiency.

Two years later, Fuller became Executive Director for Gloucester Adventure, Inc., a nonprofit tasked with restoring the historic 1926 dory-fishing schooner Adventure. Charged with raising the funds needed to get Adventure sailing again, John needed to prepare drawings of the spaces below-decks to submit with grant applications including The Department of the Interior and the Massachusetts Cultural Council. The Fo'c'sle, Galley, Hold and Master's Cabin all were measured and drafted to show how the vessel may have been fit-up, based on historic photos and analysis of the few remaining similar vessels. Adventure went back to sea in June 2014 in time for John's move back to the Vineyard to be married to noted interior designer Mary Rentschler.

Mitchell Fuller, John's design firm, set up a studio in space on Vineyard Haven Harbor, next to Gannon & Benjamin Marine Railway, and started working on local projects, including projects collaborating with Mary. One such project was the conversion of a former writers' cottage –salvaged and placed on a new foundation- that would become their office/studio on Lake Street in Vineyard Haven. Thus was born LakeStreetSTUDIO, joining John & Mary's respective firms under one roof.

LakeStreetStudio is a 'yours-mine-and-ours' arrangement, however, both principals have thoughts about the work in studio- regardless of 'whose project' it is. Mary's projects have been constant for over 15 years, ranging from whole house interior design to helping a client specify a rug or determine a color scheme. Much of the time, Mary's projects require an architect- the reciprocal is true for John's projects.

Most of John's career has involved large-scale commercial buildings and interiors, yet he has always had a passion for 'small' scale residential projects. A timber frame house on Pohogonot Farm; renovating and adding onto a Hugh Stubbins International Style house in Chestnut Hill; a ski house on top of a mountain…John refers to his work as 'special projects'.

This holds true for his recent and ongoing work at LakeStreetStudio: a boat house on outer Vineyard Haven harbor; a 'master-suite' addition to a waterfront house in Vineyard Haven; a garage to house vintage motorcycles and other specialty vehicles with a roof garden overlooking Tashmoo; a party barn on a salt marsh utilizing a c1850's chestnut barn; site design for a hilltop house in Chilmark; re-design of an existing contemporary ocean-view house in Aquinnah for more contemporary living.

John is learning 'on-the-fly' about Island-centric themes such as 'Tisbury walls', what you can and can't build on a 'coastal dune', impact resistant windows and doors, flood resistant design and flood insurance program requirements, and that excavating clay around your up-Island house can be a 'slippery-slope'.

John has three daughters (one here on MV), a stepson and three grand-children. He loves skiing, golf and tennis, but whenever possible he's out fishing on his boat.