TRENDS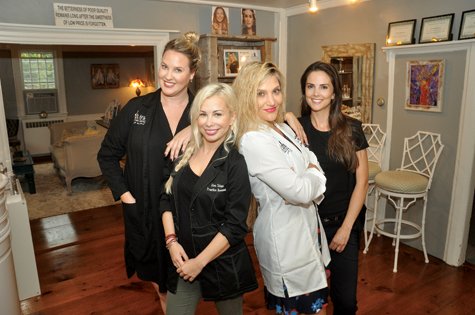 Simply Divine

Be Empowered to Look and Feel Your Best
By Melissa Clay
Maybe you are like me and you tend to spend a lot of time in the sun. Recently I had the opportunity to learn that there is a wide world of benefits for everyone's skin that I never knew existed. I was invited to interview Dina Bendavid and Jade Mazza at Divine Med Spa in Edgartown. It was at the end of their day but the place still sparkled with an enthusiasm to share their skills, abilities, knowledge and how they empower you to look and feel your very best. They showed me to the conversational cluster on their back patio, the sun was setting and the lighting was perfect. These two dynamic women proceeded to tell me how they could eliminate little things like Sunspots and redness. Never there! How about those darn parentheses on either side of your lips… no more! Yes, you can be liberated from annoying and embarrassing leaks when you sneeze or exercise, or maybe you are sick of your, or your partners, "love handles" they fix that too! In fact I would be hard pressed to say there isn't anything they can't fix! Dina has the fastest and highest quality tools to erase years of the enjoyment your body has endured in only a matter of visits. Divine Med Spa's philosophy is simple "to provide natural looking results that create noticeable impact"
"We want people to notice but not "know," Dina says. Your friends will say "Wow, you look fantastic!!" Dina believes "self-empowerment plays a key roll in achieving optimum levels of health and wellness, and thus is passionate about her work she does in medical aesthetics".
Dina, as a nurse practitioner, holds a Masters and Doctoral degree, is a clinical trainer and professor. Jade is a licensed practical nurse specializing in Aesthetics.
Each person who walks through the Divine Med Spa's doors gets a huge warm smile and 100 percent individual personalized treatment for whatever you are looking to tighten, reduce or restore. According to your situation, they also have an authorized list of dermatologists and plastic surgeons so you have the advantage of all benefits.
What else do they do you ask? Well I am happy to give you a list! Including but not limited to-Boot-Dermal Fillers, an all-skin rejuvenation such as micro needling (for smoother firmer skin), dermaplaning, hand laser rejuvenation, laser resurfacing, PDO thread lift (think of it as a face lift without the surgery), Cool sculpting (no more bingo wings!), Kybella (fat reduction under the chin), Sclerotherapy (laser vein removal), hair restoration and even intimate internal and external vaginal rejuvenation.
Indubitably, they offer facials, spray tanning, microblading, micro pigmentation, lash extensions, laser hair removal, acupuncture, inferred sauna and of course for those who like to party: an IV vitamin infusion! Can you believe all of these amenities are right here on Martha's Vineyard ? You won't have to go to Boston or New York, just call Divine Med Spa today and get started: (508) 627-0352 . They're located at 12A North Water Street in Edgartown.
For more information check out their web site at:
www.divinemv.com
.