ARTIST PROFILE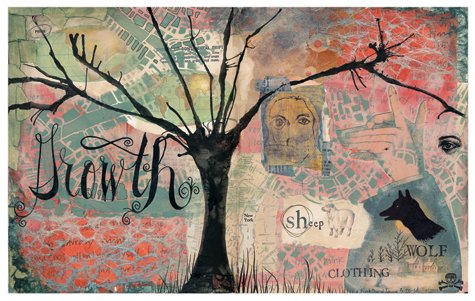 Seeing Through the Eyes of Jennifer Joanou
By Gwyn McAllister
There's buried treasure to be found at the A Gallery. It comes in the form of a very intimate body of work, much of which is on offer to the public for the first time. The artist is Jennifer Joanou (pronounced Joe-on-OH) of Manhattan and Chilmark, and the selection that has been excavated is the result of many years in which the artist mined her inner world and brought to the light her personal demons, her innermost hopes and dreams and her unconscious self, simultaneously revealing universal truths about the human condition.

"She is one of the most honest artists I have in my stable," says A Gallery owner Tanya Augostinos.

The work on exhibit at the gallery includes samples from a series of visual journals that have been residing – unseen by others – in the artist's studio in New York City for years. The journals were created over the course of more than a decade of work as a form of therapy, of sorts, for the artist.

Joanou creates very personal images in her journals through a unique process in which she fills each page with free association writing, then paints over her words, often leaving a ghost image of the writing barely discernible. Generally an image will cover two facing pages giving a centerfold effect. The works of art, built up through a combination of painting, collage, rubber stamping, writing and many other techniques, are reflections, or interpretations, based on the journal entries.

"Usually the writing leads to an image or a thought," says Joanou. "They're more like daily visual journals."

Taken at face value, each double page is a wonderful work of contemporary art, but it's only when one digs a bit beneath the surface that the images can be fully appreciated. Full body silhouettes and side views of heads turn up often in Joanou's work, as do hearts (either stylized or anatomical) tarot card and religious imagery, and the occasional beast or demon. All have meaning and whether the image is a positive or a dark one, each tells a story that mines the depths of the artist's subconscious.

"Working in a book gave me this very intimate space to express myself," says Joanou. "I thought nobody was ever going to look at these."

Over the course of 13 years, Joanou created 16 journals, shelving them with no intention of ever exhibiting the images. She found that it was a good way to express herself while allowing time to focus on raising her three children.

Joanou only recently decided that she was ready to share her work with the world. Last year, Augostinos showed some prints of journal images as well a couple of pieces inspired by themes depicted in the books. A few of the original books were also available for guests to flip through. The prints were for sale, while the journals were on display simply to provide a glimpse into the artist's psyche.

This year the A Gallery will display the artist's most ambitious project, a large leather bound book titled School of the Sea. As the title suggests, the journal, which has the look of an ancient sea log, is full of maritime images and ocean related themes. It's as fascinating as it is beautiful. The book will be for sale, marking the first time that the artist has made any of her original work available.

Along with the remarkable oversized album, Joanou will be showing a number of embellished prints from other journals – some printed on linen, some on paper and a few blown up to very large proportions.

Although her artwork will be new to viewers, Joanou previously had a very successful career as a fashion designer. From 1989 through 1993 she owned a boutique on La Brea Ave in Los Angeles and also sold her designs through high end stores like Barney's, Bergdorf Goodman and Fred Segal. "I was spending so much time running the business I wasn't doing very much creative work," says Joanou. At that point she already had two children and was finding it difficult to run a business and raise a family. "I came to a crossroads where I would have had to find a backer and a business partner. I felt like I wasn't going to be the kind of mom I wanted to be and run the business."

Joanou tried photography for a while then took a break for a few years but she eventually realized that she needed some sort of creative outlet. She found that outlet through a workshop in Washington State on art journaling offered by award winning fine artist Juliana Coles. "That was a huge turning point for me," says Joanou. "I found something that was creative and expressive with a self exploratory aspect to it that I knew I needed."

In 2007 Joanou decided to move her workspace outside of her home. She rented a studio in Pasadena. "That was the next big turning point," she says. "I was able to really focus. There was something really liberating about having my own space."

Another workshop with Coles – this time in Key West – launched Joanou on the journey that led to the School of the Sea book. The project was conceived and began during the week-long workshop as an assignment. Joanou brought with her a large vintage atlas that she bound in leather. The cover is embellished with a needlepoint image of a traditional multi-rigged sailing vessel, straight out of a vintage adventure tale. Printed on aged linen, the image provides the perfect portal into the secrets contained within.

Each page has a different sea related theme – Rip Tide, Walk the Plank, Deep as a Whale. The images are painted over the maps or partially painted over, incorporating some of the atlas renderings. In a few cases, Joanou has changed the actual geographic names to more personal ones. On one map, Joanou has rechristened the Hawaiian Islands, "The Principal Islands of Jennifer" and given them names representing the many facets of her personality including Mother, Daughter, Sister, Friend and Artist – the latter of which comes with the warning "This island is covered with light explosives."

Some of the pages are dedicated to people in the artist's life. There is a portrait of her grandmother wearing a fantasy hat shaped like a giant seashell. The artist's daughter figures prominently in another image. One page honors one of the women from the workshop who subsequently passed away. Most pages, however, are centered around Joanou's trials and triumphs, fears, sorrows, regrets, hopes, challenges and aspirations.

"It's similar to what I do with these daily journals," says the artist. "Taking imagery and expressing internal thoughts and feelings."

Joanou completed about half of the book's images during the workshop and then worked on it for another two years. While on display at the A Gallery last summer, visitors were impressed with the beauty and complexity of the journal. Earlier this year, Joanou decided it was time to let it go.

"I felt like I was ready to sell the book," says Joanou. "I was really grappling with whether I would ever sell any of the journals but I want my work out in the world." Along with the School of the Sea Book, the A Gallery is also showcasing a number of embellished prints from other journals. Some have embroidery or collage elements, others are partially hand painted or decorated with glitter. Previously Joanou sold prints in New York at a pop up shop on the Lower East Side and from her studio in Chelsea. Some of the images that have proven the most popular are those with messages, including a portrait of a formidable looking woman with the words "Don't f*#k with me" and a wonderful vintage image of a steamship underneath the hand written slogan "It's going to take a long time to turn this steamer around."

Although the messages are personal, they have proven to resonate with viewers. Many have to do with pain and healing, loss, depression and other of the more difficult life events and emotions. "I feel like our painful experiences teach us a lot more than our happy ones," says Joanou. "I'm always trying to figure that out. It's important to try to find meaning in our suffering or to look towards the future."

A book that has proven inspirational to the artist in her self discovery journey is Women Who Run with the Wolves by Jungian analyst, author and poet Clarissa Pinkola Estés. Joanou explains the lesson she has garnered from the author. "Women have this intuition that we start to ignore as we become adults. We need to try to listen to it rather than repress it. We all have a buried treasure of intuitions and instincts."

While that may be true, not many people are brave enough to express their most personal thoughts publicly and fewer still have the immense talent that is clearly in evidence in Joanou's work.