COMMUNITY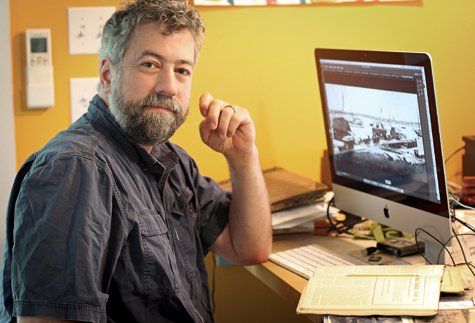 The Teller of Tales
By Amelia Smith
Martha's Vineyard Tales is a collection of snapshots of Island life in times gone by when thunderstorms were fierce, the rule of law weak, and the Island was home to a varied cast of unique characters. The author, Chris Baer, grew up here and studied math, education, and educational technology. He now teaches photography and graphics at the Martha's Vineyard Regional High School. Chris's grandfather had collected old photographs, and in 2014, Chris began publishing some them in the Martha's Vineyard Times along with stories behind them. He says that it's escapism, but he's collected those stories into an entertaining book that compiles some of the best of those columns along with new vignettes and sidebars that illuminate forgotten chapters of Island history.

As the introduction mentions, this is not a comprehensive history. You won't find anything here about town meetings and bylaws, let alone national politics. What you will find are strange and uncanny tales, inspiring stories of old-time adventurers, and other glimpses of times past. A few stories date back to colonial times, before the invention of photography, but most of them are related to one or more of the thousands of photographs collected by Chris's grandfather, Stan Lair. Stan, a plumbing contractor by trade, would find old photographs in his client's and friend's homes and, with permission, copied them for his collection, often making notes on the backs. While doing further research to fill out the stories contained within those photos and notes, Chris discovered more to the stories.

In the late 1800s, Cottage City – now Oak Bluffs – was a loud and lively place. The original Cottage City Carnival, in the 1870s and 1880s, was an end-of-season blowout party that included athletic contests, the most popular bands from around the state, fireworks, and a torchlit parade. Paper lanterns lit the whole town, not just the campgrounds. It was a rowdy and dangerous time – horses spooked by the fireworks caused some severe injuries over the years. The Metropolitan Hotel was at the center of it all, where the Corner Store stands today on Circuit Ave. A photo from the late 1800s shows it presiding over a street busy with foot traffic and a few horse-drawn carriages.

The Carnival was just one venue for past athletic contests. In the 1920s, George Washington Salvadore, an Islander of Azorean descent, got his start as a professional boxer at the Dreamland Rink in Oak Bluffs. He eventually moved from the Vineyard to Houston, then to San Francisco, and became the world's third-ranking welterweight boxer. Other Islanders also traveled far around the world and, when they were lucky, brought their stories back with them, or left their reputations behind. George Cleveland of Vineyard Haven "was shanghaied twice and ultimately abandoned by his New Bedford employers in the unforgiving Arctic wilderness, is suspected to have fathered at least fifteen children with at least nine or ten Inuit women." That happened in the late 1800s, and he may be forgotten here, but he's remembered there, though not always fondly.

Stella Abiah Ryan was another Islander who traveled far. Born in Gay Head in 1885, her father was a lobsterman and her mother ran a boarding house. Stella earned her high school diploma at the age of 25, in New Bedford, then went on to study at the Newton Theological Institution in Boston. She traveled as a missionary to Donga, Nigeria, where she learned the Hausa language and translated textbooks and the Bible. She came back to the US for the winter with textiles and other items for educational use in American schools, plus many photographs. She returned to Nigeria with plans to marry, but before that could happen she died of a fever, perhaps malaria, in 1918.

The 19th century heyday of resort tourism peaked and crashed one fateful year. The Makonickey Inn opened in 1893, funded by a group of off-island investors with very bad timing. It was state-of-the-art, the first inn on the Island with an electrical generator and an electric light in every room. The hotel opened to great fanfare, but five weeks later the "Panic of 1893" crashed the national economy. The workers who had built the hotel hadn't been paid, and they stormed in to occupy the hotel's lobby and threatened to burn it down. The inn guests fled to Vineyard Haven, some only partly dressed, dragging their suitcases behind them. The hotel never recovered. It became a YMCA summer camp from 1913 to 1919, then gradually fell into disrepair. Some of the cottages built alongside the hotel were moved to Skiff Ave. in Vineyard Haven, where they still stand today.

Chris discovered the chilling story of "Tivoli Girl" when he was researching Will Hardy, a band leader and "King of the Tivoli" in the early 20th century. "My father said that I should do a story about the band that played at the Tivoli in Oak Bluffs," Chris says. Will Hardy and his six-piece orchestra played in Oak Bluffs every summer from 1915 to 1931. Ray Wells, the manager of the Tivoli and Hardy's boss, stumbled across a crime scene one morning in 1916. "While passing Farm Pond, Mr. Wells stopped to investigate a 'bundle' floating in about two feet of water, which had been observed by passersby for several days. It was the decomposing body of a thirty-six-year-old woman dressed only in her undergarments, wearing only one shoe." The woman was Miss Henrietta McLeod, and she had been fired from her job as a nanny and cook just before her disappearance.

When an initial police search of the area was unsuccessful, the authorities called on the local Boy Scouts to scour the woods for evidence – policing in the 1916 was clearly much more casual than it is today. They found evidence of a struggle, McLeod was missing her gold ring, and her teeth had been knocked out. Despite the evidence of violence, the woman's former employers suggested that she had committed suicide, and the police went along with that suggestion, although the victim's family firmly believed that she had been murdered. Were the police conspiring to protect someone they knew, or was it just laziness?

Violent thunderstorms were a feature of early Island life that seemed to disappear during the early 20th century. In one sidebar, Chris relays a report that seems incredible: "1798: During a violent February hailstorm in Chilmark, lightning struck the house of Jonathan Tilton, went down his chimney, and instantly killed the twenty-five-year-old man and the dog lying beside him." A century later, lighting struck a young woman who was singing in the window of a cooper's shop in Vineyard Haven. She "received a charge of electricity in the mouth, which paralyzed her tongue, and rendered her speechless," according to the Vineyard Gazette. Fortunately, the woman survived and even recovered her voice eventually, and storms of such violent intensity faded away, too. "All that seemed to stop when they put the Cape Cod Canal through, for some reason," said Stan Lair in a 1980 interview with Tisbury School students. "Right after they did that why the thunderstorms didn't seem to be anywhere near as bad."

Stan Lair, Chris's grandfather, was born in Vineyard Haven in 1902 and lived there until his death in 1987. He dropped out of high school to work as a plumber, but he also became an amateur historian, collecting stories and making sound recording of his memories of the way things used to be. In Stan's boyhood, there was no indoor plumbing or electricity, let alone radio, TV, or computers. He and his peers had to amuse themselves, and sometimes interesting things would come their way, like the wreck of the Port Hunter in 1918. The steamer was grounded on Hedge Fence Shoal and much of its cargo spilled out and washed ashore. That cargo was valued at between five and seven million dollars. Stan Lair was a teenager at the time and he and his friends – along with many others – helped themselves. "We got word that the cargo boxes were coming ashore on the north side of the Island, so a bunch of us boys headed down toward the Herring Creek, about a three-mile walk through the woods. We arrived there, and sure enough there were all sorts of things coming ashore in boxes."

The stories from the middle years of the 20th century introduce some of the characters that made this island unique. Stan and some of his friends were ham radio operators. The hobby allowed them to communicate with other ham radio operators around the world, and was a real lifeline for some, like Stan's friend Dave Noble. Dave came to the Island as a patient at the Marine Hospital and had a disability that left him almost completely paralyzed. Stan built a rig for his ham radio set and transmitter so that Dave could use the radio even though he only had the full use of one hand and his voice. From his bed, he could speak to "hams" all over the world, and his fellow Vineyard hams gathered at his home each week.

The Island was a quieter, more isolated place after the frenzy of whaling and the Island's early resort years. Stan Lair gathered many of his photographs in the lull of the early 20th century, before the advent of the latest boom in development and tourism. Chris hopes that this book will do well enough to merit a sequel, because there are many more tales to tell from his grandfather's collection and beyond. The trove of interesting stories and anecdotes from the Island's past seems limitless, alternately amusing and sobering. You can dip into these stories and more to catch glimpses of the way things used to be in Martha's Vineyard Tales: From Pirates on Lake Tashmoo to Baxter's Saloon.

Chris' book is available on Amazon, at Barnes & Noble and locally at Bunch of Grapes Bookstore in VH.