ON ISLAND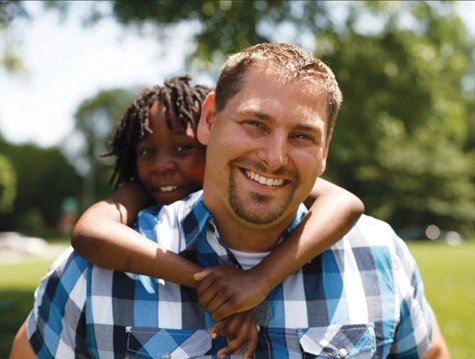 Mentoring

The Big Brothers and Big Sisters of Martha's Vineyard
By Amelia Smith
BigBrothers Big Sisters began in the early 1900s as a mentorship program for boys in New York Children's Court. The model quickly spread, and today BBBS operates in all fifty states and in thirteen countries around the world. JR Mell, regional director of Big Brothers Big Sisters of Cape Cod and the Islands, got his start in the program as a "Big," a mentor to a boy on Cape Cod who is now in his 20s. "It was the most impactful volunteer experience I've ever had in my life," JR says.
Nate Luce, the Martha's Vineyard Program Coordinator, is from an old Vineyard family. He was visiting a friend in Asheville, North Carolina when a friend incidentally introduced him to the program. "I thought it was cool that someone our age was hanging out with a ten-year-old," Nate says, and it was only after meeting his friend's Little that he learned about the mentorship program. Nate came back home and signed up to volunteer as a Big.
"I've had a little brother, this real sweet kid that lives in Vineyard Haven, for just about a year now," Nate says. "The most recent thing we did was play music in my home studio. He'd just had a very rudimentary music class but he was keen to plug in the electric guitar and bang the drums. It was very free-form – he sang about the X-men." Nate and his Little also go for hikes. He says that although kids get outside some through schools and sports, many Island Littles don't have much unstructured outdoor time. He and his Little enjoy exploring the Island's streams and hiking trails.
According to JR, there are currently about 35 active Bigs and Littles on the Vineyard, and the program has room to grow. There is a wait list of 10 kids, mostly boys. Littles come to the program through referrals from schools, the Island Wide Youth Collaborative, and word of mouth. About 70% of the Littles are from single parent families, but 30% of them aren't. Sometimes the family is dealing with substance abuse or mental health issues, but each case is different. JR says that there are several key factors that bring kids to the program, including some kind of loss in their life, academic under-performance, or a poor relation-ships with parents or peers.
The ratio of boys to girls in the program is about four to one, and that gender balance is reversed with the adult volunteers. The oldest volunteer in the local program joined at age 88 and retired from volunteering at 92. The intake process seeks to ensure that everyone involved is happy with the match, and that they have some interests in common. Volunteers are always needed, especially male volunteers. For the Little, JR says it's "like having an awesome adult friend who's there to see you a couple of times a month and do fun activities."
"You're not going to wind up with someone you're uncomfortable with," Nate says. Ideally, the matches are between a Big and a Little who don't already know each other, though that can be a challenge in a small community like the Island. Volunteers commit to twice-a-month outings with their Little for a year. The typical Big-Little relationship lasts three and a half years off-island, but four and a half years here. Sometimes the relationships evolve into less formal friendships or just aren't needed any more as the child grows and matures.
JR says that the outings are based on things that you would be doing normally. He encourages people to focus on free and no cost activities like hiking, fishing, and going to festivals. Some local businesses donate experiences to Bigs and Littles. "Ronnie" of Fat Ronnie's Burger Bar in Oak Bluffs was a Little when he was a kid in the Bronx. "It helped mold me to who I am today," he says. "When I wanted to give back that was the first organization that I thought of." He gives Bigs and Littles a free meal. "One thing that's a common denom-inator; communication always evolves around food," he says. Ryan Family Amusements also donates experiences, and there's a cruise on the Alabama once a year for Bigs and Littles.
The Big-Little relationship makes a big difference for a lot of kids, and for their mentors. "It's a reciprocal relationship," Nate says. "We're learning from each other. It's a reminder to view the world with wonder." To volunteer or donate, contact Big Brothers Big Sisters of Cape Cod and the Islands at
www.bbbsmb.org/cape-cod/volunteer
or phone 508-771-5150.