DRAWING BOARD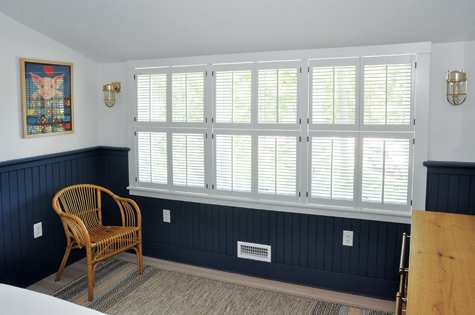 Beka El Deiry & Island Window Design
By Joyce Wagner
It's simple math. Add the resourcefulness of a sailor, the ingenuity of a chef, and the skills of a carpenter. Combine that with the knowledge of a Vineyard-born-and-raised, an innate sense of design, and the need for the flexibility of a single mother. Result? Beka El Deiry and her business, Island Window Design. She works out of a van – bringing samples and ideas directly to the clients, and stays with them from ordering, through installation, and, if needed, subsequent repair.
Beka was born and raised on the Island, and, as a young adult, spent more than seven years as chef on a private yacht. Both the sailing and cooking aspects of the job required a lot of creativity and ingenuity. There are no quick dashes to Cumberland Farms when you're at sea, so careful planning is needed before leaving port, and running out of an ingredient means having to ad lib. Also, Beka explains, "After rough seas, you have to kind of put the whole boat back together."
She returned to the Island, with her two year-old Isabella in tow. She was hired as a window treatment installer by a local interior designer. "It was an awesome opportunity, given to me by an awesome woman," she recalls.
Again, her tenure at sea served her well. "There are a lot of sailors in this business," she says. "We're not afraid of heights and we can jury-rig."
After three years, newly married, and with her second child on the way, she desired more flexibility and opportunities for creativity. She reluctantly left her employer and struck out on her own. "I knew I wanted to get into the design part, even if I was getting into the lower end. I had such a good rapport with people when I would come and do their blinds that I knew I was missing a lot of the social aspect of helping people with their Vineyard windows."
Through her installation work, Beka learned the nuts and bolts, which is the opposite of the learning process for most designers. "If you went to design school," Beka explains, "the last thing you learn to use is a drill. People need the technical part of it. So much is mechanics."
Although Beka had no formal training as a designer, her history with the Island serves her well. She grew up doing the "Island Shuffle" until she was twelve. "(My mother and I) had to transform houses and/or tents twice a year. My mom would redesign these generic summer rentals. We would hide most of the stuff and she would put up her sarongs and crystals in the windows."
And, because Beka had lived almost everywhere on Martha's Vineyard, she knew the particular needs of the different locations – and that a summer home has different requirements than a primary residence. "When I meet these people," Beka explains, "and they're building a home, or they just bought a new home, I have to readjust their lifestyle to the Vineyard. I try ever-so-nicely to encourage them to enjoy their second house in a new way."
She sometimes discourages black-out shades in favor of the beautiful morning light. She provides half-shutters and top-down-bottom-up shades where privacy is needed, but light and view are desired. "I always discuss nudity," she admits with a laugh. "How nude do you want to be? I have to provide for that." And, if the view is spectacular, she recommends shades and wallcoverings that hide behind trim when opened, or stack on either side of the window, not in front of it.
Although Beka began at the low end, she now works with designers, architects, and homeowners at many levels. One of her most ardent fans is Kris O'Brien, who, along with her husband, Bill, designed and built a rental home in Oak Bluffs that they plan on inhabiting when they retire. Situated on Crystal Lake and overlooking the outer Vineyard Haven harbor, they needed window treatments that wouldn't obscure their vistas. But, having a sunny laundry room and bathrooms that were a wee bit too open to the neighbors' view, they required something that wouldn't block the desired outside light, but would provide privacy. And, because so much of the house is windows, the furnishings needed protection from the UV light.
"Her reputation proceeded her," Kris says. "We knew that the property warranted something more that we knew how to do, so we went to the best person that we knew of."
Beka came through with disappearing shades in the bedrooms and public rooms, and top-down-bottom-up shades in rooms that require light and privacy. The downstairs shades are made of solar screen fabric providing protection for the furnishings and keeping the house from becoming overheated in the summer. The upstairs bedroom shades are black-out, providing all that, plus allowing the renters to sleep late if desired.
"She came up with ideas that we never would have thought of," Kris recalls. Her favorite is the shades that hide when opened. "I had no idea they would disappear the way they do," she says. "We're so pleased. She struck a beautiful chord of balance between privacy, protection, and maximizing our views."
All of Beka's installations come with a life-time warranty. "I'm fixing blinds I sold fifteen years ago!" she boasts.
Although quality of merchandise, proper installation, and good communication with the client are all key in Beka's business, her knowledge of the vagaries of the Island may be her best asset. "The funnest part of the whole process," she explains, "is that they know I'm from here, they know I was raised here." And, reaching back to her sailing experience, she adds, "It's like buying fish from the boat. It's more authentic for them."
For more information contact: Rebekah El-Deiry
Island Window Design, 508-274-9948,
Islandwindowdesign.com
, E-mail:
bekwindows@hotmail.com