CUISINE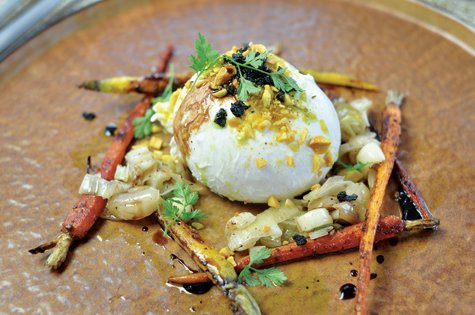 So Much More Than An Ocean View at Garde East
By Lisa Belcastro Photography by Charlie Utz
What could be better than dinner with an ocean view? How about a fabulous dinner with an ocean view? I asked my niece those questions on her recent visit, and then whisked her off to Garde East. She enjoyed her meal so much that she's coming back next week for seconds (not kidding).

Tucked into a cozy lot off Beach Road along Vineyard Haven Harbor, Garde East offers guests a taste of the Vineyard via the culinary talents of chef Carlos Montoya. Carlos has created a menu that features fresh, local, seasonal fare, as well a few personal and customer favorites.

The food by itself is more than enough reason to select Garde East as your next night out. But, you're going to be thrilled with the harbor view and, depending on when you dine, the other perk could be the sunset. Though West Chop to Aquinnah claim bragging rights on Island sunsets, Vineyard Haven Harbor enjoys its fair share of breathtaking evening skies. Guests at Garde East have front row seats as the summer sun sets below the horizon, illuminating the ships below in arrays of pinks and oranges and yellows.

The "lovely" location seems to be a theme for Chef Carlos, who graduated from the Culinary Institute of America, since he came to the Island in 2008. After answering an ad for a sous chef at The Sweet Life Café, Carlos drove from New York for an interview. He was offered the job, then went home, gave his two-week notice, packed his bags, and returned to the Island.

"It was a no-brainer. It was so beautiful. I loved the space at Sweet Life, and the Island seemed lovely and charming," said Carlos, who's experienced lovely at Sweet Life, Edgartown Yacht Club, Farm Neck Country Club, and now at Garde East. The Island's natural beauty surely inspires Carlos' menu presentation.

One glance at the menu and you'll notice lots of local fare. My niece and I didn't spend but a moment selecting our first course. She loves sushi and chose the Sashimi Trio. I had to have the Tuna Poke. Both were fabulous, artfully presented and delicious. I'm telling you I could have ordered the Tuna Poke in a dinner portion and been completely happy. It was that good. We are so blessed that Carlos has given Vineyard Style readers the recipe.

When you make the Tuna Poke at home, Carlos suggested that you "taste every component as your making it. Make sure there's enough salt," he said, adding, "Plate this appetizer all at once so it's as fresh as possible. It's great for summer dinner parties when you want to impress people."

The Roasted Baby Carrots and Buratta was too tempting to resist for the second course, as was the Beet Root Gnocchi for my niece, who exclaimed, "Mmmmm, mmmm delicious." The gnocchi is a customer favorite that Carlos said, "will never come off the menu."

I love finding new "salad" recipes for dinner parties, and this carrot recipe is easy, eye-catching, and yummy. Carlos suggested that the fresher your carrots and buratta are, the better your appetizer will taste. When plating, you can center the buratta and arrange the warm vegetables around it, or you can "slice the cold buratta over the carrots to get that hot/cold combination."

For those of you who love mussels, especially when you rake them up yourself, Carlos offers Steamed Local Mussels with a coconut curry cream sauce. He's given us the same recipe he uses in house so you can wow your family and guests.

If you don't have the time or the desire to harvest your catch from our local waters, stop into one of the Island's fish markets and buy some fresh mussels. The secret to the best tasting curry is "to add a handful of mussels to the curry while you're making it and steep in some cilantro too. Strain the mussels and cilantro out before serving. It's fairly vibrant," said Carlos, who admits his recipes are "inspired by the bounty of the Island's artisans."

The hardest decision we had to make was for our main courses: too many tasty choices to only have one. We opted to order two entrées and share them equally because we couldn't decide.

If you find yourself in the same predicament that we did, let me suggest that at least one person in your party orders the Olive Oil Poached Halibut with Lemongrass Chowder. I love halibut. I've gone to Alaska and caught my own halibut and shipped it home.

Carlos's halibut was pure delight. I enjoyed the presentation almost as much as eating it. When your waiter approaches the table with your entree, pause all conversation. Watch as your waiter lifts the black tea kettle and then enjoy the intoxicating aromas as the lemongrass chowder is poured enticingly over your halibut. The scent alone is enough to have you begging for the recipe, which will not be necessary as Carlos has shared it with us.

The chowder recipe is straightforward. You can reduce the amount, as it makes four quarts, or you can save the extra and eat it for lunch the next day. The most important step for the halibut is the temperature of your olive oil. "Make sure you can put your finger in the oil. If the oil is too hot for your finger, then it's too hot for the fish. You want the oil gentle enough for the fish," said Carlos.

The Good Farm Chicken Breast is an entrée you can serve any time of year and it will always be a crowd-pleaser. Carlos noted that you can purchase canned truffles if you can't find fresh ones. The trick to success for this recipe is to get the chicken skin crispy. It's a simple recipe, but full of "earthy notes and flavors."

I can't promise that all dishes we tried will be on the menu when you go to Garde East. Carlos loves to change the menu "as often as needs to happen. As summer ingredients arrive – tomatoes and cucumber – and the fish change, so does the menu. When the Striped Bass comes in, it will be on the menu," said Carlos.

If you're heading to Garde East this summer, and you should, I suggest you book a reservation, especially if you'd liked a table on the deck to watch the sunset. Vegan and vegetarian options are available.

Garde East is open seven nights a week from 5 p.m. to 9 p.m. They have traditionally been open through September, but Carlos hinted that they may stay open longer this year.

Roasted Baby Carrots and Buratta
– Serves 2

Ingredients:
12 mixed baby carrots
1 tsp. zaatar spice
1 tsp. EVOO
1 tsp. salt
3 spring onions
2 pcs. of buratta cheese
2 tsp. Marcona almonds toasted and tossed in curry powder and salt
MV Sea salt – pinch

Method:
1. Peel carrots and cut in half length wise.
2. Toss in zaatar, salt, and Olive oil.
3. Roast in a 400 degree oven until tender.
4. Wash spring onions and char on
a grill until cooked through.
5. Artistically plate the buratta, carrots, and onions, then sprinkle almonds on top and finish with sea salt to taste.