MADE ON ISLAND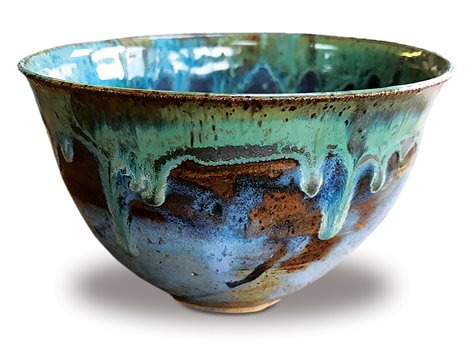 One of a Kind

The Multi-Talents of John R. Jordan
By Amelia Smith
John Jordan discovered pottery as a student at Principia College in St. Louis, upon graduating and wanting to make a living, he turned to the more practical fields of graphic design, web design, commercial illustration, and wedding photography. Decades later, he met his wife and moved to Martha's Vineyard, where he took advantage of the Featherstone Center for the Arts and its pottery studio. He re-entered the medium with enthusiasm, bringing to it his experience in other mediums and eager to explore the unique characteristics of clay and glaze.
"As a watercolorist (above), I like the transparency of the colors," he says. "I think of my bisqueware as a canvas, and I will texture my pottery so there's a feel texture to it as well. I will brush on, I will drip, I will splatter." John says that the splattering sometimes gets "Jackson Pollack-esque" and that he sets aside an area for just that purpose. Sometimes he thins or thickens glazes to get the desired layering effects. "The pottery is meant to explore," he says. "What's on the inside is not the same as what's on the outside."
"Each piece that comes out is completely different from every other. It's a piece of art, not just a pottery bowl." He says that he likes to throw thin, especially for large mugs, to compensate for the weight of the liquid they will hold. He uses his thumb to make a comfortable-to-hold imprint on the handle. He has also developed a series of French-style butter dishes that come with two different lids, one for butter and another for using the pot as a sugar bowl.
In addition to wheel-thrown bowls and mugs, John makes slab-formed sushi plates, imprinted with shells, fish, or lobster patterns. He made many of these for his own wedding, for guests to take home, and says those guests have come to use them for everything from soap dishes to art on the wall, as well as for butter and sushi dishes. When using the pottery himself, he likes to choose contrasting colors–a red plate for a green salad or a blue bowl for pumpkin soup.
This season, John will be selling his wares at the Artisans fairs on Thursdays, and at the Featherstone and Chilmark flea markets. You can also find him via his website at
johnrjordanartist.com
.