GARDENER'S NOTEBOOK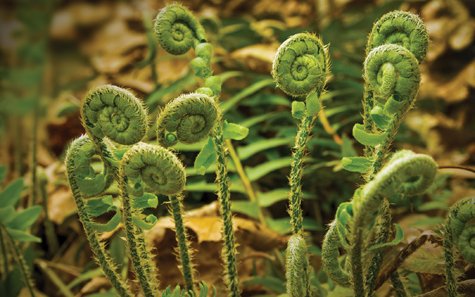 Finally the Fern
By Mariko Kawaguchi
This year in particular we are all looking eagerly for the harbingers of spring to return to the Island. Between 90 mph freezing winds, massive amounts of fallen majestic trees, ferries breaking down and waves of snow pummeling the Vineyard, Islanders are more than ready to close the book on the winter of 2018. When looking for inspiration to write plant articles for spring, it almost always feels like a paradox of sorts, a gardening article in an optimistic but still chilly season, where people are seeking vibrant springtime colors.

Most of us are looking for spring signs like the sweeping daffodil stand by the old gas station on North Road; the snow drop spread underneath the hedges by Old County Road and West Tisbury/Edgartown road; the nighttime chorus of pinkeltinks near water; witch hazel in bloom at Polly Hill Arboretum are just a few examples for our Island sensibilities.

But the first thing that comes into my mind in springtime is the search for fiddlehead ferns in the local waysides and stream embankments. Many of you know my next plant quest will be the annual hunt for native ladyslipper orchids in the hidden pockets and forests on the Vineyard, as the temperatures begin to increase, along with our pace of life. The emergence of the pink mocassin flower seems to always coincide with the first wave of day trippers and tourists. This article however, is about the first sentry of springtime, the fiddlehead fern, which prepares me for the next summons, the pink ladyslipper. My bold idea is to write about my personal signpost of spring, which has nothing to do with big color, but is a little swirl of green growth, a perfect example of the golden ratio in nature.

Ferns are ready to spring to life at this time of year and can be found in meadows, perennial gardens, nature preserves, and most importantly in native wetlands, our most fragile ecosystem. They can be a highlight of a walk or hike if one chooses to hunt for them. For me it is a great exercise to quiet the mind, as they do not jump out with bright colored blooms or great floral fanfare. This is a time of the year that I can enjoy a quiet walk and explore the many plant treasures to be found on the Island, before the calm fades away along with my attention span. I love to see the different stages of the fern, from the tight curls of the fiddlehead to the first fronds revealing their delicate form and silhouettes close to the ground. What I love the most about ferns is how their structure represents the matrix of growth in the life cycle.

There are many species of ferns that make their home on the Vineyard, and can be found in moist, humus rich soils that have a good water supply. Other ferns can be found growing in dryer outcrops and hillsides. Many species of hardy ferns can be used in landscaping, and all local garden centers have shade perennial sections and can provide specific advice on ferns for your landscaping needs, whether it is using ferns as a foundation for highlighting perennials; or creating a natural woodland setting in your landscape design. My favorite landscape fern is the Northern Maidenhair Five Finger Fern or "Adiantum pedatum," which has wide arching sprays that are delicate and very different from the sword like fronds found on woodland ferns. The Polly Hill Arboretum in West Tisbury is also a great resource for information about ferns. Tim Boland, executive director at Polly Hill explains: "Polly Hill has eight different kinds of ferns. Most require organic soils and supplemental water in times of drought. One of my favorites is the sensitive fern that grows in the door way of the homestead offices at the PHA. Ferns take patience to grow from spores but are easy to divide like a common perennial." This year some choice and unique ferns will be for available at the Memorial Day plant sale.