SCENE & SEEN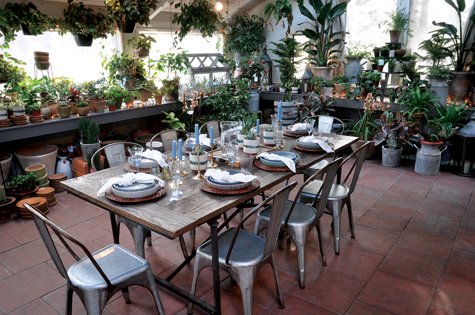 Morrice the Florist
By Amelia Smith
In 1940, James Morrice opened a Vineyard Haven flower shop that has served the Island community ever since. Emily Coulter is an Island native who studied interior design, worked as a wedding planner, and more before she took over the business from Kim O'Callaghan in 2014, bringing new energy along with respect for the store's past. "The original owner, James Morrice, grew all of his own flowers at the greenhouse at this location," Emily says. No one had grown flowers there in year, so she added twelve raised beds around the shop to grow a few flowers and herbs to supplement the flowers they bring in from off-Island and from local farms.
Morrice's has always had some gift items for sale, but under Emily's management the selection has grown with a focus on hand-made items from small, artisanal businesses. There are flower-growing kits, naturally dyed pillows, glassware by local glassblower Russel Carson, handmade pottery by Lainey Fink Scott and Leslie Freeman, baskets from Senegal, and a beautiful array of gift cards. There's also a small selection of baby items and a shelf of books, many of them edited by Emily's sister who works for a lifestyle and cookbook publisher.
In the off-season Emily offers private and public classes in the store's greenhouse. The classes feature light instruction and a relaxed, fun atmo-sphere. She provides light snacks and invites par-ticipants to bring their own drinks. "We had a bachelorette party where they made their own flower crowns and then went out on the town. It's a fun night out," Emily says. "Come and get inspired by the beautiful surroundings. We'll have a ton of flowers to play with." Emily has also taught at the Garden Club and offers private classes for groups.
With so much variety on offer, as well as its heritage as a florist, Morrice's is very much a year-round business. Weddings and more keep them busy in the summer, spring, and fall, but like off-Island florists their busiest day of the year comes in February: Valentine's Day.
You can find Morrice the Florist at 149 State Road in Vineyard Haven, 508-693-0392 or at
morriceflorist.com