COMMUNITY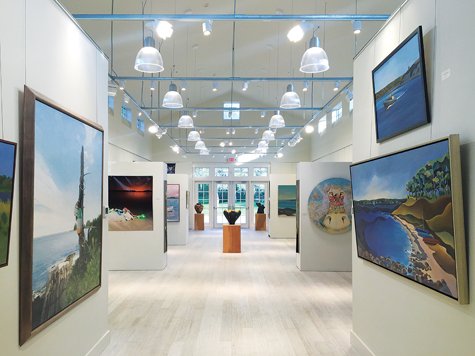 Featherstone's New Art Palace
by Amelia Smith
Featherstone Center for the Arts looks out from one of the highest points in the town of Oak Bluffs. The opening of their new gallery last summer was a landmark event for this vital part of the Island arts landscape. Until the 1990s, Feather-stone was a horse farm. In its early years, the arts center transformed old barns and houses into studios and classroom spaces while the old farmhouse housed a gallery and offices. After twenty years of making do with those cozy but limited spaces, it was time for a change. In 2015 Featherstone launched a $6 million capital campaign to raise money for the construction and operation of new buildings and to grow their endowment.
Thanks in part to a $2.9 million gift from an anonymous donor and efficient work by Squash Meadow Construction, the project was able to be was completed in rapid time. The contractor used a combination of on-site and modular construction which allowed them to complete the construction of two new buildings, adding 6,200 square feet of new art space on campus in just eight months.
The first building to open was a new pottery studio that accommodates some of the art center's most popular programs. This opened last June, soon to be followed by the Art Barn that replaced the old horse barn. Its centerpiece is a gallery, named in honor of Francine Kelly, Executive Director of Featherstone from 2003 to 2010. The building also includes an open-plan office, a conference room, a future teaching kitchen, and studio classrooms. The gallery has soaring ceilings with clerestory windows, hanging lights, and movable walls that accommodate all kinds of art. Its barn doors open onto a broad wrap-around deck and the lawn outside. "The building itself is probably one of the best additions to the Island," says Nancy Shaw Cramer, artist and former gallery owner. "It's a very versatile and functional space."
The new gallery is well worth a visit. It re-opens in February with "Dog Wild," a show to celebrate the Chinese New Year of the Dog. Classes in drawing, painting, pottery, printmaking and more will continue through the winter and spring. Executive Director Ann Smith is very happy with the new buildings. "We love it!" she says. Landscaping is still in progress and fundraising for the project continues, with $1.5 million left to raise towards this significant campus improvement.
You can find out more about classes, gallery shows, and other events at
featherstoneart.org