CUISINE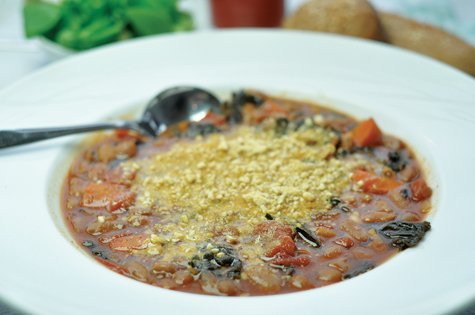 To Good To Be True

At Not Your Sugar Mamas Cafe in Vineyard Haven
by Lisa Belcastro Photography by Charlie Utz
Where should we go to dinner before the movie?" a friend asked last month when a few us wanted to see Jane at the Martha's Vineyard Film Center in Vineyard Haven.

"That's easy," I replied, "Not Your Sugar Mamas."

I believe my friend's reply went something like, "Lisa, you may eat chocolate for dinner, but some of us want real food."

As tempting as chocolate for dinner was, I had other ideas. "Well, I plan on having Tikki Masala Chickpea Curry," I shared, smiling. The friend I was speaking to was a vegetarian. She was about to be happy, very happy.

"At Not Your Sugar Mamas? They serve food? How did I not know this?"

"Yes!" I said, wondering the same thing. "And it's the best!"

We went to NYSM, which is conveniently located in the Tisbury Marketplace (think Net Result Plaza) on Beach Road in Vineyard Haven, mere doors down from the Film Center. Our dinners were fabulous. And two weeks later when the same group of women wanted to do dinner and a movie, Not Your Sugar Mamas was everyone's first choice.

So, did you know NYSM serves lunch and dinner entrees, smoothies, breakfast, soups and salads, and flatbread pizzas?
Not Your Sugar Mamas is famous for their incredible chocolates and cookies, but I believe their entrée options are going to skyrocket their success. And here's the most amazing aspect: every delicious item on their menu is vegan and gluten-free!

Why is this so amazing? I'm NOT a vegan or gluten-free, yet NYSM is my go-to place for lunch, chocolate, and dinners out. I'm not saying this because I'm paid to write the article. I have lunch or dinner there two or three times a week. I seriously need to get a job there! And you need to eat there. I'll go with you!

Founders Ky Keenan and Bennett Coffey met in 2010 and became roommates. Ky, an international consultant, had spent summers on Island waitressing. After a year abroad working in Argentina, Ky returned to the Vineyard ready for something new.

Bennett, a nutritionist, had discovered raw chocolate while studying in New York City. She saw the need, but didn't know how to bring her ideas to the general market. Together, Ky and Bennett invented their original NYSM chocolate bars, free of sugar and junk, and packed with deliciousness and goodness.

In 2011 they sold their first batches at a health fair. "People liked it," said Ky, and the two friends launched into the chocolate business. "By the end of that summer thirteen Island stores and one off-Island store were selling our refrigerated bars."

Over the winter, Ky drove around New England, meeting with store owners and securing new markets to sell NYSM chocolate bars. In 2012, Ky and Bennett acquired their retail space on Beach Road. "We launched smoothies, cookies and added more chocolates," said Ky.

As more people tasted, and loved, their chocolates, NYSM grew in popularity. In 2013 NYSM started selling to Whole Foods and then joined with United Natural Foods Inc., a North American distributor. Their chocolate sales rocketed to a new level. Suddenly, their production demands went crazy. Ky and Bennett had to shut down the retail store and focus solely on producing vast quantities of handmade chocolate bars. "It was so expensive. We couldn't sustain it," said Ky.

In 2015, Ky and Bennett expanded their chocolate factory and re-opened the retail space in Vineyard Haven. They began to strategize how to draw more local customers. "There's only so many times someone can come in for chocolate," said Ky. "We needed food."

Ky took the business to the next level, creating a dinner menu as well as soups and a brunch offering. She continues to test new recipes, doing her best to stay away from fads.

"Gluten-free doesn't mean healthy, neither does vegan," said Ky. "We use only nutrient-dense whole foods: more plants, optimal vitamins, and nutrition is my focus. It's easy to buy something that is labeled "gluten free," but most products you find in the grocery store are packed with other artificial foods or sugar or flours stripped of nutritional value, which tends to happen with any fad."

"Our bread is made from nutrient-rich ingredients like arrowroot (a whole root that is a prebiotic food), flax seeds, and sorghum (a whole ancient grain)," said Ky.

If you walk into NYSM to buy items ready-to-go, you'll find soups, cheeses, chimichurri, coconut bacon, and the incredibly awesome Almond Feta Cheese.

"I love making nutrient dense versions of our favorite foods- like nut based cheeses for example. These have become staples in my kitchen and impart a variety of flavor and texture to every dish. I use coconut or nut butters to make dishes more rich and creamy," said Ky, adding, "So everything is plant-based, organic and nutrient-packed, and the food just happens to be free of dairy, gluten, and refined sugar."

The attention to detail and quality is evident in the taste and presentation of the foods. If you're looking for a pre-made dinner that only needs to be placed in your oven and baked, NYSM sells their yummy Shepherd's Pie daily, and Ky has shared their recipe with us.

On chilly winter nights, this Shepherd's Pie is a simple recipe and easy to make. "Using brown lentils with mushrooms and balsamic vinegar give it hardiness and a meaty taste," said Ky, who suggested, "Use Yukon gold potatoes. They have a buttery flavor."

Whether it's for a Super Bowl party, an evening with friends, or dinner for two, Ky's Roasted Zucchini & Romesco Winter Appetizer is good enough to eat as a meal. "The Romesco is from my Spanish days. It's a traditional Catalonia sauce – smoky, roasted, warm, and cheesy in it's own right," said Ky. "The trick is to buy good ingredients."

You can purchase two of the ingredients at NYSM – their gluten-free baguette and their amazing Almond Feta Cheese. There are days I buy some Almond Feta and eat that for lunch. I don't even need crackers. Now that Ky has created this recipe, I'll have the perfect excuse to buy more feta.

If you love soup as I do, you're going to be making batches of NYSM's Kale White Bean Stew. You probably have most of the ingredients in your cupboard, and what you're missing will be readily available on Island. Then your five steps away from making a nourishing stew for lunch or dinner or both. To make your life even easier, this soup can also be made in the crockpot. Put all the ingredients in your crockpot, and cook for 4-6 hours.

The Cashew-Parmesan Cheese to sprinkle on the Kale White Bean Stew and the Romesco Sauce are both made in a food processor. I love simple recipes like these, especially when they're easy, delicious, and can be stored and used throughout the week.

For the smoothie fans, NYSM has a wonderful, vitamin C enriched drink to help ward of the winter colds and blahs. This Mango Golden Milk Smoothie is a "powerhouse of nutrition."

With banana, mango, turmeric, ginger, cinnamon, black pepper, chia seed and dates, the Mango Golden Milk taste as good as it is for you. "Don't forget the black pepper," said Ky. "Black pepper increases the absorption power of turmeric by two thousand percent."
Ky's latest creation, a Peanut Butter Chocolate Almond Cookie, is pure delight: soft and yummy peanut butter with a burst of chocolate. I love Ky's Original Chocolate Chip Cookie, but this peanut butter one, with a chunk of NYSM chocolate in the center, may become my new favorite.

Ky has generously shared her new recipe with Vineyard Style readers. If you need to go make a batch right now before you finish the article, I understand. I'll have made a few before this magazine hits the stands. ☺

These cookies are super easy to make, but Ky did caution us to "be careful when baking them. The almond flour burns quickly. You'll think they're not done, but they are."

The cookies are best left to cool on your cookie sheet. "They will be fragile while they're hot," Ky noted.

While chocolate is NYSM main product, producing over 150,000 handmade chocolate bars each year, Ky has dreams of more. "I love this store. We have a great team," said Ky. "My calling, or mission, is to make plant-based food more accessible. I feel inspired, which could mean more stores, or more classes, or more cookbooks."

Ky has offered cooking classes, and will offer four-day wellness retreats in spring and summer in collaboration with MV Wellness Retreat. The retreats will include plant-based nutrition and a cooking certification program.

Most recently Ky joined forces with Nevette from Farm Field Sea, Emily Coulter from Morrice Florist, and photographer Jocelyn Filley to do plant-based pop up experiences. They held their first "Friendsgiving" dinner gathering in the greenhouse at Morrice Florist, where a variety of local producers from glassware to pottery to kombucha contributed to the evening.

In the coming months, the group will offer another Gathering dinner. They are still deciding on the location, but Ky did reveal that the evening will include a vegan/gluten-free cheese-making class.

Vineyard Style has five special recipes for you in this issue, but there's more to come. In June 2018, Penguin Random House will be releasing Ky and Bennett's first cookbook, Chocolate Everyday. You'll be able to purchase their cookbook at NYSM location, at Bunch of Grapes, and other bookstores, and online.

Not Your Sugar Mamas is open year round, Mon-Sat 8 am to 6 pm (closed Sundays, January-March). Summer hours are everyday 7 am to 7 pm. You can stop in for breakfast, lunch, dinner or a snack, which you can take with you or eat in the newly expanded dining area. I'll see you there.


Kale White Bean Stew
Ingredients:
2 tablespoons cold pressed olive oil, plus more for toppings
1 onion, chopped
4-6 garlic cloves
2 carrots, diced
10 sage leaves (optional)
a pinch of chili flakes
2 tomatoes, diced, or one 15-oz. can diced tomatoes
2 cups Lacinato kale
1 can cannellini beans, drained and rinsed
4 cups water or vegetable broth
1 teaspoon salt
¼ teaspoon black pepper

Directions:
1. Heat the oil in a saucepan.
2. Sauté onion, garlic and carrots until onion is translucent.
3. Add tomatoes, sage and water, and sauté for another couple of minutes.
Add water or broth and boil for 20 minutes until carrots are soft.
4. Add kale and beans and boil for a few minutes longer.
5. Top with cashew Parmesan "cheese"
(see recipe below) and serve with crusty bread.

Cashew Parmesan
Ingredients:
1 cup raw cashews
3 Tablespoons nutritional yeast
¾ teaspoon sea salt
¼ teaspoon garlic powder

Directions:
1. Place all ingredients in the food processor and blend until well combined.
2. Keeps for up to three weeks unrefrigerated or longer refrigerated.
3. We love this recipe in soups, on top of pizza, or baked ziti.