TRENDS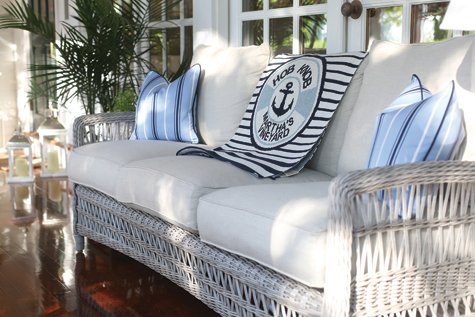 Porch Dedux

A New England Classic Presented In a New Way
When Hob Knob Inn's General Manager, Diane Carr wanted to up-date the outdoor furniture on the iconic porch at the Inn, she contacted Vineyard Decorators, the Islands largest furniture store boasting the biggest selection of outdoor furniture. The Inn's wicker furniture was past its prime and proved economically impractical to repair. Diane posed the challenge: how to up-date without changing a thing? The design consultants at Vineyard Decorators went to work. They first proposed Diane look at the "Mackinac" line of outdoor furniture by Lloyd Flanders, an industry leader in performance wicker–all season, durable, woven vinyl–all the while maintaining the traditional and romantic styling of real wicker. Mackinac features a large line of nautical teak tabletops, bold woven frameworks and luxuriously comfortable seating, including bar sets, stools, dining sets, chairs and sofas. The consultants then went to work on accessorizing, incorporating whimsical pillows and throws by Ralph Lauren and Thibaut fabrics. All wicker cushions and pillows use Sunbrella's legendary all-weather resistant designer fabrics.
"The professionals at Vineyard Decorators came through with guidance, the perfect product line, with attention to the look and style I wanted, all on budget," Diane says, "I really appreciated their work and we couldn't be happier."
The "new" look speaks for itself. Mission accomplished.
For more information contact Vineyard Decorators, Located next to the Martha's Vineyard Airport, 508-693-9197 or on-line at their new digital flagship site:
www.vineyarddecorators.com