SCENE & SEEN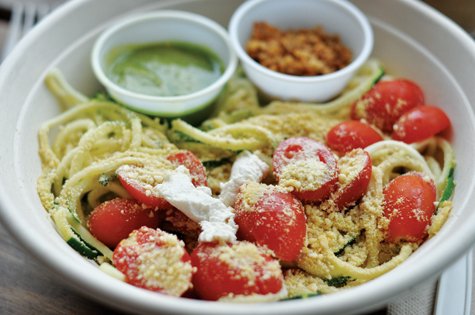 Not Your Sugar Mama's Cafe

Isn't Just About Chocolate Anymore
Ky Keenan and Bennett Coffey started making and selling health-promoting, antioxidant chocolates from their small kitchen in the Tisbury Marketplace in 2012. Their chocolates are distributed in all 50 states, but a mama does not live by chocolate alone. Last year, NYSM expanded their space, and their business, to open a cafe where they serve healthy, organic food, savory as well as sweet, and host events that promote health and healing, including classes in Moroccan Cooking, Ayurveda and Meditation, and more.

Top-quality, healthy ingredients are a high priority at NYSM. All of their ingredients are plant-based, organic, and local or fair-trade wherever possible. Commercially available brands of vegan food don't always fit that profile, so Ky says that they make many of the components of their foods from scratch, like vegan mayonnaise (which is delicious), "bacon" bits made from coconut and spices, and a range of gluten and grain-free breads.

Baker François Gautier is a recent addition to the team. He moved here from Normandy. "Before I left France, I learned to bake with one of my friends who is an artisan baker," he says. Cooking was just a hobby for him, but his wife was gluten-intolerant so he began to work on making higher quality gluten-free bread. Ky was delighted to meet him. "I have this bread," she said, "and I want you to make it better." The results speak for themselves – this is by far the best gluten-free bread that I have ever tasted, with a strong crust and a chewy interior.

Ky and Bennett opened the cafe last October, but instead of dying down as the season cooled, things really got going in January as devoted customers spread the word. The chocolate shop and cafe, and the support that built up around it, enjoys health and healing from breakfast to dinner, yoga practice and party-sized chocolate tarts. "We have a really great community," Ky says.