CUISINE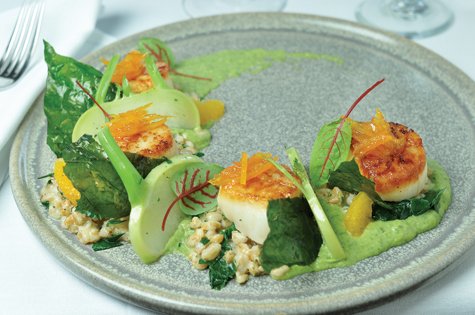 The Perfect Summer Evening Out

Lighthouse Grill's Executive Chef Richard Doucette Will Keep You Coming Back
By Lisa Belcastro Photography by Charlie Utz
Lighthouse Grill at the Harbor View Hotel epitomizes the best of summer on Martha's Vineyard. Summer? Check. Ocean view? Check. Lighthouse? Check. Great food? Check. Bring your own awesome company, and you've got the perfect evening out on our Island paradise.

Whether you're in the mood for lobster, lamb cassoulet, scallops, a vegetarian farmer's platter, or filet mignon, Chef Richard Doucette will serve you a meal that will draw you back again and again.

Chef Richard describes the Lighthouse Grill as "a contemporary steakhouse. We have fish, steak, and pork. We also have a few composed dishes like the Diver Scallops, which is my favorite."

Chef Richard grew up watching cooking shows on television, and knew at a young age exactly what he wanted to do with his life. Immediately after graduating high school he moved from his home in Reading, MA, to Boston so he could learn the art of cooking. He spent ten years at top restaurants such as L'Espailer before relocating to the Vineyard to pursue two passions: cooking and fishing.

"I'm an avid fisherman. It's one of the main reasons I wanted to move out here," said Richard, adding, "Yesterday we hit the bluefish hard."

As an equally avid surfcaster, I asked Richard if he'd have any bass or bluefish on the menu. "We have a garden here at the Harbor View. Once the tomatoes start coming in, I want to add a nice bluefish dish with a stewed tomato jam, garlic, onion, and olive oil."

My mouth was watering as Chef Richard described the dish. Having ordered his Diver Scallops and the Shore Dinner, I know that bluefish entrée is going to be fantastic!

Chef Richard gave Vineyard Style readers a selection of recipes right off the Lighthouse Grill menu. The Summer Greens Salad is a creation Richard put together after a trip to Costa Rica. "Everywhere you went, they had really ripe fruit. I thought about our salads and decided to do something a little more tropical," said Chef Richard.

The salad is a great mix of flavors and textures, with crisp lettuce, sweet fruit, the salty, firm Cotija cheese and "a little kick from the jalapeno juice" in the vinaigrette. You can serve this salad all summer for lunch or dinner to the delight of your family and friends.

With numerous oysters farms only a few miles away in Katama Bay, Chef Richard uses the local fare in his Oysters Rockefeller recipe. This rich appetizer calls for white wine instead of the standard anise liqueur, and has a brie béchamel. Give me brie any day
of the week!

"This is a very easy recipe to make at home. You make the basic béchamel, add in the brie, and you're good to go," said Chef Richard. He also suggested a good slab bacon that is smoked contributes the best flavor.

When you order appetizers, don't skip the Lobster Tacos. In fact, order two! They're that good.

When you visit Lighthouse Grill, you might, like me, have a hard time choosing between Chef Richard's signature Diver Scallops or the Shore Dinner. Fortunately, we have both recipes here and you can make them at home to enjoy whenever the mood strikes.

Fresh local scallops are so yummy, but also quite easy to overcook. Chef Richard gives us the best method for delicious scallops; "First, be sure the scallops are dry. Pat them with a paper towel. Wet scallops want to buckle in the pan and don't cook evenly."

After you've dried your scallops, "Put some olive oil into your pan and bring it to smoke point. Once you see smoke, the pan is hot enough. Turn the heat down, put the scallops into the pan, and gently press down with a spatula to make sure the entire bottom surface is in contact with the pan. Give the scallops a hard sear until the bottom is caramelized. Turn the scallops over, "with just a kiss of heat to the second side."

The Shore Dinner is all about lobster and mussels, and the awesome chorizo broth. This dish comes with a side of melted butter, but if you're anything like me, you'll skip the butter and just dip your lobster and mussels into the chorizo broth. So good!

"A novice cook can make the chorizo broth," said Chef Richard, who added, "The freshness of the seafood is crucial."

Once you make the chorizo broth, the meal takes about fifteen minutes to cook. Chef Richard serves the lobster just cracked, but you can leave it in the shell or take it out to suit your preference.

The dessert menu has undergone a huge change at the Lighthouse Grill. "Emily Gobbi, our new pastry chef, is fantastic. She went away from the traditional and created a funky menu with fun stuff," said Richard, adding, "Her dishes tell the tales of travels. The Malabi is a traditional milk custard Emily enjoyed when she visited Israel."

The malabi was light and could easily satisfy a sweet tooth, especially with the rose syrup. But I have to confess, when I reviewed the dessert menu I was immediately drawn to the Matcha Cheesecake Cone. I didn't resist!

"The Matcha Cheesecake Cone is my favorite," said Chef Richard, "but the Macaron Sundae with basil ice cream is unbelievable too."

I might try the sundae next time, but only if someone else orders the cheesecake so I can at least have a bite. The cheesecake is worth every delicious calorie.

Lighthouse Grill at the Harbor View Hotel is open for dinner seven nights a week from Memorial Day through October, and open year-round for breakfast and Sunday Brunch.

Diver Scallops
Kohlrabi 4 ways, toasted grains, orange marmalade

Orange Marmalade
Ingredients:
naval orange - 6 each
orange juice - 7 Fl. oz.
granulated sugar - 2 cup
water- 3.5 Fl, oz.
lemongrass - 2 stalk
ginger root - 3.5 oz.
burnt cinnamon stick - 1 each
whole clove - 2 each
star anise - 2 each
kappa carrageenan - 5 gram
xanthan gum - 2.5 gram

Procedure:
1. Peel oranges, julianne peels thinly, set aside.
2. Segment oranges in supremes, cut supremes in half. set aside.
3. Combine sugar, water, lemongrass and spices in
small pot.
4. Bring liquid to boil, reduce heat to simmer, steep spices
5 minutes.
5. Strain liquid into a separate pot, discard spices, ginger and lemongrass
6. Add orange peels,
simmer 5 minutes until tender.
7. Strain liquid into a
separte pot.
8. Combine peels and segments in mixing bowl,
set aside.
9. Add orange juice to pot, return to burner, bring liquid up to simmer.
10. Whisk in kappa and xanthan gum in small increments to avoid clumping.
11. Increase heat, bring liquid

temperature up to 170 degrees F to activate kappa, vigorously stir to prevent scorching.
12. Pour hot liquid over fruit, gently stir fruit with rubber spatula and coat fruit.
13. Cover with plastic wrap.
14. Set aside to cool, (kappa will begin to gel when the liquid temperature decreases below 113 degrees F).
15. Once completely cooled, jar marmalade.